How to Change Your Instagram Password
Instagram is a popular social network used by various kinds of people. From people who use it as a platform to keep memories, to businesses promoting their products and services via the platform, Instagram serves various needs. As important as it is to share those memories with families and friends, it is also important to keep your Instagram account secure. One way to protect your account is by changing the password regularly and this is one of the reasons why this article was made.
You might also need to reset your account after forgetting the password, we also covered it here. Lets head to the process…
How to Change Your Password on Instagram App
Changing your password on Instagram mobile app is easy to do. Within few minutes and steps, you'll be able to change your password.
1. First, login to your Instagram account, tap your avatar which is present in the bottom right. This will cause your profile to open.
2. After that, tap the menu icon which you see in the top right (or you can swipe right) so that a panel is revealed.
3. Next, tap Settings at the bottom.
4. Next, tap Security, and then Password. Input your old password once and your new password twice, and then your password will be changed.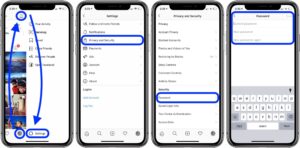 How to Change Password on Instagram Desktop Website
1. Open the Instagram website on your web browser.
2. Click the account icon which is at the top-right of your profile page.
3. You'll see a gear icon to the right of the Edit Profile link, click this icon.
4. A pop-up window will come up, click Change Password
5. Next, input your current password and after, type the new password you want to set. After doing this, tap Change Password.
How to reset your Instagram Password
You might have forgotten the password to your Instagram account and now you have been locked out. So what do you do? You'll need to rest the password and you can do this by using your linked Facebook account, phone number or email address.
You can do this on a mobile device, but the steps are a little different for Android and iOS devices.
On Android
1. Launch the app which will take to the login screen.
2. After this, select get Help Signing In.
3. Click Use Username or Email,, Send an SMS, or Log in with Facebook, and follow the instructions.
If you're doing this from an iOS or iPadOS device
1. Navigate to the login screen, and select Get Help Signin In.
2. From the options, choose whichever reset method you prefer and input your username, email address, or phone number.
3. Tap Next and follow the steps outlined in the on-screen instructions and you'll be able to reset the password.
Make sure to set a very strong password.
You can also check out
Top 5 Best Web Browsers for Android
Top 5 Best Music Player Apps for Android
Top 5 Best Alarm Clock Apps for Android
Top 5 Best eBook Reader Apps for iPhone and iPad
Top 4 Best VPN Apps for iPhone and iPad
Top 5 Best Apps for Monitoring Data on iPhone and iPad
Top 5 Best Translation Apps for iPhone and iPad
Top 5 Best Alarm Apps for iPhone and iPad
Top 5 Best Calendar Apps for iPhone and iPad
Top 5 Best Photo Editing Apps for iPhone and iPad
Hope with this, you have learnt How to Change Your Instagram Password.
Please share and like below, also comment below for any problem faced or encountered.