6 Best Smart Home Devices you Should Have in Your House 2020
Smart homes are becoming more and more popular and is typical of the 21st century home. By just giving simple commands, you can control things from the comfort of your bed or while lying on the couch. It's as comfortable as that. Play a music, increase the temperature, put off the lights by just giving Siri or Alexa that command (you're the boss!). Here's is a Roundup of the 6 best smart home devices that we think should be in your home.
1. Eufy Video Doorbell 2K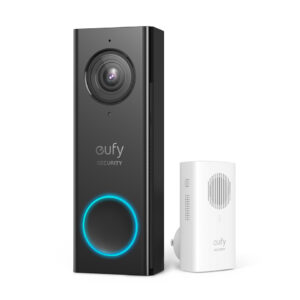 Eufy Video Doorbell 2K is probably the best wireless smart doorbell camera you will find. We can say this looking at metrics such as performance, price, and reliability. Eufy surpasses the recent August View, or the first-gen Ring. You'll need this kind of doorbell when you have to rent a place and it's not really possible to remove the already-installed doorbell. Eufy connects wirelessly with a hub and you can put it on any outdoor surface and it will work for up to six months at a time.
2. Amazon Echo Dot (third generation)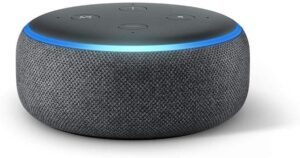 Amazon Echo Dot and Google Home Mini speaker are competitors and we can say they are at much parity now. Amazon is known to have more skills and supports more third-party devices. The Amazon Echo Dot has a competitive edge in that it has an audio-out jack. The Google Home Mini doesn't have this. There's also an LED Clock integrated in Echo Dot which comes in a variant. It's not only time you can check with the Echo Dot, you can also know the current temperature, and you can use it as a timer. It also features an ambient sensor that will adjust the brightness of its display in accordance with the degree of lightning in the environment.
3. Philips Hue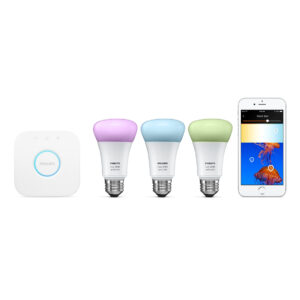 You will be able to control the intensity of light in your home with Phillips Hue Bulbs. They will allow you to control the dimming or brightening of light or colour. The app gives you the ability to create color-coordinated moods (i.e. you can do this on your app by choosing the "energize" theme or sync it with your music). There's also room for setting color-coordinated alarms, letting you wake up every morning to a a bright bedroom.
4. Ecobee SmartThermostat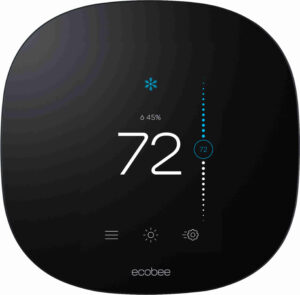 The latest Ecobee Smart thermostat makes Ecobee the best device for temperature control. The latest offering has fixed some of the biggest complaints of the predecessor with more improved features. The device is versatile and will connect with every major home platform. Ecobee is smart that it can be aware of what's going on in the home as regards temperature. The device will know which room is occupied and adjust temperature appropriately.
5. Arlo Pro 3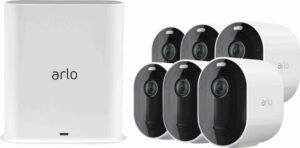 Arlo Pro 3 is popular camera for security. It is a well advanced system and boasts of useful features such as built-in siren and control via the Internet. Though you won't find in the Arlo Pro 3 the 4K resolution feature like the more pricey Arlo Ultra – but it still has a decent 2K quality. It packs 160-degree field-of-view, night vision and two-way audio. There are other useful smart features, such as motion tracking and automatic zooming which aids the camera in focusing on objects.
6. Wemo WiFi Smart Plug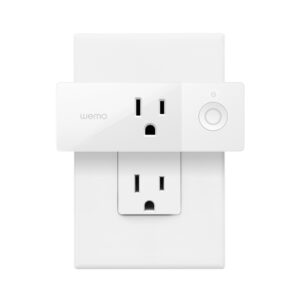 Wemo WiFi Smart Plug is among the best smart plugs. It has a more compact size than the other smart plug. It does not have energy monitoring features like some other smart plugs, but it is compatible with the major smart assistants. The smart plug can be turned on by a physical switch if you don't want to use voice or an app to switch off your devices.
You can also check out
Top 5 Best Web Browsers for Android
Top 5 Best Music Player Apps for Android
Top 5 Best Alarm Clock Apps for Android
Top 5 Best eBook Reader Apps for iPhone and iPad
Top 4 Best VPN Apps for iPhone and iPad
Top 5 Best Apps for Monitoring Data on iPhone and iPad
Top 5 Best Translation Apps for iPhone and iPad
Top 5 Best Alarm Apps for iPhone and iPad
Top 5 Best Calendar Apps for iPhone and iPad
Top 5 Best Photo Editing Apps for iPhone and iPad
Hope with this, you have learnt the 6 Best Smart Home Devices you Should Have in Your House 2020.
Please share and like below, also comment below for any problem faced or encountered.