5 Best Google Home Compatible Devices 2020
Having Google Home compatible products in your smart home means you would be communicating with them via Google Assistant. From lighting, thermostat to security cameras and a whole lot of other devices, the Google Home ecosystem is indeed a large one. Having a smart speaker is very important as this is what would receive your commands to run smart gadget around your home. We developed this guide on the 5 best Google Home compatible smart devices.
1. Google Nest Hub Max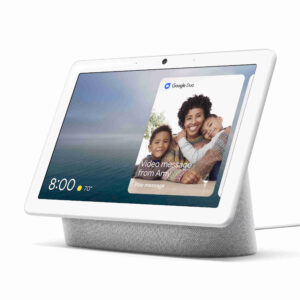 The Google Nest Hub Max competes with the Amazon Echo Show and is one solid option and one of the best Google Home devices for Google Assistent-enabled  smart homes. Its display is bigger than its Google Nest Hub predecessor, and features a camera having both video call and security functionalities. There's a facial recognition feature as well as clean pause/play hand gestures. The Google Nest Hub is useful as an entertainment gadget or as a control for your other smart home gadgets. Adjust the temperature of your living room with the smart thermostat via Google Nest Hub Max while watching your favourite movies on Netflix. Nest Hub Max is also compatible with Thread, a IoT communication protocols that works for low-power smart home gadgets.
2. Philips Hue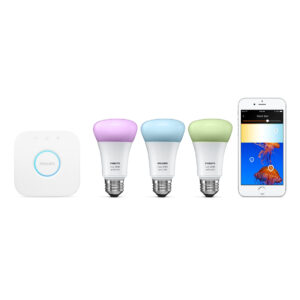 Philips Hue is one of the best smart bulbs in the market. The Hue system continues to grow with several kits and lights to bring beauty, lighting, and colours to your space. You get various different kits, such as bowl lights, light strips, bulbs and lamps, with other extensive number of options. After your set of lighting has been installed, you can control with Google Assistant. You can switch on, brighten, dim and change colours with the assistant. The only drawback to the system is that you may have to part with some money to get a Philips Hue Bridge to connect them together, or you can do it the Alexa way, using Echo Plus.
3. TP-Link Smart Plug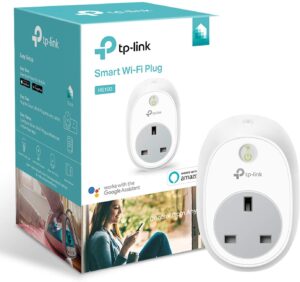 TP-Link enables you to turn your appliances into smart devices. Lights, your TV, or any other device can be turn on or off smartly and not manually, with the help of TP-Link smart plug which works with Google Assistant or your phone. And the great thing is that it does not require you to have an extra hub for the smart plug to work. The smart plug has an app that will enable your to control things, and you can schedule the turn on time for appliances too. You can also use the away mode feature to turn lights or appliances on at random times for security purposes. It is designed well in a compact way so that it doesn't block adjacent outlets.
4. Ecobee (5th Gen)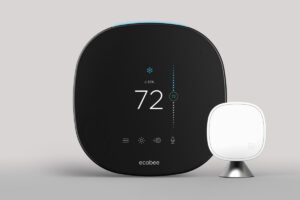 Ecobee is one of the best Google Home compatible devices, and one of the best smart thermostat. Though it has Alexa speaker built-in, it still works with Google Assistant pretty well. The smart thermostat will help your house to be in the right temperature, and you can take advantage of its improved remote sensors. These sensors are designed to be able to detect temperature and occupancy also, which makes it get the coldest part of your house warm, only if people are occupying that area. The latest Ecobee's speaker is much better than its predecessor and now supports Spotify.
5. Nest Cam IQ Indoor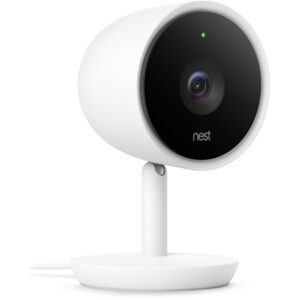 The Nest Cam IQ now works as a Google Assistant Controller too, thanks to an upgrade to its speaker and mic and is one of the best Google Assistant compatible device. The smart security camera offers 4K sensor, HDR close-up tracking and face recognition. You can use the Nest app to view live footage on your phone. Simply say "OK Google, show me the kitchen" – or switch on the TV with a Chromecast, and you can add the Cam IQ to routines. Saying "OK Google, I'm leaving" will turn on all your Nest Cams.
You can also check out
Top 5 Best Web Browsers for Android
Top 5 Best Music Player Apps for Android
Top 5 Best Alarm Clock Apps for Android
Top 5 Best eBook Reader Apps for iPhone and iPad
Top 4 Best VPN Apps for iPhone and iPad
Top 5 Best Apps for Monitoring Data on iPhone and iPad
Top 5 Best Translation Apps for iPhone and iPad
Top 5 Best Alarm Apps for iPhone and iPad
Top 5 Best Calendar Apps for iPhone and iPad
Top 5 Best Photo Editing Apps for iPhone and iPad
Hope with this, you have learnt 5 Best Google Home Compatible Devices 2020.
Please share and like below, also comment below for any problem faced or encountered.