5 Best Music Player for iPhone and iPad
Music is a part of our lives that gives us inspiration, and excites us. But what's music without the medium to give us a great experience. That's why iOS developers saw to this need by developing apps that excites our ears with better music from the features these apps provides. We have searched and curated the best music player apps for iPhone and iPad.
Best Music Player for iOS and iPadOS
1. Vox Music Player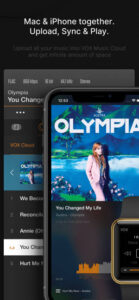 Vox Music Player was designed with an intuitive interface that makes it one of the best offline music player apps for iOS. Using the app requires interaction from you via swipe gestures such that there are no basic playback buttons on the interface. To trigger the play/pause function, you tap anywhere on the player scree; to change tracks involves you swiping left or right. You can open the queue by swiping up and to close the current window, you swipe down. The player comes with an in-built equalizer having a bunch of presets and a nice interface. You can tweak the output sound to your taste. The app doesn't just play locally saved music files, it can also play contents from SoundCloud, LastFM, and Spotify, so that all your music are in one place.
2. TapTunes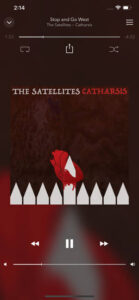 TapTunes is a great app that lets you enjoy the music you love. The app gives you a great experience from your music collection. With the app, you'll enjoy music like never before. Gestures control come with the app, so you can tap swipe, drag, touch, and shake so that you are in full control. The app is customisable so you can make things the way you want. There are over 25 settings to get you your preference. With the app, you can easily switch between your music, podcasts and audiobooks depending on what you want. TapTunes features five different browser display and you can pick anyone to suit your style. The app also has a number of sharing options, such as email, Twitter, and Facebook.
3. FLAC Player +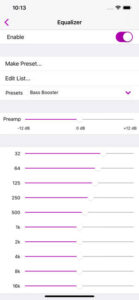 FLAC Player + is among the the best music player for iOS. One of the highlight of the app is its support for local playback. It is also compatible with FLAC, MP3, AAC & WMA files. FLAC is an acronym for Free Lossless Audio Codec, which is similar to MP3. The difference between both is that FLAC can be compressed without any loss in quality. It's just the way ZIP files work, but with FLAC, you get better compression which is peculiar to audio. The FLAC Player+ app is one app that will let you play these FLAC files without any problem. FLAC Player also lets you group playlists and allows you to transfer music via Wi-Fi.
4. Radsone Hi-Res Player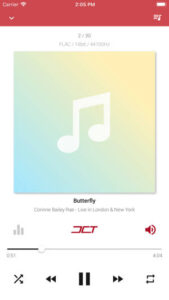 You can enjoy analog-quality audio with Radsone Hi-Res Player. The app also has a bunch of options to improve playback quality; this makes it standout from other apps. One of the outstanding feature of this app is its Distinctive Clear Technology which gets sound optimised so that it fits different music listening scenarios by removing losses due to compression. There are different presets you can choose to suit earphones, car infotainment systems, or external speakers. The music player doesn't just have these, but it features a minimal interface, and supports swipe gestures.
5. jetAudio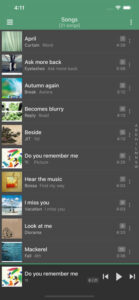 One of the best music player that exists for iOS is jetAudio. The iPhone music player has a number of option that can let you tweak playback. There are variety of playback options available on the main player screen and they can be triggered by tapping the corresponding icon. There are also a bunch of tap gestures like toggling lyrics by tapping once, playing or pausing by tapping twice, and tapping three times to shuffle songs. It boasts of an extensive equalizer, with a sound enhancer to make the bass sound better, improve depth, pitch-shifting, and also a host of reverb options.
You can also check out
How to Download YouTube Playlist using a Download Manager
View Milliseconds in VLC Media Player
How to Download Facebook Video using a Download Manager
How to Unlock Your Android Device if your Forgot the Password
How to check BVN on MTN, Glo, Airtel and 9mobile
How to Download Facebook Private Video using a Download Manager
Hope with this, you have learnt the 5 Best Music Player for iPhone and iPad.
Please share and like below, also comment below for any problem faced or encountered.