How to Edit Audio or Video Tags with VLC Media Player

Audio tags provides information about an audio, like the Title, Album, Album Artist, Year and other information available
Video tags also provides information about a video like the Title, Publisher, Copyright information and other information available.
VLC Media player can be used to edit this tags in both video and audio files.
To edit audio and video tags on VLC Media Player, Please follow the instruction listed below:
1) Open audio or video you want to edit the tag on VLC.
2 ) After opening the audio or video file, on the menu bar of VLC, Click on Tools and then select Media Information OR Press Ctrl + I on your keyboard.


3) A window "Current Media Information" will be opened .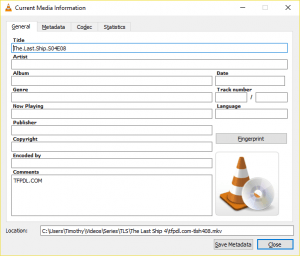 4) On the General tab of the window, You can edit the Title, Artist, Album, Genre, Now Playing, Publisher, Copyright, Encoded By, Comments, Date, Track Number, Language and others.
5) After editing the information you want to edit, Click on Save Metadata below (Where the orange box is).
Hope with this, you have learnt How to Edit Audio or Video Tags with VLC Media Player.
Please share and like below, also comment below for any problem encountered.