How to Use WhatsApp on Apple Watch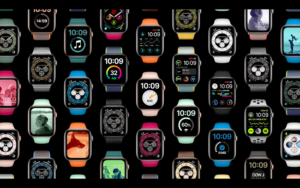 Apple Watch is one of the smartwatch that's popular. One reason for its popularity is its ecosystem of great third-party apps. Though it's good in this regard, it still lacks some important apps. One of such apps is WhatsApp. As of now, WhatsApp doesn't have an official app for the smartwatch. So how do you receive and send messages on the watch? Well, there's a workaround. With third-party apps, you can have WhatsApp on your Apple Watch. Let's know how to do this…
WhatsApp Limited Apple Watch Functionality
Since there's no official WhatsApp app for Apple Watch, you're limited. You can only have the basic features of the app – receiving messages notifications and using simple replies to respond to those messages.
1. Go to Notifications.
2. Move down the screen and select WhatsApp.
3. Turn the Allow Notifications toggle switch on.
4. Select Show in Notification Center and Show on Lock Screen
5. Open your iPhone, launch the Watch app.
6. Navigate to Notifications
7. Get to WhatsApp and enable Notification
8. WhatsApp notifications would henceforth be sent to your Apple Watch.
You should note that you can have the full features of WhatsApp with this functionality. Doing this above steps does not let you type a message, or use voice notes. However, you have the options of using simple reply, such as, Hello, On my way, or OK.
Using WatchChat 2
Like we said earlier, the above steps help give you a limited functionality to use WhatsApp. There are ways you can use WhatsApp on your Apple Watch, so that you have more functionality like being able to type messages, or view photos, however, this is only possible with a third-party app. WatchChat 2 is a good app for this. Here are the features of WatchChat 2: for WhatsApp.
Read and Reply to Messages
WatchChat 2 allows you to reply to messages directly from your Apple Watch. The Keyboard icon will allow you to do this.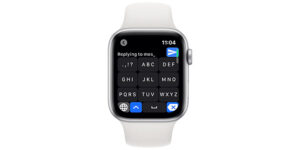 Start New Chats
With you WatchChat 2, you can start new chats. Do this by holding the screen and tapping on Contacts to search for the contact or group you wish to message.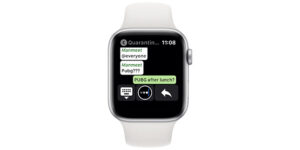 View Images and Videos
WatchChat 2 also allows you to view images and watch videos which is a great feature on a smartwatch.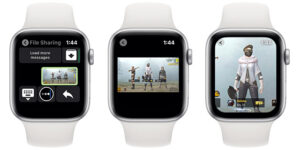 How to Use WhatsApp on Apple Watch via WatchChat 2
1. Download WatchChat 2 at $2.99 for your Apple Watch. You can download it from App Store which can be used on Apple Watch, or alternatively use your paired iPhone. From the iPhone, launch the App Store > Tap the Search tab > type into the Search tab, WatchChat 2: for WhatsApp.
2. You should start seeing the app displayed on your Apple Watch. If this isn't the case, open the Watch app on iPhone and tap My Watch tab. Scroll down to INSTALLED ON APPLE WATCH where you'll see WatchChat. Tap it and enable to show on Apple Watch.
3. When that is done, open WatchChat 2: for WhatsApp on your Apple Watch. Because you're using the app for the first time, a QR code will be displayed.
4. Open the WhatsApp app on your iPhone. Navigate to Settings > WhatsApp Web/Desktop. The camera of your iPhone will come on and ready to scan.
5. Use your camera to scan the QR code that you see on your Apple Watch.
You can also check out
How to Download YouTube Playlist using a Download Manager
View Milliseconds in VLC Media Player
How to Download Facebook Video using a Download Manager
How to Unlock Your Android Device if your Forgot the Password
How to check BVN on MTN, Glo, Airtel and 9mobile
Hope with this, you have learnt How to Use WhatsApp on Apple Watch.
Please share and like below, also comment below for any problem faced or encountered.