5 Best Podcast Apps for iPhone and iPad
Top Podcast Apps for iPhone and iPad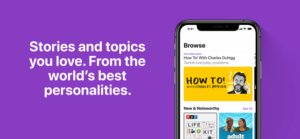 You could be on your way to work or maybe having a jogging exercise and want get some knowledge or information. Podcasts help you achieve this. With a podcasts app you can catch your favourite shows and podcasts while enjoying the features the app has. The best podcast apps have additional and catchy features that give you that great listening experience rather than basic audio. Let's dive in to see the best podcast apps for iPhone.
Best Podcast Apps for iOS
1. Overcast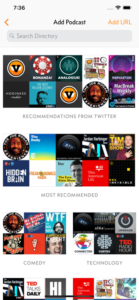 Overcast is a well-known podcast app for iPhone. Though not with those flashy graphics, but still its features are impressive. Some of the features Overcast boast of are Voice Boost (to normalise speech volume), Smart Speed (for automatically skipping silence and other gaps), and an iOS widget. You can take Overcast with you on your wrist via Apple Watch or in you car via CarPlay. Whether you're in the traffic or doing some exercise, you can always listen to the podcast you love. And one exciting thing about the app – it is entirely free with no paid features. You only have to buy an in-app purchase for $10 per year subscription if you want the ads removed.
2. Google Podcasts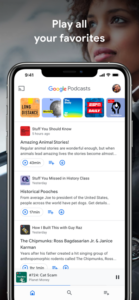 Google has a podcast app too and if you have a Google Home speaker, it is a app you should try out. You can start a podcast while traveling and when you get to your destination, continue from where you stopped on your smart speaker. Other features that the app boasts of are Google Assistant integration, adding podcasts to the app from Google searches, ability to change playback speed and more. Google also promises to bring on AI-powered features in the future, like automatic closed captioning. The interface features podcast discovery, and explore tab that has a For You section which recommends podcasts based on what you are interested in.
3. Castro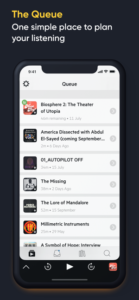 If you love beautiful apps and you want a podcast app like that, Castro is the app to go for. Castro brings on mix to mono, per-podcast controls, Trim Silence, chapter support, and more. Trim Silence is one big addition to the app, and it is just like Overcast's Smart Speed which trims out unnecessary silence and causes the dialogue to continue naturally without distortion. Castro features a new design on the player screen which is designed to display more information without clutters. You also have per-podcast control which gives you the ability to fine-tune the settings for each podcast, rather than doing that generally.
4. Downcast
Downcast is another best app for listening to podcasts. The podcast platform works with Apple Watch and CarPlay. You just have to pay once for the app and it becomes yours forever with no subscription fees. You can easily subscribe to a podcasts no matter how you find them. You can find podcast by browsing or searching for them or adding via a URL feed. With the Rich settings feature, you can start a show automatically and set a number of second in, or end them early. This is especially useful when you want to escape listening to lengthy intros or closing ads. The app has a list view of shows where you can see details associated with the number of episodes in your queue, when the most recent episode debuted and more.
5. Apple Podcasts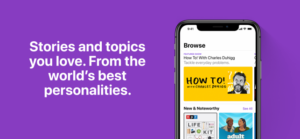 Apple Podcasts is iPhone's native podcast app which is also one of the best podcast app on the market. Apple Podcasts has some features which are significantly beneficial. With Siri support, you can control playback with voice commands. Aside using an iPhone, you can also access podcasts through associated app for Apple TV or Mac. The app hosts about 550000 shows which is massive. The podcast app also boasts of the best podcast discovery tools. You have the Recommended section which relies on smart algorithms to predict and suggest new shows you'll like. If you want a simple podcast app without all the other fancy features other apps have, then Apple Podcasts may be right for you.
You can also check out
How to Download YouTube Playlist using a Download Manager
View Milliseconds in VLC Media Player
How to Download Facebook Video using a Download Manager
How to Unlock Your Android Device if your Forgot the Password
How to check BVN on MTN, Glo, Airtel and 9mobile
How to Download Facebook Private Video using a Download Manager
Hope with this, you have learnt the 5 Best Podcast Apps for iPhone and iPad.
Please share and like below, also comment below for any problem faced or encountered.