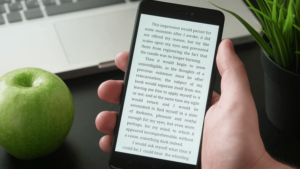 You can use your smartphone for many things aside from the call function that the first phone was made for. The smartphone has changed the way we do many things, and it is also having influence on the way we digest information and knowledge. Gone are the days when getting information or knowledge was difficult. For example, then, you'd have to go to the library to get books. Right now, with your smartphone, you can get the hottest books without having to get up from your bed. With eBook readers, this has been made possible and here, we'll give you 5 best ebook reader for Android.
Best eBook App for Android
Amazon Kindle

A Kindle might be expensive for you, so why not try the Amazon Kindle app on your Android device? You'll find the latest and hottest books, graphic novels, periodicals and textbook via the app. There's a platform within the app that allows you to discuss with your fellow readers when you start reading the books. You can sample any book at no cost and if you find it good to read and you have the Kindle Unlimited and Amazon Prime membership, you can buy it in the app. The ebook app also affords you the ability to borrow local library eBooks and you have options to customise things. Customise features like font size, screen brightness, font style and colour page to your taste. You want the definitions of a word? Just use the on-page translation function and you'll get the right answer.
Scribd
Scribd is not free, but in the eBook reader are a large collection of books, magazines, audiobooks, and sheet music also. In the Scribd library are over 1 million eBooks. There are hundreds of magazines that the library boasts of and it is the world's largest document library. Various academic documents are available in the library's database ranging from official government reports, academic papers and more. The library boasts of the basic and additional features to help you customise the interface for a reading experience that suits you. You can adjust the brightness levels, fonts and even the scroll direction. With a subscription, you will have access to the features that Scribd boasts of, or better still, you can try out the 30-day free trial.
Aldiko Book Reader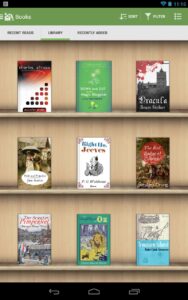 Aldiko Book Reader is another eBook reader for smartphones. The ebook reader is a great alternative to the big names on the eBook reader market. Aldiko can help you read eBooks in PDF and ePub formats. The app is memory conscious and will not save any book automatically. If you desire to have your reading sessions saved so that you can go back and continue from where you stopped, you'll need to import the book and it will go to the virtual shelf. Aldiko boasts of several customisation options that lets you adjust font face, background settings and font size to meet your preferences. With its extensive features, you can have a great time reading eBooks.
Moon+ Reader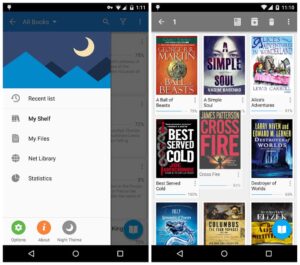 There are times you have the file of a book you want to read and you don't want to purchase like you'd do on Amazon Kindle, this is where Moon+ Reader shines. The eBook reader opens the book file and lets you read. With over 12 different supported file formats, from .rar format to .epub format, you can virtually read any kind of eBooks. The app also featues customisation options so that you can change the look of the screen. The app will also let you backup your library to the cloud, and has a bunch of auto-scroll options and other fantastic features you'll find interesting.
FBReader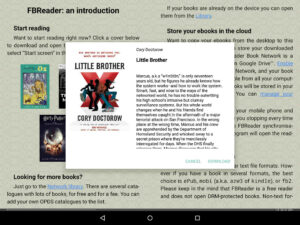 FBReader is an eBook reader that supports various ebook formats like EPUB, RTF, DOC, HTML, MOBI. It doesn't have an attached store but this is compensated by its highly customisable features. The app lets users adjust backgrounds, margins, text fonts, text colours, backgrounds, page animations and so on. The reader also boasts of language localisations, a browser/downloader for finding books, external dictionary support etc.
You can also check out
How to Download YouTube Playlist using a Download Manager
View Milliseconds in VLC Media Player
How to Download Facebook Video using a Download Manager
How to Unlock Your Android Device if your Forgot the Password
Hope with this, you have learnt How to Unlock Your Android Device if your Forgot the Password.
Please share and like below, also comment below for any problem faced or encountered.