Clear Cookies, History, Cache on Mozilla Firefox Browser. How to Clear Cookies, History, Cache and  Browsing Data in Mozilla Firefox BrowserThis guide explains how to clear cookies, history, cache and browsing data for the PC version of Mozilla Firefox Browser. To learn how to Clear Cache, cookies and History For Mozilla Firefox for Android, Click Here
Using Keyboard Shortcut
1) Press Ctrl + Shift + Del on your Keyboard.
2) A window, Clear All History will be shown.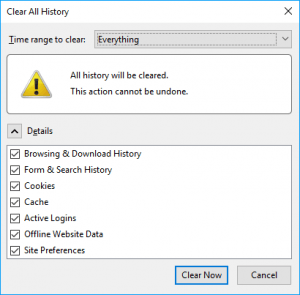 3) Select what you want to clear either All, Browsing History, Downloads, Cookies and Storage, Cache, Passwords, Form Autofill Data, Application Cache, then also select the time frame (Last Hour, Last 2 hours, Last 4 Hour, Today, Everything
3) Then Click on Clear Now
Using the Menu Bar
To Clear Cookies, History, Cache and  Browsing Data on Mozilla Firefox Browser, Please follow the instruction listed below:
1) Launch the Mozilla Firefox Browser.
2) On the top right hand corner, Click on the Mozilla Firefox Browser three Horizontal line symbol, then Click on Options.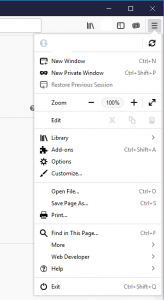 3) The Options Window will open, set to General Options.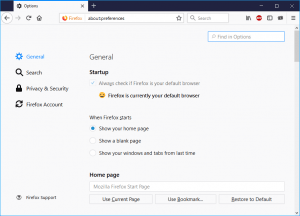 4) On the left hand sidebar, Click on Privacy and Security.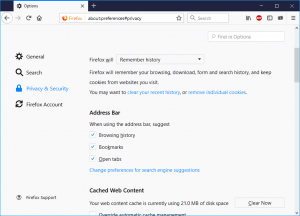 5) Scroll down to Site Data and Click on Clear Data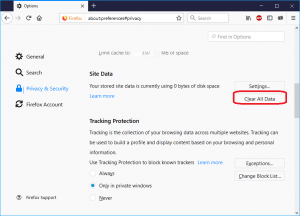 6) Select what you want to clear either All, Browsing History, Downloads, Cookies and Storage, Cache, Passwords, Form Autofill Data, Application Cache, then also select the time frame (Last Hour, Last 2 hours, Last 4 Hour, Today, Everything
7) Then Click on Clear Now .
Hope with this, you have been able to learn How to clear Browser Cookies on Mozilla Firefox Browser on your Computer System.
Please share and like below, also comment below for any problem encountered. Thanks