There are various kinds of games, but one kind of game that is usually played in real life as well as can be played virtually are sport games of which Golf is one of. Though you won't get the same golf experience on your device like you'll get in real life, there are golf games for Android that gives you a great experience. In this guide, we explore 5 best Golf games for Android.
1. WGT Golf
WGT Golf is a realistic golf game for your Android device. The game boasts of various game modes like single player mode, multiplayer mode, and topgolf mode. In it are 15 golf courses with Bandon Dunes and Pebble Beach golf courses included. The game is an interesting one and you it won't feel repetitive even after playing long on it. You also have an array of equipment to choose from and you can upgrade your equipment as you go in the game. One exciting feature that it has is Virtual US Open Tournament which you can engage in to win a free entry to watch the real US Open tournament.
2. Flick Golf Extreme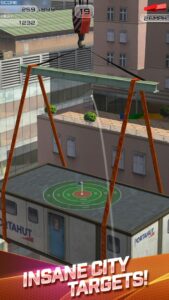 Flick Golf Extreme is another great golf game which is also popular. You can easily play the game. All you need do is to strike your finger on the screen which will send the ball to the hole. One of the things the game requires is Precision. You need to accurately shoot the ball into the hole. You have different environment in the game from which you can play golf: from an helicopter, Icebergs, or The Grand Canyon. It has decent graphics to go with alongside various maps. You can unlock more and more maps as you advance in the game.
3. Golf Battle
Golf Battle is another interesting game. The game has various modes: you can play in a 1 vs 1 match, multiplayer match or even with real players from around the world. The game boasts of a classic mode which you can play to enjoy the real-world golf. There's the Rush mode too, a fast-paced mode of the game. In Golf Battle are responsive controls and decent graphics to go along with. Also you can unlock items and levels as you advance in the game.
4. Golf Clash
Golf Clash is an exciting Golf game that works well on Android. The game has an enjoyable golf experience. There are various kinds of modes including 1 vs 1 real-time gameplay or bigger tournaments which offers rewards. The game also works with social media platforms like Facebook where you can invite friends to join you to play. There are also exciting items to unlock such as balls, chests, and premium clubs.
5. Golf Star
Another Golf game that is great to play is Golf Star. The game is an impressive blend of stunning graphics with a realistic gameplay that lets you enjoy a great golfing experience on your smartphone. You can play in single modes of multiplayer modes. It also features World Championship, tournaments, and Guild which gives you an unending experience. Gold Star boasts of 15 golf techniques which keeps you going in the game.
Rounding Up…
Android Golf games offer a way to have the feel of the real-world gaming experience. They are interesting and help increase your precision and accuracy. These five golf games all have features that will put you in the fun. If you find this guide helpful, kindly leave a comment and don't forget to share…