Welcome to the world of workstations, where power meets practicality. Today's workhorses are sleek, powerful machines that blend seamlessly into any office setup. Whether you're a designer, engineer, or financial analyst, these workstations are built to handle it all. From compact models to robust powerhouses, there's one tailored for you. We've sifted through the best, considering RAM, CPU, graphics, and more. Read through for our top picks of 2023, designed to elevate your work experience…
Apple Mac Studio – Apple's Workstation Offering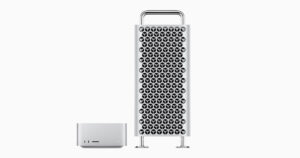 The 2023 Apple Mac Studio, featuring the powerful M2 processor, is a standout in Apple's desktop lineup. With enhanced performance, expanded memory capacities, and improved memory bandwidth, it demonstrates the prowess of Arm chips in a desktop system. While Intel and AMD processors have made strides to rival Apple's M2 offerings, the Mac Studio still shows a commendable 20% boost in CPU benchmarks and over 40% in gaming framerates compared to its predecessor. For demanding workflows involving graphics-intensive applications, the Mac Studio is a superior choice over the Mac Mini.
The compact design, with an aluminum chassis, reflects Apple's signature aesthetic. Its footprint of just under 20cm squared is remarkably compact, and the lower power draw ensures quieter fan operation. With an array of ports including Thunderbolt/USB-C, HDMI, and Ethernet, the Mac Studio offers excellent connectivity options. In terms of performance, the Mac Studio excels in creative tasks, though it falls slightly short of the standout performance seen in the previous generation. The 24-core CPU and 76-core GPU configuration handles tasks like video editing with ease. The GPU performance is equivalent to an Nvidia GeForce RTX 4070, though gaming performance may not be as optimal.
Overall, the Apple Mac Studio (M2 Ultra) is a superb choice for creative professionals seeking a powerful, compact workstation. Its exceptional performance and thoughtful design make it a valuable addition to Apple's desktop lineup.
2. HP Z2 Mini G9 – Best Compact Workstation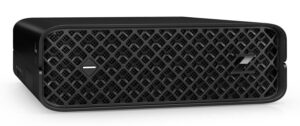 The HP Z2 Mini G9 is a marvel of compact workstation engineering. Despite its shoebox size, it packs desktop-class components, setting it apart in the mini PC category. The lattice-patterned grille on the front conceals the power button and Z logo, allowing versatile placement options. Its 8.3 x 8.6-inch frame, while slightly larger than a Mac Studio, offers a clean and efficient setup. The external power brick, a necessary compromise for its size, is a minor drawback. Internally, it's remarkably accessible, with easy memory upgrades and storage expansion of up to 8TB. The port selection is odd, with an overemphasis on mini-DisplayPorts, but it features useful USB-C and headphone jacks on the side.
Equipped with a Core i9-12900K CPU, the Z2 Mini G9 excels in both single-core and multi-core performance, rivaling larger PCs. Its low-profile RTX A2000 GPU handles graphics admirably, suitable for gaming at 1080p. However, its strength lies in video editing and media tasks, providing impressive results in Pugetbench Premiere Pro and Handbrake. Despite potential heating and noise concerns, the robust internal cooling system maintains high frequencies and low temperatures under heavy loads. While it has some design quirks, the Z2 Mini G9 stands out as a powerful and compact workstation, particularly for those seeking efficiency in a limited space. Comparatively, alternatives like the Mac Studio may offer better performance at a higher cost. Nonetheless, its user-friendly internals suggest a long lifespan, making it a compelling choice for diverse professional needs.
3. Lenovo Yoga A940 – Best All-in-one Workstation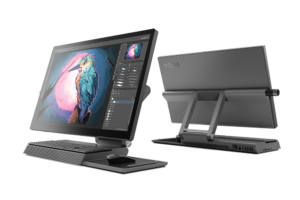 The Lenovo Yoga A940 redefines the all-in-one workstation, targeting creative professionals with a unique blend of innovation and performance. Its 27-inch 4K touchscreen, boasting 100% Adobe RGB and Dolby Vision, is a visual marvel, perfect for digital artists and photographers. The base houses an Intel Core i7-8700 CPU, 16GB RAM, and AMD Radeon RX 560X GPU. While not cutting-edge, they handle modern applications with ease. What sets it apart is the screen's adjustable angle, a boon for digital creatives. Other features like the content creation dial, front-facing Dolby Atmos speakers, and a wireless charging mat enhance its usability. However, direct sunlight may slightly affect screen visibility, and thicker bezels marginally offset the display's aesthetics.
Despite the GPU's limitation for intensive workloads, the Yoga A940 excels in most tasks. Its versatility makes it a strong contender in the all-in-one workstation arena. On the downside, the included mouse and keyboard, while functional, lack ergonomic finesse, and the inability to wirelessly charge them on the pad is a missed opportunity. Moreover, the use of mid-range components may slightly limit its performance potential. Nevertheless, the Yoga A940's competitive pricing and innovative design establish it as a compelling option for creative professionals seeking a powerful and feature-rich workstation.
4. Falcon Northwest Tiki – Best Workstation for Creators & Gamers
The Falcon Northwest Tiki redefines small-form-factor gaming desktops, delivering colossal power in a compact frame. Anchored by the formidable AMD Ryzen 9 7950X3D processor and a surprising Nvidia GeForce RTX 4080 GPU, it rivals much larger towers in performance. This powerhouse boasts 64GB of RAM, a capacious 2TB SSD, and runs on Windows 11 Pro. Its 11.6-liter chassis, significantly smaller than a typical mid-tower, is a class apart, showcasing Falcon Northwest's engineering finesse. Crafted from a single block of aluminum, the chassis exhibits exceptional rigidity, accentuated by a 6-pound detachable baseplate.
For optimal airflow, the Tiki is designed to stand upright, ensuring efficient ventilation. The tower is peppered with strategically positioned perforations. Top-mounted ports include USB-A 3.2 and USB-C 3.2, along with an audio combo jack. The back panel hosts an array of connectivity options. In benchmarks, the Tiki demonstrates remarkable prowess in productivity, content creation, and gaming, distinguishing itself as a versatile machine. Falcon Northwest Tiki's top-tier performance, combined with its compact form, makes it an exceptional choice for both gamers and creators seeking an uncompromising computing experience in a space-saving design.
5. Dell Precision 7920 Tower – Best Workstation for AI and Machine Learning Application
Dell's Precision 7920 Tower is an elite workstation, hosting dual Intel Xeon Platinum 8260 processors, each flaunting 24 cores and 48 threads. Bolstered by 96GB of DDR4-2933 ECC memory and a robust 48GB Nvidia Quadro RTX 8000 GPU, it's optimized for data science and machine learning tasks. This high-powered system, while carrying a hefty price tag, delivers unmatched performance and enduring dependability. It offers extensive configuration options, ensuring scalability to meet specific needs.
Weighing 56 pounds and measuring 17 by 8.6 by 22.3 inches, the tower is substantial, equipped with sturdy carry handles for easy transport. Constructed predominantly from steel, it emphasizes durability. The tower's front panel provides a wealth of connectivity options, including a full-size SD card reader, USB 3.1 Type-A and Type-C ports, and an audio combo jack.
The Precision 7920 stands as a pinnacle of workstation technology, excelling in scenarios demanding maximum performance and reliability, making it a formidable contender for AI and machine learning applications.
In Conclusion…
In conclusion, the world of workstations has never been more dynamic. These powerful machines, ranging from compact wonders to robust powerhouses, are tailored to meet the demands of modern professionals. Whether you're delving into complex graphics, financial analysis, or digital content creation, these workstations have got you covered. With Apple's groundbreaking Mac Pro leading the charge, the industry is poised for exciting developments. As we unveil our top picks for 2023, rest assured that each recommendation has been rigorously tested for performance, ensuring you're investing in the very best for your business. Elevate your work experience and watch productivity soar with these exceptional workstations at your side.