Gaming isn't just a pastime; it's an experience that demands the right gear. Enter gaming accessories, the unsung heroes of immersive gameplay. These peripherals enhance everything from control precision to visual ambiance. But in a sea of options, which ones truly stand out? We've sifted through the tech landscape to bring you the top picks. From ergonomic keyboards to lag-free controllers, these are the tools that transform a good gaming session into an unforgettable one. Join us as we unveil the must-have gaming accessories that promise to elevate your PC gaming setup.
1. Gaming Monitor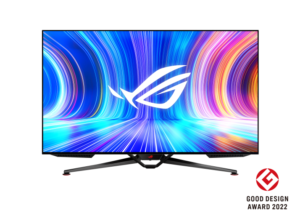 A high-resolution monitor is like having super clear glasses for your computer games. It makes everything look incredibly detailed and colorful. This is super important for gamers because it makes the games feel more real and exciting. With a high-res monitor, you can see more of the game world, giving you an advantage. Whether you're exploring vast landscapes or playing action-packed games, a high-res monitor makes everything look amazing, taking your gaming experience to a whole new level of fun and immersion. It's a must-have accessory for any serious gamer!
2. Gaming Keyboard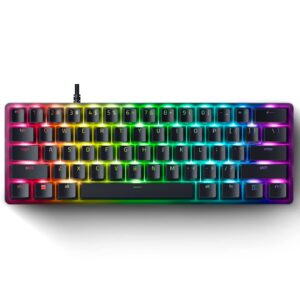 A full-sized gaming keyboard is a game-changer for PC gamers. Its importance lies in the specialized features it offers. With extra programmable keys, it allows quick access to in-game commands, giving players an edge in fast-paced scenarios. The tactile, responsive keys enhance precision and speed, vital for competitive gameplay. Backlit keys not only add a cool aesthetic but also improve visibility in low-light environments. Additionally, anti-ghosting technology ensures every keystroke is registered, preventing frustrating input errors. Durability is also a key factor, with many gaming keyboards built to withstand intensive use. In essence, a full-sized gaming keyboard is a powerhouse tool for serious gamers.
3. Ergonomic gaming mouse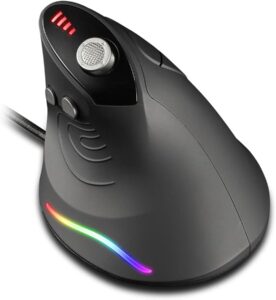 An ergonomic gaming mouse is a game-changer for serious PC gamers. Its significance lies in the comfort and precision it provides during long gaming sessions. Designed to fit the natural shape of the hand, it reduces strain and fatigue, allowing for extended periods of gameplay without discomfort. Additionally, advanced sensors and customizable buttons enhance aiming accuracy and responsiveness, crucial for competitive gaming. The ergonomic design not only improves performance but also prevents repetitive stress injuries. With customizable weights and profiles, it caters to individual preferences. In essence, an ergonomic gaming mouse is a crucial accessory for maximizing both comfort and performance in the gaming arena.
4. Gaming Headset
A gaming headset is like magic headphones for gamers. They make the game sounds feel real and all around you. This is super important because it helps you know where things are happening in the game. For example, you can hear if an enemy is sneaking up on you. Also, you can talk to your friends while playing, which is really handy for teamwork. A comfy fit and blocking out background noise make it even better. In simple terms, a gaming headset makes your games more exciting, helps you play better, and lets you chat with friends – a must-have for any serious gamer!
5. Gaming controller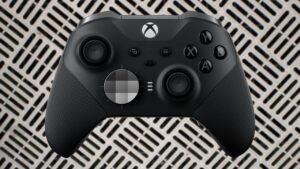 A gaming controller is like a magic wand for PC gamers. It's important because it makes playing games much easier and more fun. With buttons and joysticks, it's simple to control characters and actions. This is super handy for games that work better with a controller, like racing or fighting games. Plus, it's comfy to hold for hours of gaming. Some games just feel better with a controller in hand. So, having one as an accessory is a must for any PC gamer looking to level up their gaming experience. It's like having a secret weapon in your gaming toolkit!
6. Stereo speakers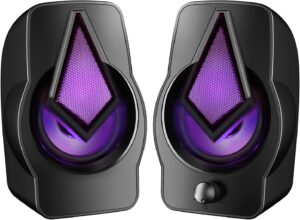 Stereo speakers are like powerful storytellers for PC gamers. They're important because they bring games to life with rich, immersive sound. With two speakers, they create a 3D audio experience, letting you hear where every sound is coming from. This is vital for knowing if an enemy is sneaking up or where a distant explosion happened. Plus, they make games more exciting and realistic. Whether it's the crunch of footsteps or the roar of engines, stereo speakers make it all feel real. They're like a ticket to a whole new world of gaming fun, making them a must-have accessory for any PC gamer.
7. Blue Light Reduction Glasses
Blue light reduction glasses are like superheroes for PC gamers' eyes. They're important because they shield your eyes from the harmful blue light emitted by screens. This light can cause eye strain and fatigue, especially during long gaming sessions. The glasses act like a protective shield, keeping your eyes fresh and comfortable. They also improve sleep quality, as blue light can disrupt your sleep patterns. With these glasses, you can game longer and sleep better. They're like a secret weapon for keeping your eyes healthy and your gaming sessions top-notch. So, including them as an accessory is a smart move for any serious gamer.
8. Gaming chair
An ergonomic gaming chair is like a comfy throne for PC gamers. It's crucial because it keeps you comfortable during long gaming sessions. With special designs, it supports your back and neck, preventing strain and discomfort. This means you can play for hours without feeling sore. Plus, it's adjustable to fit your body, making it super cozy. A good chair also improves focus and gameplay. It's like having a secret weapon for winning. So, having an ergonomic gaming chair is a game-changer for any serious PC gamer, ensuring you're comfy and at your best for epic gaming adventures.
In Conclusion…
In the world of PC gaming, accessories are the unsung champions that turn ordinary setups into extraordinary experiences. Whether it's maximizing convenience or enhancing aesthetics, these peripherals offer a gateway to a more immersive gaming world. From controller holders to RGB lighting, each accessory serves a purpose in making your rig not only functional but also uniquely yours. So, whether you're a seasoned gamer or just starting out, investing in the right accessories can truly level up your gaming setup. Embrace the power of these additions, and let your gaming adventures reach new heights of excitement and performance.