How to Create or Write Subtitle or Captions Using Notepad or Any Text Editor

The processes listed below will guide you on How to Create or Write Subtitle or Captions Using Notepad or Any Text Editor:
1) Launch notepad or any text editor
2) To Launch Notepad, press Win + R, type in Notepad and press Enter
3) To start writing the subtitle
You write the subtitle in the form
Serial Number – Number of subtitle are arranged serially
Time in the format of Hour:Minute:Seconds,Milliseconds ( You can learn how to show millisecond in a video in VLC or Using the Window Movie Maker )
Text (the spoken words then written)
For Example
1 (Serial Number)
00:00:01,400 — > 00:00:03,200 (Time)
Hello, Good day and welcome to LatestSolution (Text for the Audio)

4) After Writing all the Subtitle, You save the subtitle as a .srt file extension using the UTF-8 encoding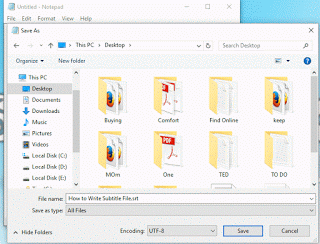 TIPS TO ADD
Some things can be added to the subtitle using html tags
Like for italics, the text becomes
<i> Text is Written </i>
To change font Color
<font color="font number or color is added"> Text is written </font>
To make the text bold
<b> Text is Written </b>
Other html tags could also be added to improve the beauty and add more meaning to the subtitle.
Hope with this, you have been able to Create or Write Subtitle or Captions Using Notepad or Any Text Editor.
Please and like below. Also comment below for any problem faced or encountered.