5 Best Office Apps for iPhone & iPad 2021
With technology, life has become more easier. Advancement in technology brought about the use of smartphones in working on Office documents. Before now, we could only do them on PCs or Mac, now smartphones are capable of handling office document works. The best Office apps combine a word processor, spreadsheet tool, and presentation editor plus a PDF tool. In this post, we explore 5 of them.
1. Microsoft Office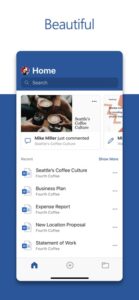 Microsoft Office is one of the best office apps. Available for iOS, it comprises of Word, Excel, and PowerPoint. You can have some of the desktop suite experience on your iPhone or iPad. The app is truly powerful capable of performing complex calculations, creating slideshows, or creating a word document. You can have the Microsoft Office apps on your iDevice as an extension of the desktop apps and use it while on the go. For syncing purposes, you have to sign in with your Microsoft ID. If you want more features you should try the Office 365 subscription.
Download Microsoft Word
Download Microsoft Excel
Download Microsoft PowerPoint
2. Polaris Office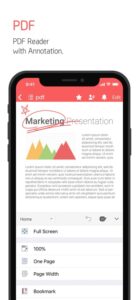 Polaris is a capable Office app available for iPhone and iPad. It is not only available for iOS but works cross-platform. It has many features in the package. Most of the MS Office file types are supported on the app. The app works with ODT, PDF, DOC, PPT, and XLS. You can easily open and edit various MS Office formats with this app. The app also boasts of the pointed feature which allows you to write as if on a physical paper. The app can open PDF documents, and you can even convert them to another format.
3. Documents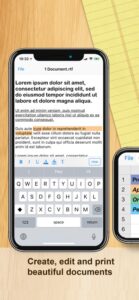 If you want a great app for office, you can be rest assured that Documents will serve you well. The app allows you the open and edit spreadsheet, word document and presentations. The app allows you to transfer files to iCloud, Dropbox and other cloud services. This allows you to work on different devices where you can retrieve the files. The app is bundled with capable features to help you with office works. You have an easy to use user interface. The app can work online or offline. It supports a wide variety of Microsoft Office file formats.
4. Office Suite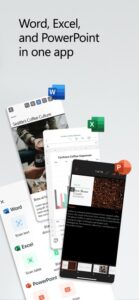 Office Suite is different from the Microsoft Office Suite. The app is a complete solution that sees to your office needs. It supports all Microsoft office formats and even .RTF, .TXT, .LOG, .CSV and more. The app allows you to work on documents, spreadsheets, presentations and PDFs. The app can even allow you to password-protect files, edit PDFs, and more. You'll need to upgrade to premium though to be able to access this features. If you need an app that works similarly to Microsoft Office, then this app is a great alternative.
5. Smart Office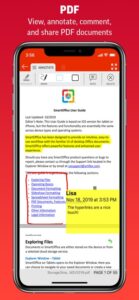 If you need an app for working with office office documents, then Smart Office is a great choice. The app lets you create new documents with templates or if you like you can work with a blank document. It allows you to edit presentations which can even be projected from your iPhone. What's more, the PDF tool allows you to edit budget review, expense reports and also annotate PDF documents. The app has various sharing options to share documents. You can even sync with various cloud services like Box, Dropbox, and Google Drive.
Rounding Up…
Whether you're preparing to write a project work for school or preparng you company's annual report, you need a capable Office app. Most smartphones can run this apps without issues. So there you have it! We hope you found this post helpful? If you did, kindly leave a comment and don't forget to share.