Contacts are a major element of smartphones, because you'll essentially be using your phone to make calls. Also most social media platform require phone numbers to operate, so you'll be needing a capable app to manage your contacts.
Your phone's built-in contact can do all the basic stuffs, but if you need a better contacts app with more advanced features, you should go for a third-party app. In this article, we explore the 5 best contacts app for Android.
1. Contacts+
Contacts+ is a powerful app that manages your contact with a lot of features. This makes it one of the best contact apps for Android. The app is neat and organized and will help you browse through and locate contacts easily. With Contacts+, it is easy to keep track of your contacts easily. the app is integrated with other contact-based services so that all your data can be synced with Contacts+. Contacts+ will also give suggestions on deleting duplicates. You can also add a lot of details to each contacts like photos, address and more.
2. Covve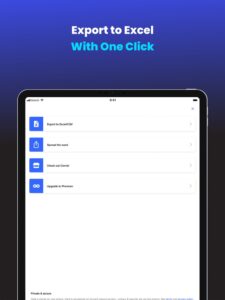 Covve brings a new look of a contact manager to your Andriod smartphone. The app also has a host advanced features that can make managing contacts a breeze. Covve has the auto-fill feature to complete details of your contact like their company name, from the app's database. You can also organise contacts into groups too. Covve will regularly check for updates to keep your contact:s details up to date. You can download the app for free or pay for its premium version.
3. Simple Contacts
Simple Contacts is another impressive app for managing contacts. It has a lot of robust features that make it a part of this list. You can easily send batch emails or SMS with the group feature thereby saving you time. What's more? You can have a separate list for people that are dear to you, or co-workers in a separate list. You can easily import and export contact in this app in vCard format. This is handy for migrating your data and also backing up. It is easy to edit a contact details and you can save important dates for contacts like birthdays, anniversaries, and more.
4. Google Contacts
Google Contacts is the tech giant offering to Android smartphones to manage contacts. The app is functional and works well. It will identify duplicate contacts and will suggest you merging them. Google Contacts can let you mark contacts as favorites. It has a  suggestion feature that allows you to be able to add the numbers you dial frequently to the contact list. You can even import contacts via VCF file into the contact list. Google Contact has a great sorting feature; you can sort contacts via first or last name.
5. Contacts Optimizer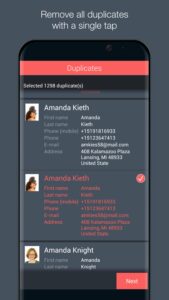 Contacts Optimizer is an excellent addition to this list. The app helps you to manage your contacts effectively. With an intuitive interface, the app is easy to navigate. Contacts that have similar details can easily be merged in Contacts Optimizer. You can mass move contacts easily and get contacts deleted quickly and easily. The app will also smartly identify incorrect contacts that cannot be dialed and also locate contacts that has incomplete fields.
Rounding Up…
Contacts app are very useful since contacts are one of the most important things you'll have on a smartphone. Not only do they store your contacts, they also help you organise your phone book. We hope you found this guide helpful? If you did, kindly leave a comment and don't forget to share…