5 Best Cloud Storage Apps for Android 2021
There was a time when we could only store and backup our files on physical storage devices. But the evolving of technology have transformed things to the extent that we no longer have to carry a physical device for our files to be saved. With the internet, we can send them to the cloud and access them anytime and on any device. This is the power of cloud storage. There are many cloud storage services available each having their pros and cons. In this guide we highlight 5 best cloud storages.
1. Dropbox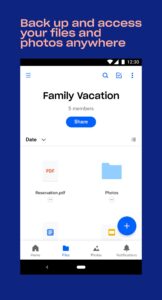 Dropbox is a popular option when it comes to cloud storage. Families can take advantage of the family plan that has 2TB of storage and is available for 6 people. This Family Plan goes for $16.99 per month. You don't have to manually upload photos as the app has the auto-upload feature.
There's support for Microsoft Office. On a free account, you have access to 2GB storage which is quite decent. It has great sharing options. The app allows you to scan documents and you can share links to people who would love to view large files. Dropbox has a clean and easy-to-use interface which makes the user experience enjoyable.
2. Google Drive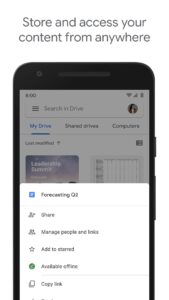 Most Android phones come pre-installed with Google Drive making it a convenient way of saving to the cloud. You have 15GB for backups and it is so generous in free storage than other apps. By tapping the + button in Google Drive, you can do many things as regards storing files to the cloud. You will be able to organise and manage files and folders, sync data and share files easily.
Google Drive works well with other Google products including Google Photos, Google Docs, Google Sheets, and more. Google Drive helps sync files at a great speed. Not only are you able to store files, you also have security features at your disposal. It features two-factor authentication and encrypted connections.
3. Microsoft OneDrive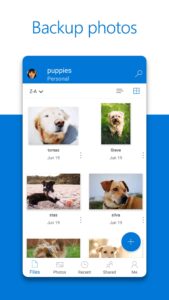 Microsoft OneDrive is another cloud storage solution for Android. The Microsoft service is integrated with Microsoft Office apps. Office 365 also comes with the paid plan. The app allows you to automatically store your photos to the cloud.
The service makes 5GB of cloud storage available for the free plan which can be upgraded to 100GB or a much bigger 1TB. This 1GB plan is the one containing the Office suite of apps also known as Office 365. There's also the Office 365 Home Plan that can be used by up to six people. The user interface of the app is convenient and easy to navigate. You have menu at the bottoms to quickly take you to files, photos and shared files.
4. Box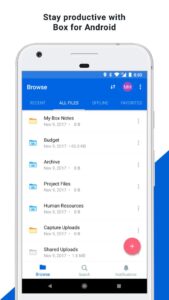 If you need another useful app for cloud storage, then you can try Box which is available for Android. The app allows you to organise and manage files on the cloud. You can also share and edit files securely. Free storage is available at a cap of 10GB which can be used across various platforms.
Box helps you sync data without stress. There's also the feature that gives you offline access to files and folders. It also gives you an easy sharing option of sending links of files. The search function is robust that it even allows you to search in PDF, word documents and Excel files. And the bonus is that it has a note-taking feature that lets you jot your ideas on the go.
5. Nextcloud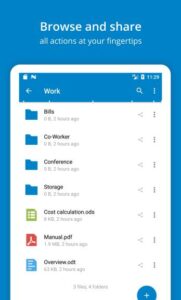 Nextcloud offers a different kind of cloud service. The way it works is that you have the ability to create your own Nextcloud server on your own computer. When you do, you then can sync files between your computer and your mobile device. Instead of your files going to a particular company's storage, you will be able to control things with Nextcloud.
So if you're the type of person that doesn't want their files in the server of a cloud storage company, then this is your best bet. The great thing is that the cloud storage you get is based on the storage of your computer.
Rounding Up…
Storing your files in the cloud has a way of giving you peace of mind. Reason is because physical storage devices can be misplaced or damaged making you lose all your precious files. It's also an advantage to have these cloud storage services as an Android apps as it makes it easy to backup files on the go. We hope you found this helpful? If you did, kindly leave a comment and don't forget to share.