In a world where there's a lot of busyness, being organised is vital and very important especially for business professionals. You don't want to forget an important meeting because of the many things you have to do, therefore having a Calendar app is one of the best way to keep tabs of your events, meetings, and appointments. In this guide, we provide the 5 best calendar apps for Android.
Business Calendar 2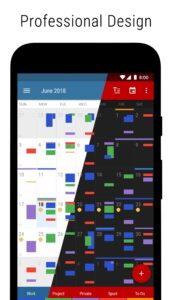 For power users or what we'll call business users, Business Calenders is a comprehensive calender offering tons of features. There's a favourites bar in the app that lets you hide or show calendars. It also has a custom event template which you can use to create event faster and a week slider that helps you to zoom on a particular date range. The app also has robust syncing options as it can work with Google Calendar. It's a free-to-use app but by paying for the premium version, you get many more features.
2. Google Calendar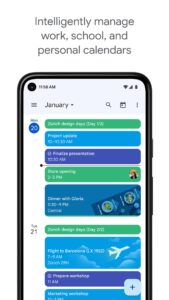 If you're into Google products, then you'll find Google Calendar natural to use. The app which is available for Android is also available on other platforms such as iOS and ChromeOS. The app has a neat and professional design that helps you to view events and schedules in an organised manner. It features colourful cards for each of the month and you can sort event by color or into categories. You can have various kinds of view such as: one day, four days, a week, a month and more. Google Calendar is cloud based, which means you can sync your data across various devices and access them from there.
3. Calendar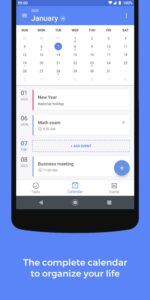 This app's name, Calendar may be simple but it's has a lot of features to go with it. It has what you need to manage meetings, events and appointments. It boasts of a sleek design that gets you organised. It not only works as a calendar, it can also act as an appointment scheduler. You can specify times that you're available for meetings, and share the link with any attendee that is scheduled for the meeting. You also get a public profile with a URL like this calendar.com/favourokoro .
4. aCalendar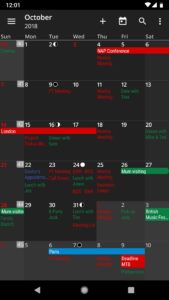 aCalendar is one of the best calendar apps and is so heavy on customisations. You'll agree that customisations are very useful for people who are busy and need to be able to quickly identify events without much stress. aCalendar keeps you organised with its array of colors numbering 48 per calendar. aCalendar will help you keep track of all that pertains to your calendar. Events can be edited or added by long pressing on the screen which makes for the intuitive access of the events creation or edit page
5. Calendly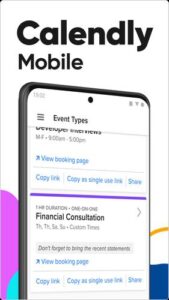 With Calendly, you can schedule your meetings and events easily. You'll need to specify your availability and Calendly will then do the rest for you. You can set-up meetings as either one-off or recurring. Not only that, the app boasts of automation features that makes scheduling a breeze. You can then send your Calendly link to guests or even put it on your website. It also integrates with Zoom, and if you usually use Zoom for meetings, this would be the perfect calendar for you. It has a simple and neat interface though you can't make much customization tweaks to the look.
Rounding Up…
Calendar apps are so useful not because that let you see the dates of the week, but because they offer you even more: scheduling, reminders, powerful integrations and much more. We hope you found this guide helpful? If you did, kindly leave a comment and don't forget to share…