Product Management is a top-rated job. According to Glassdoor's annual jobs report on '50 Best Jobs in America in 2019', Product Management jobs are 5th on the list with a median base salary of $115,000. This means it is a high paying job with so many potentials.
To be a Product Manager requires that you have the skills needed to excel in the profession, and that means you'll have to take courses and certification that add to your knowledge, and boost your attractiveness to employers.
There are many platforms from which you can learn this skill. These platforms have varying features. Some are more expensive than the others. Others are certifications that are more recognised. We will cover some of these learning platforms and show you the best Product Management courses there. Let's dive right in…
Digital Product Management: Modern Fundamentals by University of Virginia (Coursera)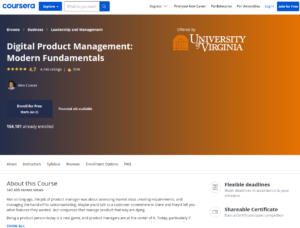 If you want to have a solid understanding of the principles of product management, and want to improve your skills, this course will help you achieve this. The course equips learners with adequate skills required to manage a product. You will be introduced to skills and techniques that will enable you to launch and manage products successfully. You will be equipped with knowledge to create testable customer outcomes, and also relate with stakeholders concerning this. You will also learn to analyse growth, and engagement using proven methods.
2. Product Management 101 (Udemy)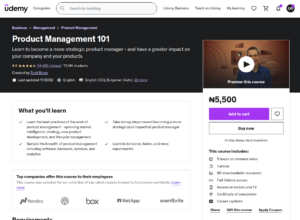 This is undoubtedly the most affordable product management course (Udemy). The course boasts of five hours of in-demand video, and you will have opportunity to practice as you go on in the course. The course features topics that cover the entire product lifestyle, new product development, and lifecycle management, market intelligence, strategy. The course also teaches you on growth hacking, product obsolescence, and how to handle pricing.
3. Brand and Product Management by IE Business School (Coursera)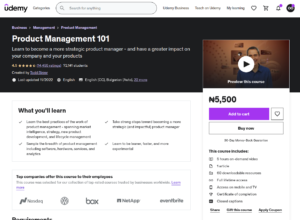 Offered by IE Business School on Coursera, this course is part of the Marketing Mix Implementation Specialization. With the course, you will understand brand development and product management. Not only that, you will use this understanding with architecture and portfolio to create a successful launch. The course boasts of 6 modules, with plenty of readings, graded assignments, and video contents. At the end of the course, you will be able to get the information needed to create a brand strategy.
4. Become a Product Manager Course | Learn the Skills & Get the Job (Udemy)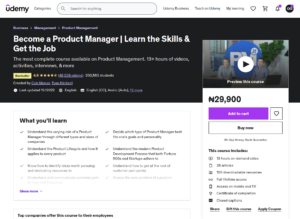 This is one of the best Product Management courses on Udemy. It packs a lot of valuable and insightful content that improves your product management skills. You learn concepts revolving around market research, metrics, user stories, scoping, and more. The course boasts of interviews with real life PMs, Q&A sessions that help you know the profession on a practical level. There are about 144 lectures spanning 13 hours of video content. That's not all – quizzes, interviews are also included.
Rounding Up…
To improve in your career requires a great deal of learning in that field. Learning should never stop, and as such you want to constantly develop yourself in the field of product management. The courses listed here will help you skill up and become proficient in the profession. We hope you found this guide helpful? If you did, kindly leave a comment and don't forget to share…