In today's tech-driven world, finding the right USB microphone can elevate your audio experience, be it for gaming, music, or podcasts. Just like instruments, each microphone has its specialty, tailored to different needs. Thanks to advancements, USB microphones have simplified recording without the need for complex setups. This accessibility has attracted newcomers to the world of audio production. In this guide, we've identified the top USB microphones across various budgets. Join us as we unveil these gems and provide straightforward insights to help you choose the perfect microphone for your needs. Elevate your audio game effortlessly.
1. Blue Yeti – The Best USB Microphone for Podcasters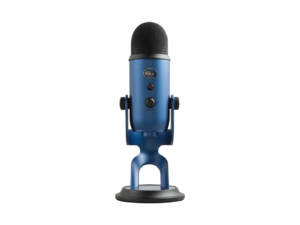 The Blue Yeti microphone stands out with its impeccable studio design and authentic feel, making it a favorite among podcasters and seasoned pros alike. Its key features include multiple condensers, offering four directional patterns (Cardioid, Bidirectional, Omnidirectional, Stereo), providing versatility in recording options. The sleek Blackout Edition adds a touch of elegance, though the base may be slightly clunky. Despite enduring a few tumbles, it proved resilient, showcasing its durability. Setting up the Blue Yeti is a breeze—simply plug in the USB cable, and you're good to go, making it exceptionally user-friendly for both PC and Apple users. The cardioid mode, ideal for podcasts, gaming, and musical recording, excels in capturing clear, professional-grade sound. The bidirectional mode is perfect for interviews, effectively capturing conversations from both ends. While the omnidirectional mode is great for group discussions, it tends to pick up background noise. Stereo mode, tailored for musical recording, completes the versatile package. Priced at $130, the Blue Yeti offers outstanding value for world-class sound quality, solidifying its status as a top choice for podcasters and content creators. If you're serious about content creation, the Blue Yeti is well worth the investment.
2. AmazonBasics Desktop Mini Condenser Microphone – Best Budget USB Microphone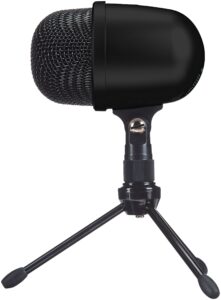 The AmazonBasics Desktop Mini Condenser Microphone offers a budget-friendly option targeting video calls, streaming, and basic podcasting. Its sleek plastic design features an adjustable mic attachment and a large Mute button for ease of use. Despite initial concerns about build quality, it surprises with its impressive sound performance, especially considering its low cost. The single-capsule condenser microphone employs a directional cardioid pattern, effectively reducing background noise. While lacking advanced features or tuning options, its straightforward plug-and-play setup ensures quick use without the need for drivers or software. Recording tests revealed superior audio quality compared to built-in webcam mics and even competed favorably with a pricier Blue Snowball iCE. While not a high-end option, the AmazonBasics Mini is an excellent entry-level microphone for budding podcasters, streamers, or those seeking improved audio for calls and chats. If found on sale, it presents an outstanding value proposition.
3. HyperX QuadCast S microphone – The best USB microphone for streaming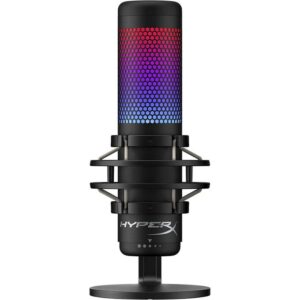 The HyperX QuadCast S microphone stands out for its blend of customizable aesthetics and impressive audio recording capabilities, making it a worthy competitor to the renowned Blue Yeti. This USB microphone offers three condensers and four polar patterns, providing versatility in recording options. Its dynamic double RGB lighting system adds a visually appealing touch to any gaming setup. The built-in shock mount and pop filter enhance convenience and save users from additional accessory purchases. The microphone's sound quality excels, with a frequency response of 20Hz-20kHz and 16-bit bit-rate, delivering clear, noise-filtered audio. It competes favorably with its main rival, the Blue Yeti, especially when factoring in the included accessories. For streamers and content creators seeking an affordable yet high-quality microphone with customizable lighting, the HyperX QuadCast S is an excellent choice, justifying its slightly higher price point.
4. Blue Yeti Nano. – The best compact USB microphone
The Blue Yeti Nano distinguishes itself with a combination of affordability and high-quality build. Both the microphone and stand boast a sturdy metal construction with an elegant matte finish. The interface is user-friendly, offering a micro-USB port for PC connection and a 3.5mm aux output for headphone monitoring. A volume dial on the front doubles as a mute button, enhancing functionality. The microphone's two directional patterns, cardioid and omnidirectional, cater to solo and group recording needs. While it lacks the JLab Talk's bidirectional and stereo modes, the Blue Yeti Nano holds its own with impressive sound quality in cardioid mode, providing clear and detailed audio. The Blue Sherpa software offers additional control, including EQ adjustments. Despite facing strong competition, the Blue Yeti Nano proves to be a solid choice for both amateur podcasting and gaming.
5. Sennheiser's Profile USB microphone – Best All-in-One Package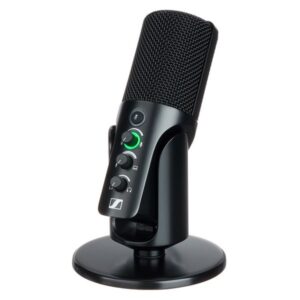 Sennheiser's Profile USB microphone stands out as a top-tier, all-in-one solution for various audio needs. This entry-level mic combines elegant design with impeccable sound quality. The Streaming Set version, which includes a flexible boom arm, transforms any workspace into a functional studio for recording. While the boom arm's firm flex may initially seem rigid, it ensures stability in any position. Setting up the Profile is remarkably straightforward, requiring only a USB-C connection to the computer. Its intuitive onboard controls allow for easy adjustments, with dedicated knobs for mic input, headphone volume, and a mixer for balancing direct output and computer audio. The mute key, prominently featured, offers quick, visual feedback. The Profile excels in spoken recordings, delivering smooth, clear, and balanced sound. It impresses in video calls, providing a rich and immersive audio experience. While additional accessories could enhance the set, Sennheiser's Profile remains a stellar choice for podcasting, live-streaming, and more, offering exceptional quality without breaking the bank.
In Conclusion…
In the realm of USB microphones, there's a perfect match for every audio adventure, whether it's gaming, music-making, or podcasting. The accessibility and quality these mics offer have revolutionized recording, making it easy for anyone to dive in. We've sifted through the options to present you with the top choices, ensuring you can confidently pick the one that suits your needs. Remember, your microphone is your tool for clear, professional-grade sound. With the right one in hand, your audio endeavors are set to soar. Elevate your recordings effortlessly and enjoy a new level of audio quality. Happy recording!