In today's tech-driven world, USB-C has become a go-to for hassle-free connectivity. It's the handy port that can charge devices swiftly and transfer data at lightning speed. And now, monitors are catching up, offering a bunch of options with USB-C. Why does this matter? Well, it means you can power up your display from your PC and the other way around. Plus, USB-C cables can handle video just as well as HDMI or DisplayPort. We've rounded up the best USB-C monitors out there, so you can experience a whole new level of convenience and performance in your computing setup.
LG 32UN880 UltraFine Display Ergo – Best Overall
In an era dominated by remote work, the LG 32UN880 UltraFine Display Ergo emerges as the quintessential USB-C monitor, tailor-made for the demands of modern professionals. This 32-inch 4K powerhouse not only supports HDR 10 but also impressively covers 95% of the DCI-P3 color gamut, making it a dream for creative experts. What truly sets it apart is the inclusion of an ergonomic clamp stand, affording unparalleled flexibility in positioning and adaptability to any workspace.
The monitor's ultra-slim bezels lend it a sleek, contemporary look, while a single intuitive control button discreetly placed at the bottom ensures easy navigation. However, with a brightness level of 350 nits, the HDR performance might not reach the heights of high-end HDR displays. Nonetheless, for tasks like gaming and content creation, its exceptional color accuracy truly shines.
In summary, the LG 32UN880 stands as the epitome of a USB-C monitor, seamlessly integrating performance, adaptability, and affordability. For those in search of a dynamic visual companion that excels across various professional tasks, this monitor reigns supreme, setting a new standard for what a USB-C monitor can achieve.
2. ASUS ProArt PA278CV – Best Budget USB-C Monitor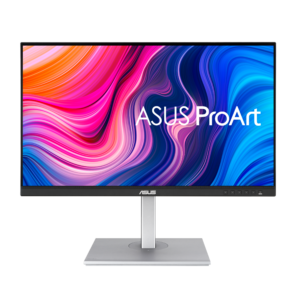 The ASUS ProArt PA278CV emerges as a stellar budget USB-C monitor, offering an impressive blend of performance and affordability. At 27 inches with QHD resolution, it caters to photo and video editing, design work, and casual productivity. What sets it apart is the USB-C port with DP Alt Mode and 65W charging capability, making it an efficient laptop companion. Its ergonomic design and sleek industrial look add to its appeal, seamlessly fitting into any workspace.
Featuring a 27-inch IPS panel with 2560×1440 resolution, it strikes a balance between screen real estate and pixel density, ensuring clarity without the need for a 4K display. Its color accuracy, covering 100% sRGB and boasting 350 nits of brightness, makes it a standout choice for creative tasks. However, the contrast could be improved for deeper blacks.
Despite minor drawbacks like button controls and the absence of HDR support, the ASUS ProArt PA278CV's port selection, ergonomic stand, and competitive pricing make it a top pick for those seeking a versatile, budget-friendly USB-C monitor.
3. Asus ProArt PA348CGV – Best Ultrawide USB-C Monitor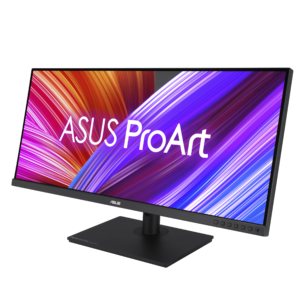 The Asus ProArt PA348CGV emerges as the premier ultra-wide USB-C monitor, addressing the needs of both content creators and gamers. With a 34-inch ultrawide display and a resolution of 3440×1440, it provides ample screen real estate and sharp visuals. The IPS panel, offering a high refresh rate of 120Hz, complements its gaming prowess. Additionally, HDR support adds depth to visuals, though it lacks VESA DisplayHDR certification.
Connectivity is robust, featuring a USB-C port with 90W Power Delivery, DisplayPort 1.4, HDMI 2.0 ports, and multiple USB-A 3.2 ports. The ergonomic stand allows height, tilt, and swivel adjustments, enhancing versatility.
The PA348CGV's design is understated, with matte-black bezels and a sturdy build. While the monitor offers rich customization options through its intuitive menu system, the built-in speakers are serviceable but not outstanding.
In terms of image quality, the monitor shines, delivering accurate colors across various color spaces like sRGB, Rec.709, and DCI-P3. The display's brightness, hitting 375 nits, stands out among ultrawide monitors, ensuring vivid visuals. However, the contrast ratio falls short for deeper blacks.
Overall, the Asus ProArt PA348CGV strikes an exceptional balance between content creation and gaming, making it a top choice for users seeking versatility in an ultra-wide USB-C monitor. \
4. Apple Studio Display – Best For Apple Lovers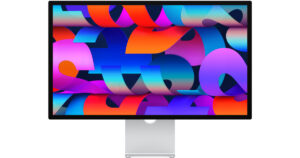 The Apple Studio Display emerges as a stellar addition to Apple's monitor lineup, offering a plethora of features that cater to creative professionals and Mac aficionados alike. With a 27-inch 5K screen boasting a P3 wide color gamut, it delivers colors with astounding clarity.
One standout feature is the inclusion of an A13 Bionic chip, empowering a 12MP ultrawide camera with Apple's Center Stage capability, revolutionizing video conferencing. Additionally, the Studio Display impresses with an impressive six-speaker sound system, delivering an unparalleled auditory experience for a monitor.
With a seamless and elegant design, the Studio Display also boasts a user-friendly interface, eliminating the need for physical buttons. It shines as an exceptional choice for MacBook Pro users, seamlessly integrating into an Apple-centric workspace. Despite some limitations, the Studio Display stands as the pinnacle of USB-C monitors for Apple enthusiasts, offering an unrivaled visual and auditory experience for the discerning user.
5. BenQ PD3220U – Best USB-C Monitor for Creatives
The BenQ PD3220U is a standout option for creative experts seeking a near-32-inch 4K display that offers exceptional value. While not a budget choice, it provides impressive color accuracy and coverage, tailored for graphic designers, photographers, and video editors.
An outstanding feature is its two Thunderbolt 3 ports, affirming its creator-centric design. This allows daisy-chaining another monitor without using up vital ports. One port even provides 85W of power for simultaneous device charging, minimizing cable clutter.
The display's picture-in-picture and picture-by-picture modes streamline workflows, enabling the display of visuals from two inputs with customization options. This promotes a conducive environment for the creative process.
While the built-in speakers are basic, external alternatives can provide a richer audio experience. The stand design, though functional, exhibits noticeable wobble, potentially affecting stability.
The BenQ PD3220U, with its 12 preset color modes catering to creative demands, strikes a balance between affordability and premium features, making it an excellent USB-C monitor for discerning creatives.
In Conclusion…
In a nutshell, USB-C monitors are a game-changer for your computer setup. They bring fast charging, quick data transfers, and smooth video display all in one neat package. Say farewell to cable clutter and hello to a streamlined workspace. With our top picks, you're in for a treat. These monitors are not only practical but also future-proof, making them a great investment. So, if you're looking to upgrade your computer experience, a USB-C monitor is a smart choice. Get ready to enjoy a more efficient, hassle-free, and visually stunning computing experience!