Introducing the "Best Ultrabooks" – the ultimate blend of performance and portability that modern professionals demand. With laptops serving as indispensable tools for work, study, and communication, the Ultrabook category offers compact solutions without compromising power. Originally coined by Intel in 2012, the term has evolved to encompass premium ultraportable laptops, often equipped with top-tier processors and premium materials like aluminum and magnesium alloys.
From Intel's Evo-certified standards to lightweight designs that prioritize battery life, the market offers diverse options for every need. Business travelers seeking productivity on the move will appreciate the balance these Ultrabooks strike between form and function. With the Acer Swift 3 OLED exemplifying affordability and quality, students and professionals alike can benefit. As the definition of an Ultrabook evolves, we've curated a selection that meets the modern demands of performance, mobility, and style, helping you find the ideal laptop upgrade for your on-the-go lifestyle.
Lenovo Yoga 9i Gen 8 – Best Overall Ultrabook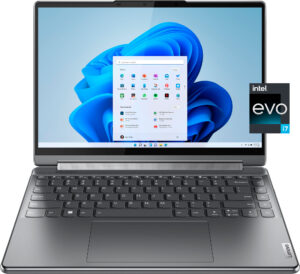 The Lenovo Yoga 9i Gen 8 stands out as one of the best ultrabook laptops in 2023, excelling in both design and performance. With its sleek Oatmeal-colored chassis, the laptop boasts a minimalist and elegant look. The 360-degree rotating soundbar doubles as a hinge, ensuring audio quality in any mode. The vibrant OLED display offers a 2.8K resolution, Dolby Vision support, and exceptional color accuracy. Equipped with an Intel Core i7-1360P CPU, 16GB of RAM, and Intel Iris Xe Graphics, the Yoga 9i Gen 8 excels in both productivity and creative workloads. While not the brightest, the display remains impressive, and the laptop offers over 10 hours of battery life. The Lenovo Yoga 8i Gen 8 a reasonably priced option in the premium range, making it a top choice for users seeking a powerful and visually appealing ultrabook.
2. Acer Swift 3 OLED  – Best Budget Ultrabook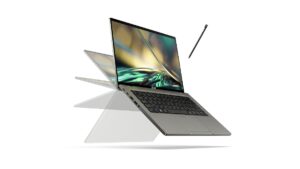 The Acer Swift 3 OLED stands out as a remarkable ultrabook with a focus on its exceptional features. Boasting a stunning OLED screen that supports HDR, this laptop offers a vivid and immersive visual experience. Despite its impressive features, it comes with an affordable price tag. Weighing only three pounds, it's exceptionally lightweight and portable, ideal for on-the-go use. In terms of performance, the Acer Swift 3 OLED showcases a powerful Intel Core i7 CPU, delivering excellent results for various computational tasks and multimedia activities. Its GPU performance is notable as well, performing well in gaming benchmarks beyond its intended use. While its battery life for an OLED laptop is decent, the swift charging feature via Thunderbolt 4 USB compensates for any limitations.
3. MacBook Pro 14-inch – Best Macbook Option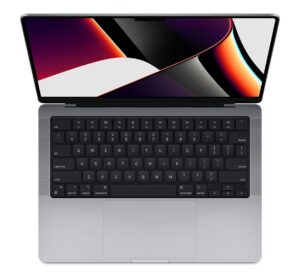 The MacBook Pro 14-inch 2023 redefines laptop performance with its M2 Pro and M2 Max chips, delivering unprecedented speed and power. Its vibrant mini-LED display boasts a 120Hz ProMotion refresh rate, while the battery life exceeds 14 hours in web surfing tests. The laptop's port selection includes Thunderbolt 4, HDMI, and an SD memory card slot, complementing the faster Wi-Fi 6E connectivity. The graphics performance, especially with the M2 Max chip, is exceptional. The design retains the solid aluminum chassis, with easy one-handed opening. While it comes at a premium price, the MacBook Pro 14-inch 2023 stands as an unparalleled choice for creative professionals and power users who demand top-tier performance and endurance in a portable form.
4. HP Elite Dragonfly G3 – Best Ultrabook for Business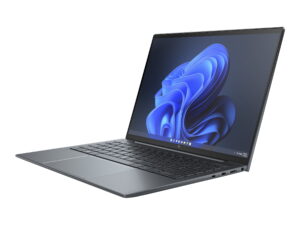 The HP Elite Dragonfly G3 is a premium ultrabook that excels in both design and performance. With a 13.5-inch 3:2 aspect ratio display, it offers ample screen space and reduces the need for constant scrolling. Noteworthy for its remarkable battery life, the Elite Dragonfly G3 can easily last through a full day of work. Its standout feature is the 5-megapixel webcam, capturing sharp visuals. Security features like fingerprint recognition and HP's Wolf Security suite add to its appeal. With a comfortable keyboard, buttonless touchpad, and impressive speakers, the laptop offers a well-rounded user experience. While priced higher than some rivals, the HP Elite Dragonfly G3's blend of performance and features makes it an enticing choice for those seeking a high-end ultrabook.
5. MSI GE76 Raider – Best Gaming Ultrabook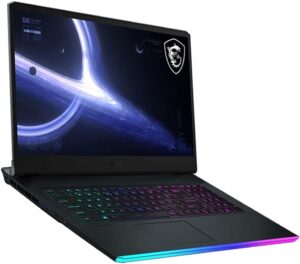 MSI GE76 Raider introduces a potent ultrabook, showcasing Intel's Alder Lake architecture. Powered by the Core i9-12900HK processor, this laptop excels in both gaming and content creation. With a boosted clock speed of 5.0 GHz and a mix of 14 cores (6 performance, 8 efficiency), along with an Nvidia GeForce RTX 3080 Ti GPU, it delivers remarkable frame rates in intensive games such as Red Dead Redemption 2 and Shadow of the Tomb Raider. Content creation tasks are equally impressive, with swift 4K video exports. The laptop's battery life, just over four and a half hours, raises concerns about the efficiency of Alder Lake's efficiency cores. Despite its high price tag and 1080p resolution, the MSI GE76 Raider boasts premium build quality, SteelSeries per-key RGB keyboard, robust audio, and ample ports, making it a strong contender in the ultrabook market.
In Conclusion…
The best ultrabooks offer premium experience while letting you have at your disposal a lot of battery power to work. Whether you want an ultrabook for business meetings, remote wor, or for conferences, one of these laptops will serve your needs well. We hope you found this helpful? If you did, kindly leave a comment and don't forget to share…