PS5 boasts of some of the best titles on the planet. However, you can not enjoy playing games without having a capable controller. No matter how much interesting the experience a game is meant to give you, you might not enjoy this if you don't have the right Controller. There are controllers for bigger hands, for example. There are also controllers for a particular genre of game. Whatever you preferences are, we have rounded up five best PS5 controllers to choose from…
Victrix BFG Pro – Best Overall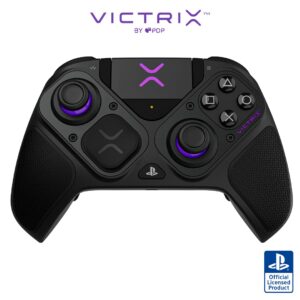 The Victrix BFG Pro emerges as an enthusiast-grade PS5 controller, foregoing DualSense's adaptive triggers and haptic feedback for a modular, lightweight build tailored for competitive gaming. The controller stands as a premium alternative, offering functional customization unparalleled in the market. Users can adjust stick placement, swap face buttons for a microswitch-enabled fightpad, and fine-tune clutch trigger mechanisms across five levels. This controller also boasts remappable paddles, enhancing versatility.
Despite lacking some DualSense features, the Victrix BFG Pro compensates with meaningful replacements. It offers seamless compatibility with PS5, PS4, and gaming PCs via a 3m long braided USB-C cable or a 2.4 GHz wireless dongle. The controller's extended battery life of up to 20 hours, coupled with its generous cable length, caters to marathon gaming sessions.
Performance-wise, the Victrix Pro BFG stands out with its responsive sticks, buttons, bumpers, and triggers. The ability to customize with precision, especially in clutch trigger settings, offers a distinct advantage in gameplay. Additionally, its recognition as a native Xbox Series X controller on PCs adds extra value for multi-platform gamers.
For fightpad enthusiasts, the Victrix BFG Pro shines, providing swift module swaps and an array of customizable options. While it may not rival the best fight sticks, it surpasses standard controllers. Overall, for dedicated eSports players and fighting game fans, the Victrix BFG Pro sets a new standard, combining versatility, performance, and comfort in one exceptional package.
2. Sony DualSense – Best Budget PS5 Controller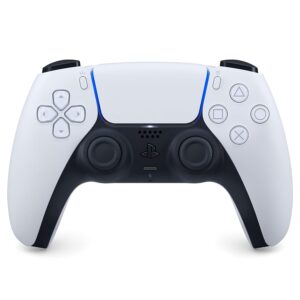 The Sony DualSense controller for the PS5 stands out with innovative features. Symmetrical thumbsticks, a clickable trackpad, and atmospheric sound capabilities enrich the gaming experience. The controller's ergonomic design and advanced haptic feedback set it apart, providing comfort during extended gaming sessions. It weighs 281 grams, comparable to the Xbox controller but offers superior comfort.
Notably, the adaptive triggers offer variable resistance, creating a dynamic tactile experience. However, battery life averages around eight hours, lagging behind the Xbox counterpart. The DualSense shines on the PS5, elevating gameplay with haptic-enhanced titles like Returnal. On PC, it functions as a standard controller, with limited games supporting its unique features.
While the DualSense is a top-tier gamepad, its full potential is realized on the PS5. For PC gaming, compatibility and support are still evolving. Despite its premium quality, it may not yet fully justify its higher price point for PC gamers, given the current limitations. As the controller landscape continues to evolve, the DualSense stands as a technological leap forward, setting a new standard for immersive gameplay.
3. Razer's Wolverine V2 Pro Wireless – Best Premium PS5 Controller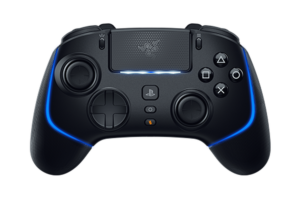 Razer's Wolverine V2 Pro Wireless controller emerges as the premium choice for PlayStation players seeking a competitive edge. Despite its premium price point, it offers a range of features that distinguish it in the market of "Pro"-style controllers. Notably, it employs an offset-style analog stick layout, a subtle deviation from the standard PlayStation design, providing flexibility for players accustomed to Xbox or Nintendo Switch controllers.
The Wolverine V2 Pro introduces wireless play, a significant upgrade from its predecessor, granting more casual freedom without sacrificing responsiveness. It incorporates Razer's distinctive Mecha-Tactile Action Buttons, offering a satisfying click with shorter actuation distance for swift inputs. The 8-Way Microswitch D-Pad enhances command input, particularly in games like fighting titles.
While the controller excels in various aspects, it lacks built-in rumble, a notable absence in a premium controller. Additionally, the back button placement may be a minor discomfort for some users. Despite these considerations, the Wolverine V2 Pro delivers a remarkable 28-hour battery life in wireless mode, surpassing its competitors.
The Wolverine V2 Pro stands as one of the pricier PlayStation controllers. However, its superior features and performance make it an excellent investment for serious gamers seeking a competitive edge, despite the premium cost. For those prioritizing advanced functionality and customization, the Wolverine V2 Pro asserts itself as the top-tier choice in the realm of premium PS5 controllers.
4. Hex Rival Pro – Best Customisable PS5 Controller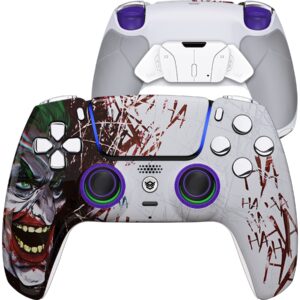 The Hex Rival Pro PS5 controller stands out for its impressive customization options. Sporting four additional back buttons and short triggers, it offers a premium feel and build quality. The controller boasts a range of designs to choose from, allowing users to personalize their gaming experience.
The back of the controller features a panel with four remappable buttons and a center button for configuration settings. The Hex Rival's main feature lies in its remappable controls, consisting of two back paddles and two back buttons, offering comfortable placement for effective use.
In terms of performance, the Hex Rival excels in various games, providing snappy triggers and efficient mapping of actions to back paddles. However, the controller's customization capabilities fall slightly short when compared to the upcoming DualSense Edge, which offers a broader range of settings and controls for a slightly higher price. Despite its strong performance, the Hex Rival Pro faces tough competition from Sony's alternative, making it a decision to consider carefully for prospective buyers.
5. Logitech G29 Driving Force – Best Controllers for Racing Games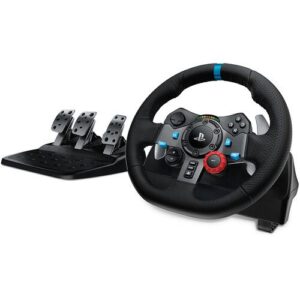 The Logitech G29 Driving Force is a versatile force feedback wheel compatible with PS4, PS3, and PC. The controller offers a realistic steering experience, making it a solid choice for racing enthusiasts. With a largely metal frame and leather finish, it exudes a high-end feel, though its 27cm diameter may seem slightly compact. The G29's pedalboard stands out, featuring accelerator, brake, and clutch pedals with varying tension, providing a more realistic driving experience.
While the wheel's force feedback is robust, it lacks the smoothness of its belt-driven competitors. The LED display acts as a useful rev counter, enhancing gameplay. However, some additional buttons may not find widespread use. When compared to the older G27, the G29 offers minor improvements, making the upgrade optional for existing Logitech wheel owners.
For those seeking an immersive racing experience on the PS4, the Logitech G29 Driving Force is a solid choice. However, potential buyers should consider its noise levels and the slightly notchy feel of its force feedback when compared to rival op op op models.
In Conclusion…
A controller can make or mar a gaming session, so it is important to make informed decision before committing to buy a controller for your PS5. We hope you found this helpful? If you did, kindly leave a comment, and don't forget to share…