In an era dominated by digital content, reliable storage solutions have become indispensable. While cloud storage offers convenience, it can't match the speed and privacy of physical drives. Among these, portable SSDs have emerged as the frontrunners, combining speed, security, and versatility. Unlike their hard disk drive counterparts, SSDs excel in performance. This guide focuses on the best external SSDs, ensuring you have a seamless experience, whether you're transferring files on the go or safeguarding crucial data. Read on to discover our top recommendations for 2023.
Crucial X9 Pro – Best for Most People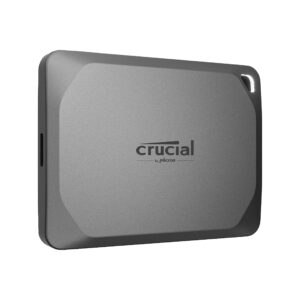 The Crucial X9 Pro stands out as the best portable SSD for most users, offering a compelling mix of features and performance. With capacities up to 4TB, this compact and sturdy drive is made from anodized aluminum, weighing a mere 1.5 ounces. Its USB 3.2 Gen 2 support ensures broad compatibility. The X9 Pro boasts 256-bit AES hardware-based encryption and holds an IP55 rating for water and dust resistance, making it rugged enough for everyday use. It's drop-proof up to 7.5 feet, offering added durability. While it may lack the raw speed of its sibling, the X10 Pro, it doesn't require special hardware and comes at a more accessible price point. The X9 Pro is an exceptional general-purpose SSD, offering a five-year warranty for added peace of mind. Its only minor drawbacks are the short included USB-C cable and the absence of a USB-C-to-A adapter.
2. Crucial X6 – Best Budget External SSD
The Crucial X6 Portable SSD emerges as the top choice for budget-conscious consumers seeking reliable portable storage. Crafted in black plastic, it maintains a compact form at 2.7 by 2.5 inches, just over four-tenths of an inch thick, and weighing a mere 1.5 ounces. While not as petite as a USB thumb drive, it's impressively portable. The X6 offers drop-proofing up to 6.5 feet and can withstand shock, vibration, and temperature extremes, ensuring robustness in everyday use. Although lacking a formal IP rating for water resistance, it proves "casually rugged." Its interface supports USB 3.1 Gen 2, guaranteeing broad compatibility. However, its reliance on Serial ATA technology limits speed to typical SATA levels, maxing out at 540MBps for sequential reads. While not suited for heavy data transfers, for general usage and small backups, the Crucial X6 is an affordable, pocketable solution that excels.
3. SanDisk Professional Pro-G40 – Best Peak Performance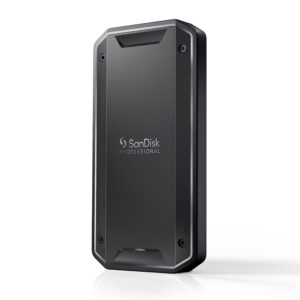 The SanDisk Professional Pro-G40 external SSD stands out as the pinnacle of performance and ruggedness in the portable storage arena. This storage excels in Thunderbolt 3 or 4 connections, delivering blazing speed. Designed with extreme durability, it boasts water, dust, drop, and crush protection, making it ideal for on-the-go content creators. Measuring 0.5 by 2.2 by 4.4 inches, it's encased in a black, silver-trimmed chassis, with a robust aluminum core for efficient heat dissipation. The Pro-G40 is crushproof up to 4,000 pounds and survives drops of up to 9.7 feet, while its IP68 rating certifies it as both dustproof and waterproof. Although primarily tailored for Mac users, it can be reformatted for Windows. Its performance peaks over a Thunderbolt connection, achieving speeds of 2,652MBps read and 2,102MBps write. While the Pro-G40's cost per gigabyte is relatively high and reformatting for Windows may require some care, its unmatched ruggedness and stellar speed make it the ultimate choice for demanding tasks in challenging environments. Up up
4. Samsung T9 Portable SSD – Best for Mac Users
The Samsung T9 Portable SSD emerges as a robust contender in the Gen 2×2 category, boasting impressive read and write speeds, especially for those equipped with compatible USB ports. Its durable, wavy rubberized exterior ensures resilience against impacts, although it lacks an official IP rating for water and dust resistance. Available in 1TB, 2TB, and 4TB capacities, this drive is larger than its competitors but includes both USB-C and USB-A cables. While the absence of bundled live backup tools may disappoint, the forthcoming Magician 8.0 software promises an integrated suite of Samsung utilities. However, its high price point, particularly when compared to the T7, may deter budget-conscious buyers. For those equipped with Gen 2×2 ports seeking a blend of performance and resilience, the T9 proves a solid choice.
5. WD Black P50 Game Drive NVMe SSD – Best for Gamers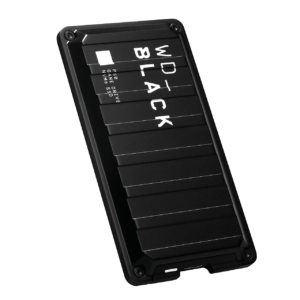 The WD Black P50 Game Drive NVMe SSD combines a distinct militaristic design with powerful performance, tailored for gamers seeking swift data transfers. Sporting an action-movie-inspired label and robust build akin to an ammo box, it exudes combat-readiness. Available in 500GB, 1TB, and 2TB variants, it houses WD's top-rated Black NVMe SSD, promising reliable speed. Achieving up to 2GBps transfers via a SuperSpeed USB 20Gbps port, it outpaces its competition. However, without this rare port, its speed matches less costly alternatives. Measuring 4.65 x 2.66 x 0.56 inches and weighing about 4 ounces, it's a tad larger but still comfortably portable. While its premium price may deter some, for those equipped with the right port, the WD Black P50 is a potent blend of style and performance, ideal for avid gamers.
In Conclusion…
Selecting the ideal external drive or SSD hinges on a careful consideration of factors like price, performance, and durability. With an abundance of options in the market, the decision can be daunting. Should you opt for a lightning-fast SSD or a spacious, budget-friendly hard drive? Our comprehensive testing and reviews have culminated in a curated list of the finest portable SSDs and hard drives available. Whether you prioritize speed, robustness, or sheer capacity, this guide equips you with the knowledge to make an informed choice for your storage needs.