In a digital age where visual experiences dominate, having the right monitor can revolutionize how we interact with our devices. The advent of Organic Light Emitting Diode (OLED) technology has ushered in a new era of displays, offering unparalleled depth of contrast and vibrant brightness without the need for an external backlight. For everyday consumers, this means a richer, more immersive experience whether you're gaming, creating, or working on professional projects.
OLED monitors, once a premium luxury, have steadily become more accessible. They're not just limited to traditional monitors either; OLED TVs are making waves as viable alternatives, with features tailored to the needs of digital enthusiasts.
In this article, we'll guide you through the best OLED monitors of 2023, each uniquely suited to various purposes, be it gaming, design, or everyday productivity. Join us as we explore these cutting-edge displays, breaking down their strengths and potential considerations, so you can find the perfect screen to transform your digital world.
Alienware 34 QD-OLED (AW3423DW) – Best OLED Gaming Monitor Overall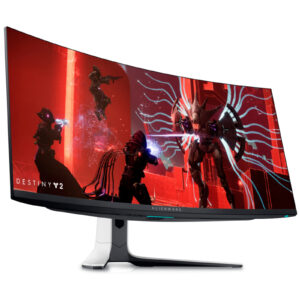 The 1440p OLED gaming monitor has arrived, revolutionizing visual experiences. The Alienware 34 QD-OLED (AW3423DW) stands as a pinnacle in monitor technology, boasting Quantum Dot innovation for vibrant colors, coupled with an impressive refresh rate, and AMD's FreeSync Premium Pro. The 34-inch screen offers a curvature of 1800mm, providing an immersive gaming experience without compromising fidelity. With a brightness peak of 1,000 nits and an infinite contrast ratio, it excels in visual quality. Its ultrathin bezel design and sturdy stand enhance its aesthetic appeal and stability. The connectivity hub includes USB-A and B ports, DisplayPort connectors, and HDMI, offering ample options. While lacking an HDMI 2.1 port for ultra-high frame rates, its exceptional performance compensates.
The Quantum Dot OLED panel, delivering cinema-grade color coverage and factory-calibrated precision, sets a new standard. The addition of AMD FreeSync Premium Pro enhances gameplay, ensuring maximum performance. With superior color performance and impressive benchmark results, the Alienware 34 QD-OLED redefines gaming visuals, making it the best OLED monitor on the market. 
2. LG UltraGear 27GR95QE-B – Best 27-inch OLED Monitor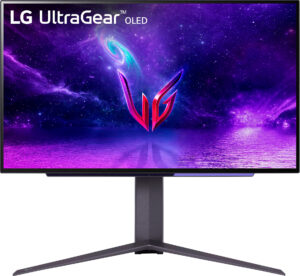 The LG UltraGear 27GR95QE-B emerges as a trailblazer in gaming monitors, marrying the beloved 1440p resolution with an astounding 240Hz refresh rate. Boasting a remarkable response time of just .03ms, it excels in both speed and visual fidelity, making it a standout in its category.  The 240Hz refresh rate ensures future-proofing, especially with the new generation of GPUs from Nvidia and AMD. This monitor represents a milestone, introducing 240Hz at 1440p on an OLED panel for the first time.
The visual experience on the LG UltraGear is unparalleled. Games come to life, showcasing intricate details and vibrant colors. Playing titles like Marvel's Midnight Suns and God of War reveals a new level of immersion. Fortnite at 240Hz and 1440p offers an exceptional experience, demonstrating the monitor's potential even in non-FPS games. However, the LG does face a common OLED issue: brightness. Its non-HDR peak brightness of just over 200 nits can be limiting in well-lit environments. Additionally, HDR can be inconsistent, occasionally oversaturating colors. Despite these drawbacks, the LG UltraGear 27GR95QE-B stands as an impressive display, perfect for competitive gaming, and a visual marvel for a wide range of games. With the gaming community eagerly awaiting future OLED offerings, LG has set a high standard with this release.
3. Samsung Odyssey OLED G8 – Best OLED Monitor with Smart Features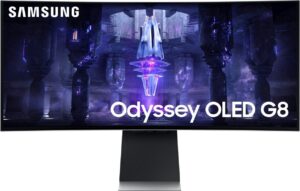 The Samsung Odyssey OLED G8 emerges as a leading choice for discerning gamers. Boasting a 34-inch curved OLED display with a crisp 3,440 x 1,440 resolution, it immerses users in vivid visuals, ideal for top-tier PC gaming. Its swift 175Hz refresh rate and ultra-low 0.03ms response time ensure seamless performance, crucial for games demanding rapid reflexes. Smart TV and gaming hub apps enhance versatility. Design-wise, the sleek silver chassis with RGB accents is visually appealing. The limited port selection may pose a minor inconvenience, but the overall aesthetic is impressive.
The immersive 1,800R curvature amplifies gaming experiences. While brightness may not be its strongest suit, it still achieves impressive HDR levels. The various display modes cater to different gaming genres, providing versatility and customization. With top-tier performance, Adaptive Sync, and AMD FreeSync Premium Pro, gameplay is seamless. The built-in speakers, while capable of volume, may lack depth. The user interface is intuitive. Integration of Samsung's smart TV and game hubs adds convenience. Despite its price, the Odyssey OLED G8's exceptional capabilities and rich feature set justify the investment, earning it the title of a top monitor in 2023. For a more budget-friendly option, consider the Alienware AW3423DWF.
4. Corsair Xeneon Flex 45WQHD240 – Best Bendable OLED Monitor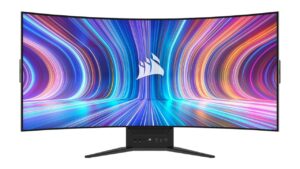 The Corsair Xeneon Flex 45WQHD240 stands out as the ultimate bendable gaming OLED monitor. Packed with impressive specs, it boasts a 45-inch ultrawide OLED display with a 3440×1440 resolution, offering an unparalleled immersive experience. The 240Hz refresh rate and rapid pixel response times ensure smooth motion clarity, enhancing gaming performance. Its bendable feature allows users to customize the curvature, a unique and innovative addition. However, for productivity tasks, its lower pixel density might pose some limitations. 
The Corsair Xeneon Flex 45WQHD240 redefines gaming monitors with its groundbreaking bendable LG OLED display, allowing users to customize the curvature to their liking. Boasting a 45-inch ultrawide screen and a resolution of 3440×1440, it engulfs users in expansive visuals. The 240Hz refresh rate, combined with swift pixel response times, ensures seamless motion clarity, a crucial feature for competitive gaming. OLED technology delivers deep, rich blacks with its individually lit pixels, while also covering 100 percent of the sRGB color gamut. However, for productivity tasks, its stretched resolution of 3440×1440 over a large screen may affect sharpness, offering approximately 82 pixels per inch.
In terms of connectivity, the Xeneon Flex excels, providing dual HDMI 2.1 connections, DisplayPort 1.4, USB Type-C with DisplayPort Alt Mode, and a range of USB ports. The controls, conveniently placed on the front of the stand, offer easy access. The Xeneon Flex promises a gaming experience beyond compare, making it a worthwhile investment for gaming enthusiasts with high-end hardware.
5. Gigabyte Aorus FO48U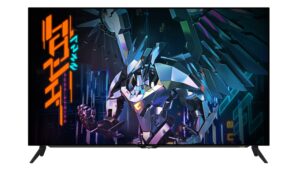 Gigabyte's Aorus FO48U stands at the forefront of the OLED revolution in gaming monitors. With a massive 48-inch display, it blurs the lines between a computer monitor and a high-end TV. The FO48U boasts a 4K OLED panel with a 120Hz refresh rate and support for variable refresh rate technologies like AMD FreeSync Premium and Nvidia G-Sync. This powerhouse isn't just for gamers; it covers 98% of the DCI-P3 and 130% of the sRGB color spaces, catering to content creators.
While the FO48U excels in contrast and black levels, its peak brightness slightly lags behind top-tier LCD monitors. Usability is a breeze, and the OSD provides ample customization options. For gamers seeking an immersive experience and content creators craving vibrant visuals, the FO48U is a top-tier choice in the world of gaming monitors.
In Conclusion…
In 2023, OLED monitors have become essential for gamers, creators, and everyday users alike. With prices dropping, they offer unmatched visual quality. These displays redefine how we engage with digital content, from gaming to professional work. As you explore the options, remember that OLED technology opens up a world of immersive experiences. Cheers to a future filled with breathtaking visuals!