In the dynamic world of gaming, the right mouse can make all the difference. With advancements in technology, gaming mice have evolved to offer adjustable DPI and ergonomic designs, tailored to enhance your gameplay experience. Whether you prefer feather-light models for swift maneuvers or the freedom of wireless play, there's a mouse crafted just for you. But the quest for the perfect gaming mouse is a personal one, influenced by game genres and unique needs. Left-handed gamers may seek ambidextrous designs, while MMO enthusiasts crave extra macro buttons.
Navigating this expansive realm of options can be overwhelming. From minimalist, high-speed mice designed for shooters to elaborate 17-button marvels tailored for MMOs, the choices are endless. Considerations like grip style, comfort, sensor precision, wired versus wireless, and RGB flair all play pivotal roles in your gaming journey. Yet, it's crucial to discern between genuinely game-changing features and overhyped additions that may not warrant the extra investment. Embark with us on a quest to unveil the gaming mouse that's poised to elevate your play, striking the perfect balance of form and function.
Razer DeathAdder V3 Pro – The Best Gaming Mouse Overall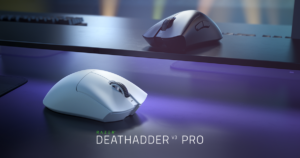 The Razer DeathAdder V3 Pro stands as a beacon of excellence in the realm of gaming mice, offering a streamlined experience with a focus on essential features. Boasting a simplified button layout, it provides five buttons, including main clicks, side buttons, and a single click for the mouse wheel. While it lacks DPI adjustment buttons, the DPI settings can be easily accessed beneath the mouse with a soft press.
One of its standout strengths lies in its connectivity options. The V3 Pro offers both wired and wireless modes, ensuring versatility for various gaming scenarios. The wireless mode is facilitated by a discreet USB adapter, guaranteeing a low-latency 2.4GHz Wi-Fi connection. Furthermore, the mouse is accompanied by a flexible Razer Speedflex USB-A to USB-C cable, doubling as a wired adapter and charger.
The V3 Pro's sensor is a marvel, equipped with a Razer Focus Pro 30K Optical Sensor boasting a maximum resolution of 30,000 DPI. This translates to seamless, responsive gameplay with a maximum speed of 750 IPS and acceleration of 70G. The sensor's default polling rate of 1,000Hz already delivers impressive performance, but the option to upgrade to 4,000Hz with the Razer HyperPolling dongle elevates the experience further.
The Gen 3 Optical Switches enhance button responsiveness, providing a soft and satisfying click. Gamers will find precision and speed, particularly in fast-paced titles like Counter Strike: Global Offensive. The V3 Pro's feather-light construction ensures swift movements without causing strain.
A worthy investment for serious gamers seeking a competitive edge. Its impressive sensor, refined button switches, and versatile connectivity options position it as the apex predator in the gaming mouse arena.
2. Redragon M686 Vampire Elite – Best Budget Gaming Mouse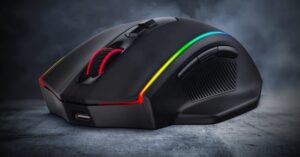 The Redragon M686 Vampire Elite stands out as a remarkable budget wireless gaming mouse, offering an impressive array of features without breaking the bank. Its wireless connectivity, facilitated through a 2.4GHz dongle, ensures low latency and uninterrupted gameplay—an invaluable asset for competitive gaming. Moreover, the mouse boasts an impressive battery life, providing extended hours of uninterrupted gaming on a single charge.
The M686 Vampire Elite's Pixart PMW3335 Optical Sensor, with a maximum DPI of 16,000, guarantees precise tracking and swift cursor movement. This level of sensitivity adjustment allows gamers to fine-tune their experience, adapting swiftly to various gaming environments.
Designed with comfort in mind, the mouse offers an ergonomic grip that ensures prolonged gaming sessions remain enjoyable. Customizable side buttons further enhance gameplay versatility, enabling personalized command configurations tailored to individual playstyles.
While the mouse's construction may lean towards a plasticky feel, it doesn't compromise on performance. However, some users may find the scroll wheel slightly sensitive for their preference.
In summary, the Redragon M686 Vampire Elite excels as the best budget wireless gaming mouse, delivering outstanding features at an accessible price point. Its reliable wireless connectivity, high-performance sensor, and ergonomic design make it a compelling choice for gamers seeking quality without a hefty price tag. Despite its modest construction, its overall value and performance make it a standout option in its price range.
3. Razer DeathAdder V2 – Best Wired Gaming Mouse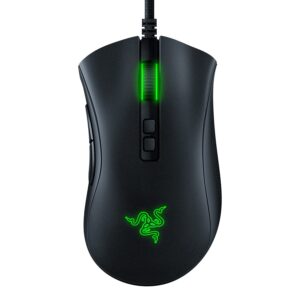 The Razer DeathAdder V2 emerges as a formidable wired gaming mouse, blending performance and comfort. Its sleek design, featuring RGB backlighting, exudes a distinct charm. The mouse's contoured shape accommodates both palm and claw grips comfortably. While its size may lean towards larger hands, its 0.18-pound weight ensures it remains wieldy.
The standout feature is the Focus+ optical sensor, developed in collaboration with Pixart, supporting up to 20,000 CPI. This impressive upgrade results in flawless tracking across titles like Overwatch, Apex Legends, and Call of Duty. The primary buttons deliver responsiveness, ensuring no blame on hardware for in-game hiccups. However, the side buttons may pose a slight challenge in isolation.
The DeathAdder V2's scroll wheel stands out, with precise activation and no accidental activations during web browsing. Notably, the "Razer Speedflex" braided cable is a game-changer, offering a drag-free experience.
Customization is key with Razer Synapse, allowing button assignments, sensitivity stages, and RGB lighting adjustments. On-board storage simplifies profile management for specific games, catering to gamers on the move.
Despite a preference for larger hands and some textural discomfort during extended use, the DeathAdder V2's Focus+ sensor and Speedflex cable deliver a winning combo. This wired gaming mouse excels for those prioritizing performance over an abundance of features, making it an excellent choice for serious gamers.
4. Logitech G203 LightSync – Best Compact Gaming Mouse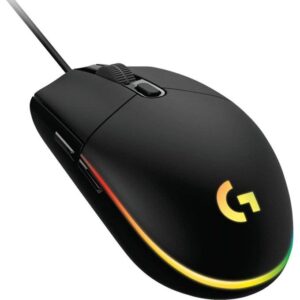 The Logitech G203 LightSync stands as the epitome of affordability without compromising on comfort or performance. With a compact size and ambidextrous design, it caters to various gamer grip styles. The 8,000 DPI proprietary sensor, while not matching premium alternatives, excels in casual gaming scenarios. The mouse's build exudes sturdiness, akin to more expensive gaming mice.
Design-wise, the G203 offers familiarity coupled with a rounded back end, providing snug palm grip for precise control. Fingertip and claw-style grippers benefit from its small-sized body, ensuring optimal hand positioning without strain.
Button configuration is intuitive with two main clicks, side macros, a scroll wheel, and DPI preset button. The programmable buttons are quick and responsive, ideal for jitter clicking. Glide skates and a lengthy cord enhance usability, while the 85-gram weight might be a minor consideration for esports players.
Logitech's G Hub software amplifies customization, offering detailed settings for DPI, polling rate, RGB lighting, and button assignments. The Actions submenu proves invaluable for streamers and game developers, simplifying complex commands.
The G203's RGB lighting, customizable in three zones, adds a vibrant touch to gaming setups. Despite some sensor limitations in fast movements and lift-off distance, the G203 excels in responsiveness and click latency. Its compact design enhances precision and comfort during extended gaming sessions. For its price point, the Logitech G203 LightSync is an outstanding choice, offering a balance of performance, comfort, and affordability in a gaming mouse.
5. Cooler Master MM720 – Best Ergonomic Gaming Mouse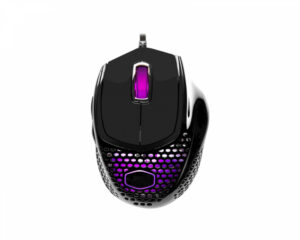 The Cooler Master MM720 stands out as the epitome of ergonomic gaming mice. Its honeycomb design allows two vivid RGB LED zones, situated on the scroll wheel and under the palm rest, to shine brilliantly. While customization options are somewhat limited, offering adjustments to color and speed, the mouse boasts 512kb of onboard memory for convenient customization portability.
With a polling rate of up to 1,000Hz and a 16,000 DPI optical sensor, it guarantees swift and precise movements. The optical switches, touted to be up to three times faster than mechanical ones, promise immediate responses with a feather-light touch. In gameplay, it effortlessly handles titles like Doom Eternal and Cyberpunk 2077, demonstrating its impressive speed and responsiveness.
To unlock its full potential, Cooler Master's MasterPlus software is essential. While intuitive for button reassignments and macros, it does encounter a hiccup with certain keys like Control, Shift, Alt, and Win, which can only be remapped in tandem with another key. Despite this, the mouse offers extensive customization options, accommodating up to seven on-the-fly DPI settings and separate DPIs for horizontal and vertical movements.
Ultimately, the Cooler Master MM720 excels in both performance and comfort, making it a top contender in the realm of gaming mice. Its array of customization options, combined with stellar ergonomics, solidify its position as a standout choice for gamers seeking an edge in their gameplay experience.
In Conclusion…
As we conclude our exploration into the world of gaming mice, remember that the perfect choice is as unique as your playstyle. Whether you lean towards sharp precision or thrive in MMO worlds, there's a mouse designed just for you. Consider the finer details, like ergonomic comfort and customizable features, and let them align with your gaming preferences.
Ultimately, the best gaming mouse goes beyond trends, offering a seamless extension of your gaming abilities. Trust your instincts, prioritize the features that matter to you, and let your chosen mouse be the bridge between you and victory. Embrace the immersive experience a well-crafted gaming mouse brings, and let it empower you to excel in your virtual endeavors. With the right mouse in hand, you're not just playing the game – you're in control. Happy gaming!