In the world of technology, finding the perfect monitor for your MacBook Pro can make a big difference. There are so many options out there, but it's all about choosing the features that really improve your experience. Having a smooth connection through USB-C or Thunderbolt, which can handle both the screen and charging with just one cable, is super important. Also, think about things like size, how clear the picture is, and if it supports HDR for really vibrant colors. It is important to get a screen that shows colors accurately and has lots of sharp details. We're here to help you find the best budget-friendly monitors for your MacBook Pro in 2023!
Apple Studio Display – For Apple Lovers
The Apple Studio Display emerges as a top-tier choice for MacBook Pro users, combining cutting-edge features with a sleek 27-inch 5K display, boasting over 14.7 million pixels for stunning visual clarity. Professionals will appreciate the reference modes and P3 wide color gamut support, catering to demanding creative tasks. The standout feature is its six-speaker sound system, offering a level of audio quality rarely seen in monitors.
Compatibility is limited to specific Apple devices running macOS Monterey or iPadOS, which could limit its versatility for non-Apple users. Furthermore, without a Mac, the Studio Display's functionality is significantly reduced, potentially relegating it to an expensive secondary display.
Despite these considerations, for devoted Mac users, the Apple Studio Display is a top-tier choice. Its exceptional visual and audio capabilities, coupled with its seamless integration into the Apple ecosystem, make it an appealing investment for those seeking a premium external display to complement their MacBook Pro setup. The Studio Display's blend of high-quality visuals, impressive audio, and Apple's signature design prowess cements its position as a standout option in the world of external monitors.
2. Acer XFA240 – Best Budget Option
The Acer XFA240 proves to be an impressive budget-friendly monitor, tailored for MacBook Pro users. Its unassuming yet functional design showcases a 24-inch screen with discernible bezels, exuding a classic charm in an era of bezel-less displays. The monitor features a set of six front buttons for easy navigation, along with a range of ports including DisplayPort, HDMI, DVI, and audio jacks.
Setting up the monitor is a breeze, with only three components to assemble, and the base requiring a screwdriver. However, some users might encounter adhesive residue on the base, which could pose a concern. In terms of display quality, the Acer XFA240 doesn't disappoint. It delivers 352 nits of brightness, covers 106.3% of the sRGB spectrum, and maintains an impressive Delta E color accuracy of 0.26, making it a standout performer in its price range.
Gaming performance on the XFA240 is commendable, offering a smooth experience with its 144Hz refresh rate. While the "game mode" may not always enhance visuals, disabling it provides balanced and sharp colors. With a straightforward, no-nonsense approach, the Acer XFA240 offers essential features like height adjustment, rotation, built-in speakers, and a vibrant screen. It presents an excellent budget-friendly choice for MacBook Pro users in search of an economical yet capable external monitor.
3. Dell UltraSharp UP2720Q – Best for Creatives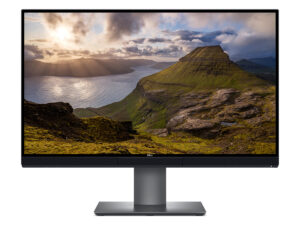 The Dell UltraSharp UP2720Q is a powerhouse designed for creative professionals, boasting a built-in colorimeter and Thunderbolt connection. The 27-inch 4K IPS panel offers a substantial resolution, providing ample space for multitasking with impressive clarity. While the 60Hz refresh rate and 8ms response time may not cater to fast-paced animations, they suffice for design tasks.
Connectivity is a strong suit, featuring DisplayPort 1.4, HDMI 2.0, Thunderbolt 3, and USB 3.2 ports. The stand offers generous adjustment options, including height, swivel, tilt, and pivot, ensuring ergonomic comfort. The built-in colorimeter guarantees precise color calibration across various popular color spaces.
Image quality is exceptional, with accurate colors, deep blacks, and excellent uniformity. The UP2720Q covers a wide gamut of color spaces, making it a versatile choice for professional work. Despite minor quibbles about contrast levels and color temperature, the Dell UltraSharp UP2720Q excels, offering superb image quality and an array of features, making it a top contender for high-end design needs. With its crisp 4K display and solid design, it earns a commendable 9 out of 10.
4. BenQ PD3420Q – Best Ultrawide Monitor for Macbook Pro
The BenQ PD3420Q emerges as the ultimate ultrawide monitor for MacBook Pro users, combining seamless setup with a stunning 34-inch QHD display boasting 3440×1440 resolution. Its vibrant colors, wide viewing angles, and impeccable image quality make it a standout choice for professionals. The slim bezel and adjustable stand contribute to its sleek, modern design, complementing any workspace. The monitor excels in various tasks, especially photo editing, thanks to its expansive screen real estate. With 100% sRGB coverage and flicker-free technology, it ensures comfortable, eye-friendly work sessions.
Featuring HDMI and DisplayPort connections, the PD3420Q offers versatility in connectivity. The low blue light filter adds a valuable layer of eye protection. Additional features like Picture-by-Picture and Picture-in-Picture enhance multitasking capabilities. The monitor's advanced connectivity options, including USB-C port and built-in KVM switch, cater to professionals juggling multiple computers. While it comes with a premium price tag, the BenQ PD3420Q's top-tier specifications and features justify the investment for those seeking a reliable, high-quality display.
5. Asus ProArt PA148CTV – Best Portable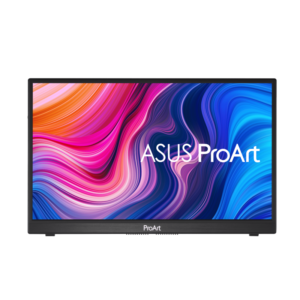 The Asus ProArt PA148CTV emerges as the pinnacle of portable monitors tailored for MacBook Pro users, especially those in the creative field. Designed with photographers, video editors, and graphic designers in mind, this 14-inch IPS panel packs a punch with a resolution of 1920×1080 and a wide 178-degree viewing angle. 
The ProArt PA148CTV boasts a host of features, including an adjustable metal stand, tripod mount, and stereo speakers, catering to the needs of professionals on the go. Its 10-point multi-touch support further enhances usability, particularly for Windows-based systems. However, the monitor's plastic construction and noticeable flex may leave some wanting for a more premium feel.
While the ProArt PA148CTV shines in color accuracy, it slightly falls short of its claimed brightness levels. Nevertheless, it excels in delivering Rec. 709 and sRGB color space coverage. The inclusion of the Asus Dial for on-screen display navigation, while unconventional, finds its stride in supported apps like Adobe Photoshop and After Effects. 
Overall, the ProArt PA148CTV stands tall as a powerful and versatile portable monitor, ideal for professionals seeking a reliable display solution for their MacBook Pro. Despite a few design nuances, its impressive performance and feature set make it a worthy investment.
In conclusion…
In conclusion, finding the right monitor for your MacBook Pro can greatly enhance your computing experience. With features like seamless USB-C or Thunderbolt connectivity, vibrant display quality, and support for HDR rendering, you can make the most of your Apple device. It's important to focus on precision, accuracy, and ample pixel density rather than getting caught up in gaming-centric features. Whether you opt for the impressive Apple Studio Display or the Dell UltraSharp U2720Q, there's a wide range of options to suit different budgets and preferences. Investing in a quality monitor ensures that you'll enjoy crisp visuals and a seamless workflow with your MacBook Pro. Happy computing!