In the fast-paced world of social media, where content is king, quality audio can be the game-changer that sets you apart. Whether you're a podcaster, gamer or social media influencer, having clear and crisp audio is essential for keeping your audience engaged. As streaming platforms like YouTube, Twitch, and TikTok continue to gain popularity, the demand for top-notch microphones is on the rise.
Our mission is to help you navigate through the sea of options and find the perfect microphone for your content. From live gaming sessions to captivating podcasts, we've got you covered. In this guide, we'll not only demystify the technical aspects of microphones but also provide hands-on reviews of the finest options available. So, get ready to elevate your streaming experience and forge stronger connections with your audience. With the right microphone, your content will resonate like never before.
Shure SM7B – The Best Overall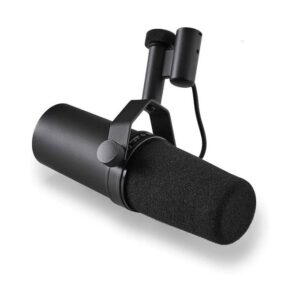 The Shure SM7B microphone, celebrated for its role in Michael Jackson's Thriller record, embodies a legacy of professional-grade performance and premium craftsmanship. Its versatility caters to vocalists, audio mixers, podcasters, and YouTubers alike. The SM7B's standout feature lies in its adjustable frequency response, easily controlled via an intuitive back panel. With options like bass rolloff, flat, and presence boost, it adapts seamlessly to various recording scenarios. The yoke mounting mechanism simplifies attachment to mic stands, complemented by a pre-installed pop filter that efficiently handles plosives and fricatives. While the SM7B may not be the most budget-friendly option, its advanced internal hardware protects the cartridge and reduces mechanical noises, setting it apart as a studio staple. The cardioid polar pattern excels in capturing frontal audio while rejecting off-axis sounds, adding to its appeal for serious creators. Although its specialization in cardioid pickup pattern may not suit every recording need, the SM7B's impeccable vocal reproduction, noise rejection, and customizable frequency responses establish it as the overall best microphone for streaming. While it may not be the cheapest option, the SM7B's blend of professional-grade features and premium construction justifies its cost.
2. AKG Ara – Best Budget Microphone for Podcasting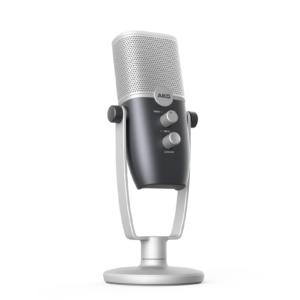 The AKG Ara microphone is a budget-friendly streaming option that prioritizes simplicity and user-friendliness. Its standout feature lies in its dual pattern functionality, allowing for versatile recording options. While its design may be subjective, balancing understated class with a touch of nostalgia, the Ara shines with its rich, velvety speech tones, setting it apart in its price range. The microphone's USB-C connectivity and headphone output with adjustable levels further enhance its user-friendly appeal. However, it lacks on-mic gain control, potentially requiring adjustments in recording or streaming software. Additionally, the build quality, while functional, exhibits signs of cost-saving measures. Overall, the AKG Ara impresses with its quick setup, affordability, and impressive audio quality, making it the best budget streaming microphone overall. Its simplicity and rich tones make it an excellent choice for streamers looking for professional-grade results on a budget.
3. Rode X XDM-100 – Best Premium Microphone for Podcasting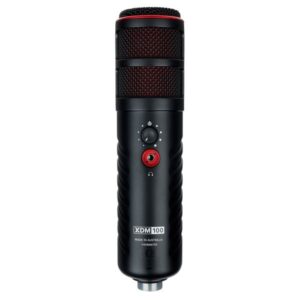 The Rode X XDM-100 raises the bar for USB microphones, showcasing cutting-edge Australian audio engineering. Boasting an integrated preamp, robust processing capabilities, and user-friendly design, it outperforms even some XLR counterparts.  It comes with a dedicated pop filter and shock mount, providing stability during use. The microphone connects via USB-C, offering a faster, more powerful connection compared to USB-A, crucial for its internal processor and preamp. The inclusion of Rode's Unify software allows for seamless audio management, enhancing user control. The pop filter effectively reduces unwanted noise, while the preamp and Aphex processing offer balanced, warm, and accurate voice reproduction. The zero-latency monitoring is a boon for those with high-quality studio headphones.  In summary, the Rode X XDM-100 redefines USB microphones, presenting an extraordinary blend of performance and convenience. With its advanced features and exceptional sound quality, it stands as the best premium microphone for streaming, setting a new benchmark in the industry.
4. Audio-Technica AT2020PK – Best XLR Microphone Streaming Pack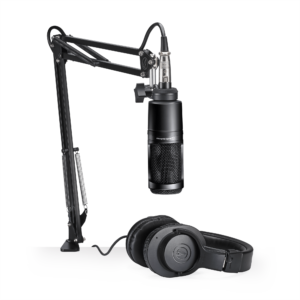 The Audio-Technica AT2020PK Streaming/Podcasting Pack is a comprehensive solution tailored for content creators seeking a versatile and user-friendly boom microphone setup. It includes an AT2020 cardioid condenser microphone, ATH-M20x professional monitor headphones, and a studio boom arm with an integrated XLR cable. It boasts high SPL handling and a wide dynamic range, offering unmatched versatility. The custom-engineered low-mass diaphragm ensures extended frequency response and superior transient response. Its cardioid polar pattern enhances sound isolation. The adjustable studio boom arm offers full 360° rotation and secure attachment to desks or tables up to 55mm thick. Strengths include the AT2020's outstanding audio quality, ease of installation, and durable build.  Overall, the AT2020PK Streaming Pack stands out as the best XLR streaming pack, offering a complete and high-quality solution for content creators.
5. Rode VideoMic ME-L – Best Microphone for Podcasting on iPhone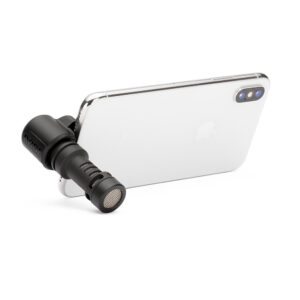 Introducing the Rode VideoMic ME-L, a compact marvel designed exclusively for iPhones equipped with Lightning ports. Crafted with precision for vloggers, interviewers, and musicians seeking top-notch audio quality, this microphone steps in where the phone's built-in mic falls short. It stands side by side with Rode's VideoMic Me, tailored for devices with traditional audio jacks, which are now absent in the latest iPhones. While sharing the same microphone capsule as its predecessor, the ME-L takes the lead in sound quality thanks to its integrated pre-amp and analog-to-digital converter. Using it is a breeze – simply plug it in, direct it towards you or your subject, and you're ready to roll. While at arm's length indoors, the distinction from the iPhone's native mic was subtle, requiring a boost in gain for comparable volume. While it may not completely replace dedicated cameras, for iPhone users seeking a significant audio upgrade, especially in controlled settings, the Rode VideoMic ME-L emerges as a commendable choice.
In conclusion…
In conclusion, finding the perfect microphone for your podcasting endeavors is paramount to delivering top-notch content and fostering a strong connection with your audience. Whether you're a seasoned pro or just starting out, investing in a quality microphone is a choice that pays off in spades. Each microphone reviewed here offers a unique set of features, catering to a wide spectrum of streaming needs. Remember, exceptional audio is just as crucial as impressive visuals. With the right microphone, you'll be primed to engage, entertain, and cultivate a devoted following. So, choose wisely and let your voice resonate in the best possible way. Happy podcasting!