Laptops serve different purposes, and it is important to purchase a laptop that suits what you intend to use it for. Trading is one skill that request a fast and responsive computer, and even the big names in trading have their own computers on the stock exchange floor for effective trading. To get the best of trading you need to go for a capable laptop. In this guide, we explore the best trading laptops on the market. Lets dive right in…
Asus Zenbook Pro Duo 15 – Best Dual-screen Laptop for Traders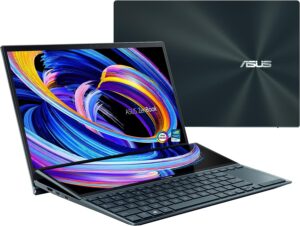 The Asus Zenbook Pro Duo 15 OLED UX582 stands out as an exceptional choice for stock and forex trading, offering innovative features tailored for traders. Its dual-screen setup, comprising a 4K OLED main display and a supplementary OLED screen above the keyboard, provides unparalleled multitasking capabilities. Powered by an Intel Core i9-10980HK CPU, Nvidia GeForce RTX 3070 GPU, and 32GB of RAM, this laptop ensures seamless performance even during demanding trading sessions.
The 15.6-inch OLED display, with a resolution of 3840×2160, delivers vivid and accurate visuals crucial for analyzing intricate market trends. A secondary 14-inch OLED matte display complements the setup, enhancing productivity further. The laptop's 1TB PCIe SSD ensures swift data access, crucial for timely trade executions.
While the Asus Zenbook Pro Duo excels in performance, its premium price tag may deter budget-conscious buyers. Additionally, the laptop's 5.16-pound weight may be considered slightly hefty for those seeking extreme portability.
In conclusion, the Asus Zenbook Pro Duo 15 OLED UX582 is a powerful tool for stock and forex trading, boasting top-tier specifications and a unique dual-screen design. Its strength lies in its robust processing power and vibrant displays, providing traders with an edge in market analysis. However, potential buyers should weigh its premium pricing against their specific trading needs. With its exceptional features, this laptop is a valuable asset for traders looking for a cutting-edge computing solution.
2. Acer Aspire Vero 15 (2023) – Best Budget Trading Laptop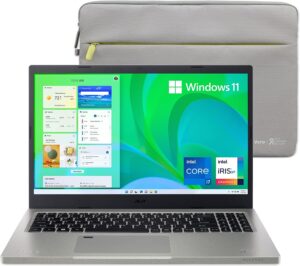 The Acer Aspire Vero 15 (2023) elevates Acer's eco-friendly commitment with an emphasis on sustainability. Boasting an enhanced 13th Gen Intel Core processor and Iris Xe graphics, this laptop is a potent tool for stock and forex trading. The larger display offers an immersive visual experience, while the addition of a 1440p QHD webcam ensures clear video communication.
The laptop's eco-conscious design is a standout feature, utilizing 40% post-consumer recycled material for the chassis. It's a commendable move towards reducing environmental impact. The trackpad, crafted from recycled ocean-bound plastic, aligns with this theme. The reverse "R" and "E" keys subtly remind users to adopt sustainable practices.
In terms of performance, the Aspire Vero 15 impresses with a 13th Gen Intel Core i7 processor, 16GB RAM, and 512GB storage. It handles multitasking and demanding applications efficiently. However, the display's maximum brightness at 300 nits may be limiting in certain lighting conditions.
With up to 12 hours of battery life, the Vero 15 ensures prolonged productivity. Fast charging capabilities add convenience. This laptop is a compelling choice for traders seeking an eco-conscious and capable device, aligning with Acer's commendable sustainability efforts.
3. MacBook Pro 2021 (16-inch) – Best MacBook for Trading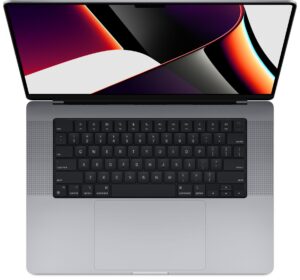 The MacBook Pro 2021 (16-inch) emerges as a pivotal asset for stock and forex traders, seamlessly integrating cutting-edge technology with practical functionality. Fueled by the formidable M1 Max chip, it outpaces competitors, effortlessly managing the demands of complex trading platforms. This, coupled with the Liquid Retina XDR display, presents traders with a visually immersive experience, boasting high resolution and impeccable color accuracy for dissecting intricate financial data.
Weighing a mere 4.7 pounds, it offers exceptional portability, enabling traders to operate efficiently from any location. Notably, the battery life exceeds 15 hours, ensuring sustained productivity through extensive trading sessions. Moreover, its robust video conferencing capabilities and the reliable macOS environment make it an invaluable tool for finance professionals.
The MacBook Pro 2021 (16-inch) not only exemplifies superior performance but also caters to the dynamic needs of traders, solidifying its position as an indispensable companion in the world of stock and forex trading. With its exceptional processing power, vivid display, and enduring battery life, it is poised to revolutionize the trading experience.
4. Razer Blade 17 (2022) – Best Gaming Laptop for Trading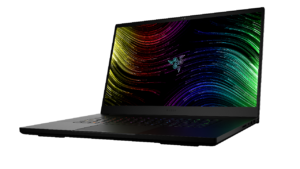 The Razer Blade 17 (2022) emerges as a formidable contender for stock and forex trading, boasting a 12th-gen Intel Core i7 processor and a robust RTX 3080 Ti GPU. This powerful combination ensures seamless multitasking and efficient handling of trading platforms. Its standout feature lies in the vivid 17.3-inch QHD display, offering impeccable color accuracy and visual clarity, crucial for dissecting financial data.
The laptop's T6 CNC aluminum chassis provides durability without compromising on design, and the upgraded keyboard enhances typing comfort. However, its weight of 6.06 pounds may limit portability, and the battery life falls short for extended usage on-the-go.
In terms of connectivity, the Razer Blade 17 excels with a generous selection of ports, including Thunderbolt 4 for versatile external display options. While the laptop's performance excels in CPU-intensive tasks and gaming, its battery life may be a drawback for traders who require extended mobility. Despite its premium price, the Razer Blade 17's impressive specifications and features make it a strong contender for stock and forex trading, offering a near-desktop experience in a portable package.
5. Lenovo ThinkPad X1 Carbon Gen 10 – Best Trading Laptop with Long Battery Life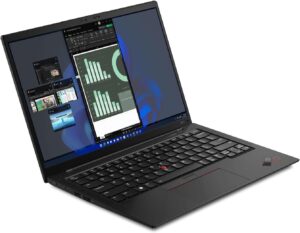 The Lenovo ThinkPad X1 Carbon Gen 10 emerges as an exceptional choice tailored for stock and forex trading. With a refined classic design, this ultra-portable laptop strikes a balance between slimness and durability, weighing a mere 1.17kg. Crafted from a combination of magnesium alloy and carbon fibre-reinforced polymer, it exudes a sense of substance without compromising on portability.
The keyboard is a standout feature, offering a key character that's darker and more satisfying than its competitors, alongside the beloved TrackPoint for precise cursor control. Complementing this, the touchpad provides a velvety-smooth surface and responsive clicker controls, enhancing the overall user experience.
A key highlight is the optional OLED display, boasting an impressive resolution of 2880 x 1800, delivering ultra-high contrast and exceptional colour depth for accurate representation of financial data. While its maximum brightness of 420 nits falls slightly short of class leaders, it remains highly competent.
Equipped with a high-end Intel Core i7-1260P CPU and 32GB RAM, the X1 Carbon Gen 10 demonstrates excellent general performance, making it well-suited for trading applications. However, it's worth noting that it utilizes a "last-gen" processor, potentially affecting its long-term performance compared to newer alternatives. Despite its premium price point and last-gen CPU, its overall performance and design make it a standout choice for serious professionals seeking a reliable tool for their trading activities.
In Conclusion…
Without a solid laptop for trading, you can miss opportunities for profits which you wouldn't have missed if you had a more capable laptop. Speeds is every traders need, and as such, it is important to buy a laptop that can give you that. We hope you found this guide helpful? If you did, kindly leave a comment, and don't forget to share…