As a programmer, you will be writing a lot of code than you write emails. This means you will be having a great deal of activity on the keyboard. That kind of keyboard can determine how productive you will be. For a web developer, Android engineer or any kind of software engineer, your keyboard is one of the important tools at your disposal. In this guide, we explore the best keyboards for programmers on the market…
Logitech MX Keys – Best Wireless Keyboard for Programmers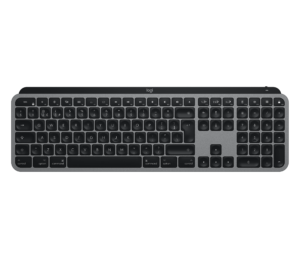 Logitech's MX Keys emerges as a standout choice for programming keyboards. With a compact, laptop-like design featuring 108 keys, it exudes a sleek, futuristic aesthetic. The low-profile membrane keys provide a smooth, if shallow, typing experience akin to laptops. While it lacks the depth preferred by some users, it offers a comfortable alternative for those accustomed to portable keyboards. However, the flat profile may lead to wrist discomfort, alleviated by an optional, albeit separate, memory-foam wrist rest.
Where the MX Keys truly shines is in its wireless capabilities. It effortlessly connects via Bluetooth or a provided 2.4GHz USB receiver, facilitating synchronization across three devices—an invaluable feature for multi-computer users or those pairing with mobile devices. Battery life impresses, with up to 10 days with backlighting and a remarkable five months without.
Despite its minimal key travel, the MX Keys' emphasis on productivity, sleek aesthetics, and seamless multi-device integration solidifies its status as the top choice for programming. In a market predominantly tailored for gaming, it offers a compelling option for users prioritizing workflow efficiency.
2. Mountain Everest Max – Best Mechanical Keyboard for Programming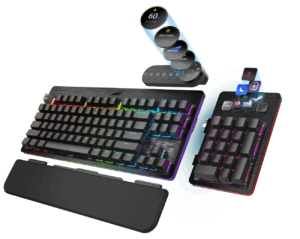 The Mountain Everest Max is a premium mechanical keyboard designed with programmers in mind. Its robust build ensures durability, though the detachable numpad's connector feels somewhat fragile, warranting caution during use. Featuring four OLED screens akin to the Elgato Stream Deck, customization options abound. However, pressing these buttons lacks tactile feedback, leaving room for improvement.
In contrast, the media module seamlessly integrates, offering a satisfying knob rotation for tasks like volume adjustments. Though its buttons may feel slightly out of place, they primarily serve media controls. The Base Camp software is also functional.
For tasks involving straightforward macros, like activating recording software, the Everest Max excels. The keyboard also offers customizable switch options, allowing users to fine-tune their typing experience. While RGB settings are manageable, brighter options may cause a shimmer effect on the keys. Despite minor drawbacks, the Mountain Everest Max emerges as the top choice for programmers seeking a mechanical keyboard that balances functionality with customization.
3. Glorious GMMK Pro – Best Mechanical Keyboard for Programmers seeking Portability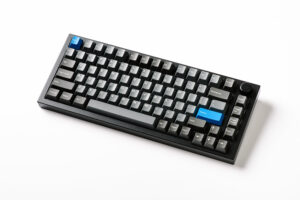 The Glorious GMMK Pro is a standout choice for programmers seeking an exceptional mechanical keyboard. Its robust build and customizable features make it a top contender. Despite minor issues with screws, the keyboard's overall durability shines through. The GMMK Pro's online configurator simplifies building and modding, making it beginner-friendly. Its premium components surpass many enthusiast mechanical keyboards. The aesthetic appeal is further elevated by customizable keycaps, frames, and switches in various colors.
The RGB lighting, including ambient side lighting, adds a vibrant touch. The 75% layout strikes a balance between space-saving and productivity. Customization extends to the Glorious Core app, allowing per-key RGB adjustments and programmable keys.
Typing on the GMMK Pro is satisfying, with responsive switches providing accuracy. Whether coding or gaming, it excels. As a wired keyboard, latency is a non-issue, favored by gamers. While not budget-friendly, the GMMK Pro's value lies in its modifiability and performance. For those seeking a highly customizable keyboard, it's an excellent choice, provided the investment aligns with your budget.
4. Keychron V1 – Best Budget Keyboard for Programmers
The Keychron V1 emerges as a stellar budget-friendly option for programmers. Despite its economical price, it offers several noteworthy features. Encased in ABS plastic, it eliminates case ping, ensuring a pleasant sound profile. The absence of a clacky sound sets it apart from mainstream keyboards.
Additionally, the V1 boasts screw-in stabilizers that are both secure and well-lubed, minimizing rattling. Its VIA and QMK support enhance customization, though VIA setup requires a brief additional step. The translucent Frost Black design adds a stylish touch, offering a glimpse of the keyboard's internals.
However, the tray mount design results in a rigid typing experience, potentially causing discomfort during extended use. The default steel plate further contributes to this stiffness. Moreover, the screws holding the tray mount system may strip the threads on the plastic case over time, posing a durability concern.
Ultimately, for those on a tight budget, the Keychron V1 presents an enticing option, combining affordability with commendable features.
5. Kinesis Freestyle Pro – Best Ergonomic Keyboard for Programmers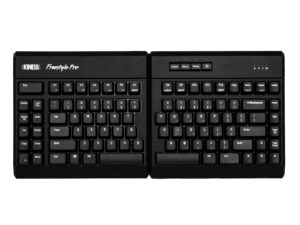 The Kinesis Freestyle Pro mechanical keyboard stands out as an ergonomic powerhouse tailored to enhance typing comfort and efficiency. Its split design, coupled with Cherry MX Brown switches (or optional Cherry MX Red switches), offers a customizable experience that caters to Windows, Mac, and Dvorak layouts One of its notable strengths lies in its exceptional ergonomics, featuring customizable tenting adjustments and palm rests that effectively reduce wrist strain and promote a neutral typing position. Moreover, the keyboard offers versatility in layout, allowing for instant switching between different configurations to accommodate diverse user preferences.
The inclusion of a SmartSet Programming Engine, equipped with up to 4MB flash memory, further enables extensive customization without the need for additional software installation. Additionally, the mechanical advantage provided by the Cherry MX switches ensures a tactile, responsive typing experience, reducing finger fatigue and allowing for efficient and comfortable typing. However, potential users should be aware of the potential learning curve associated with adapting to the split layout, which may initially affect typing speed.
Additionally, the keyboard's extensive layout, including a full function row and 8 macro keys, may be considered large for some users' preferences. Some users have also reported occasional stabilizer rattling, particularly noticeable with the right shift key. In summary, the Kinesis Freestyle Pro excels in ergonomic design and customization, making it an excellent choice for programmers seeking a comfortable typing experience. .
In Conclusion…
The Best keyboards for Programmers are those that give the experience of comfort and reduce the frequent use of the mouse. That said, if you want to improve your workflow and get more productive, you should invest in a solid keyboard. If you you found this helpful, kindly leave a comment, and don't forget to share…