Gaming is a world of its own. Games require the best of hardware to run them smoothly – especially modern demanding titles. The good things is that there are laptops made with the gamer in mind. And most of these laptops feature some of the best configuration you can find in the market. HP which is arguably the most popular laptop brand also makes gaming laptops. In these guide, we explore some of their gaming laptops.
HP Omen 17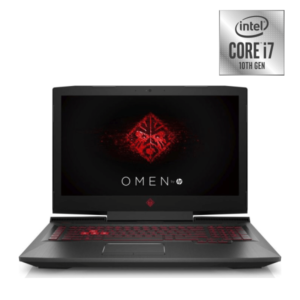 What's a gaming PC without a great GPU? But guess what the Omen 17 has it powerful. It is the laptop in HP's lineup with the most powerful GPU. Display-wise, it comes with a 17.3 inch panel having the 16:9 aspect ratio. It boasts of a 13th generation Intel Core HX series processors with up to 24 cores and 32 threads. You can already tell it gives off breathtaking performance, but that's not all. It runs with a GPU of up to Nvidia GeForce RTX 4090. With this, you can run any game without lags. In the memory department, it has 32GB of RAM, and 2TB of SSD storage. It also features RGB lighting in the keyboard area.
2. HP Omen 16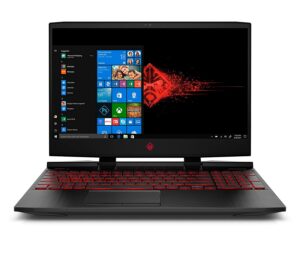 To do serious gaming, an HP Omen is the HP model that's most suitable. And it comes in a variety of configuration. This gaming laptop boasts of powerful specs that makes you have a sweet gaming experience. The laptop has a screen size of 15.6 inches with 1080 resolution. The Omen 16 has an AMD Ryzen 7 5800H processor, alongside a GeForce RTX 3070 GPU. This means the laptop has ample power to handle any of the demanding games you can find. What's more? There is 32GB of RAM and up to 2TB SSD.
3. HP Victus 16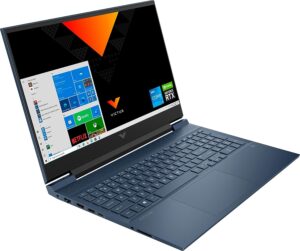 Want a laptop that can handle those titles and not as expensive as the Omen above, choose HP Victus 16. It features a 16.1 display with a 1080p resolution. With a solid 11th Gen Intel Core i7 processor, you can be rest assured that even the demanding titles can run without issues. Not only that that, there's a Nvidia GeForce RTX 3060 fitted to power graphics operations. If you wish to go into the world of VR, the Victus is capable, as it sails past the entry requirements for PC VR gaming. One drawback about the Victus 16 laptop is its poor battery life and sluggish SSD.
4. Pavilion Gaming Laptop 15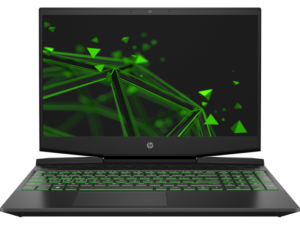 HP makes the Pavilion models as low-cost gaming laptops which will appeal to casual gamers. It boasts of a 15.6 inches display and a 1920 x 1080 resolution. The Pavilion 15 runs with an AMD Ryzen 7 5000-series processor which is decent enough for casual gaming. Graphics processing is done by an Nvidia GeForce GTX 1650 graphics. This GPU won't handle ray tracing or DLSS tech, but you can still play modern titles, but at lower settings. When it comes to AAA titles, the Pavilion will most likely not be able to handle them. Memory is up to 16GB while storage is up to 512GB SSD.
5. HP Victus 15t
Another brilliant HP laptop is the Victus 15t, a strip down of the Omen models. The display isn't the best; you have a 15.6 inch screen at full HD resolution, and with up to 144Hz resolution. The laptop can be configured with up to an Intel Core i7-12700H, with 14 cores and 20 threads. Not only that, the GPU is an Nvidia GeForce RTX 3050 Ti GPU. These duo are not as powerful as the Omen models, but they can still handle modern titles if you adjust to lower settings. The laptop has up to 16GB of RAM and 1TB SSD for storage
Rounding Up…
You don't want a laptop that makes your games lag, and spoils the experience altogether. You can't run modern titles on an ordinary laptop not built for hard core games. This is why you should go for a great gaming laptop, and HP has them. We hope you found this guide helpful? If you did, kindly leave a comment and don't forget to share…