Gaming is only possible when you have some sort of ways to control your playing. Consoles for example use gamepads or controllers but for a PC, the traditional devices to use are gaming keyboard and mouse. Not that the latter are entirely bad, but you may want to switch your gaming experience by playing with a controller like you would on an Xbox or Playstation. There are many PC controllers to choose from, but you don't have to do much because we have stripped them down to the best five. Lets dive right in…
Xbox Wireless Controller – Best Overall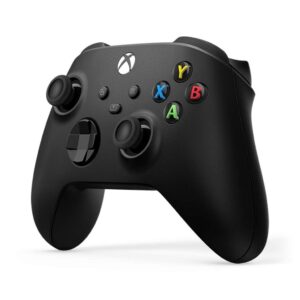 The 2020 Xbox Wireless Controller by Microsoft refines a trusted design, offering subtle yet impactful enhancements. Included with Xbox Series S and Series X, it extends its compatibility to various gaming platforms. The controller's sleeker build and textured grip ensure comfort even during intense gaming, while the addition of a durable USB-C port simplifies connectivity to non-Xbox devices. With asymmetrical thumbsticks, a revamped d-pad, and accessible buttons, it provides precise control without compromising grip. Boasting reduced latency, it guarantees ultra-responsive gameplay on Series X/S and other Bluetooth-connected devices. However, users should note that a rechargeable battery pack is sold separately, and the centrally located share button might require a slight adjustment in gameplay reach. Despite these minor considerations, the Xbox Wireless Controller offers a refined gaming experience, making it a versatile choice for console and PC gamers alike.
2. GameSir T4 Kaleid – Best Budget PC Controller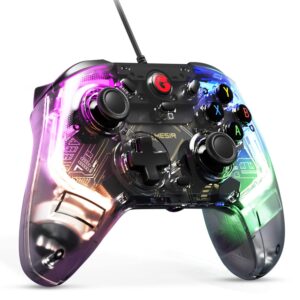 The GameSir T4 Kaleid emerges as a standout budget-friendly PC controller, offering an impressive array of features usually reserved for higher-priced models. While the controller's design may initially seem flashy, its transparent case and RGB lighting belie a top-notch wired controller. Despite the absence of Bluetooth support, it excels in comfort and functionality. The hall-effect joysticks, easy-to-toggle triggers, and ergonomic grip contribute to an enjoyable gaming experience. The micro-switches under the face buttons stand out, offering a remarkably satisfying press. The toggling feature for triggers between analog and hair-trigger settings is a convenient addition. While the lack of wireless support and centered phone clip compatibility may be minor drawbacks, the GameSir T4 Kaleid shines as an affordable, feature-rich option for various gaming genres. For gamers seeking premium features without breaking the bank, the GameSir T4 Kaleid proves that high-quality controllers need not come with a hefty price tag.
3. Xbox Elite Wireless Controller Series 2 – Best Premium PC Controller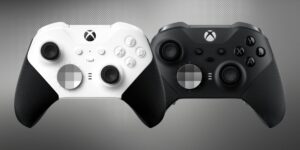 The Xbox Elite Wireless Controller Series 2 stands as the epitome of premium gaming peripherals, offering a wealth of features that elevate the gaming experience. Its design exudes elegance, with a matte black finish, rubberized grips, and interchangeable buttons for personalized gameplay. Noteworthy are the six thumbsticks, four paddles, and adjustable analog stick tensions, affording players unparalleled customization options. The Series 2's standout feature is its built-in rechargeable battery, ensuring up to 40 hours of uninterrupted gameplay. Where it truly shines is in software customization through the Xbox Accessories app. Players can fine-tune stick sensitivity, vibration levels, and even assign a 'shift' key for multi-function buttons. The addition of paddles further enhances accessibility and control. In terms of performance, the Series 2 exhibits remarkable responsiveness and tighter gameplay, particularly crucial in fast-paced titles. Despite its premium price, its extensive customization options and impeccable performance justify the investment.
4. Sony DualSense Controller – Best for Immersive Gaming
Sony's DualSense controller redefines the gaming experience with its revolutionary features and ergonomic design. The controller's symmetrical thumbsticks and customizable triggers offer a comfortable and responsive interface. The adaptive triggers provide varying resistance levels, adding realism to in-game actions. The true marvel lies in the haptic feedback, delivering nuanced vibrations corresponding to in-game events, creating an unparalleled level of engagement.  However, its compatibility with PCs is limited, and wired connection is necessary for optimal performance. The battery life, averaging around eight hours in wireless mode, falls short compared to rival controllers. In summary, the Sony DualSense controller is a pioneer in immersive gaming, setting a new standard for tactile precision and sensory feedback. For PlayStation 5 users, it's a game-changer, while PC integration shows immense potential with room for improvement.
5. Scuf Instinct Pro – Best Customisable PC Controller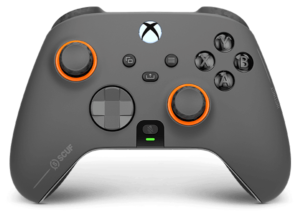 The Scuf Instinct Pro stands as the epitome of over a decade of controller innovation, delivering an unrivaled gaming experience. What truly distinguishes it are the four effortlessly customizable paddles on the rear, seamlessly integrating into the controller's ergonomics. The redesigned triggers, equipped with a toggle for instant activation, redefine precision and speed. Interchangeable thumbsticks cater to different playstyles, ensuring optimal comfort and control. While it utilizes AA batteries, a minor trade-off for competitive players seeking wired setups, it accommodates the Play & Charge kit. Customizable profiles and on-the-fly remapping add versatility without the need for external apps. From casual to competitive titles, the Instinct Pro excels, especially in games like Apex Legends, where instant triggers prove invaluable. This controller is a game-changer, offering a level of customization and performance that sets a new standard for professional gaming.
In Conclusion…
Whether you are coming from console gaming to PC gaming, or you just want to have a switch in experience, these PC controllers are the best you can find on the market. Though they all have their strength and weaknesses, but they do well to deliver. We hope you found this guide helpful? If you did, kindly leave a comment, and don't forget to share…