We are in a time where a lot of things have gone digital, and this is no exception in academics. Students need a computer to do whatever tasks is necessary for their school work. Finding a computer that suits this need, and does not break the bank is necessary. This is where Chromebooks come in. Chromebooks run on ChromeOS, a cloud operating system by Google which is lightweight and does not consume much computer resources. If you are a parent or a student looking to buy a Chromebook, this guide has 5 best Chromebook that may be suitable for you. Lets dive right in…
1. Acer Chromebook Spin 713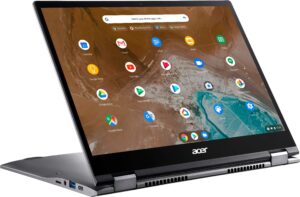 The Acer Chromebook Spin 713 stands out as an exceptional choice for students seeking a reliable and versatile laptop. Its key features make it a standout option in the Chromebook market. The 2256x1504p touch display delivers vibrant and rich colors, ideal for multimedia consumption. The build quality is robust, ensuring durability in everyday use. With an array of ports and impressive battery life, it excels in functionality.
Under the hood, it offers an Intel Core i5-1135G7, Intel Iris X graphics, 8GB RAM, and 256GB PCIe SSD storage. The design, while modest, prioritizes build quality, providing a sturdy feel. Weighing at 3.02 lbs, it strikes a balance between portability and performance, though a slight weight reduction could enhance the user experience.
The keyboard is a standout feature, offering a snappy, well-lit layout. The touchpad is responsive, providing a smooth navigation experience. The display is the star of the show, boasting vibrant colors and crisp details. However, its glossy finish may cause reflections in direct sunlight.
Connectivity options are diverse, including USB Type-C and Type-A ports, HDMI, micro SD, and Thunderbolt 4 support. Performance is commendable, thanks to the Core i5 CPU, outclassing cheaper Chromebook alternatives. The battery life impresses, with nearly 14 hours in benchmark tests.
Overall, the Acer Chromebook Spin 713 offers a compelling package for students, prioritizing performance, display quality, and durability. While minor improvements could enhance its appeal, it remains a top contender in the Chromebook market.
2. Acer Chromebook Spin 311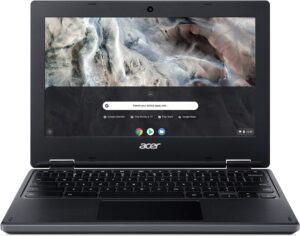 Acer's Spin 311 Chromebook proves to be a standout choice for students and budget-conscious users seeking portability and functionality. The device boasts a robust keyboard, offering an impressive typing experience comparable to higher-end models. The keys' 1.6mm travel distance ensures snappy responsiveness.
Weighing in at a mere 2.3 pounds, the Spin 311 is incredibly lightweight, making it a breeze to carry around. Its durable aluminum chassis and Gorilla Glass-protected display add to its ruggedness. However, the 11.6-inch display's resolution of 1366 x 768, while serviceable, may fall short for some users.
In terms of performance, the MediaTek octa-core processor provides a smooth experience for everyday tasks. The Spin 311 handles multitasking efficiently, with Geekbench 4 scores of 5,507 for multi-core and 1,361 for single-core. However, gaming performance is moderate, with occasional framerate issues.
The Chromebook's battery life, though falling short of the advertised 15 hours, still impresses, lasting approximately 11 hours and 41 minutes in web surfing tests. The webcam, a typical compromise in budget models, delivers passable performance for video calls.
ChromeOS provides a user-friendly interface, seamlessly integrating Google's suite of apps. While some apps may not be supported, the system excels in basic tasks and app management. Although not as feature-rich as Windows, ChromeOS offers a streamlined experience.
In summary, Acer's Spin 311 Chromebook excels in portability, keyboard functionality, and overall performance, making it an excellent choice for students and budget-conscious users seeking a reliable daily driver. However, the display's resolution and webcam performance may leave some users wanting more.
3. Samsung Galaxy Chromebook 2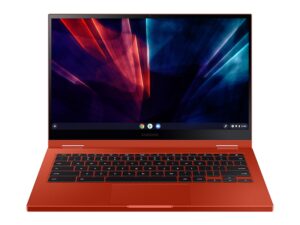 The Samsung Galaxy Chromebook 2 emerges as a noteworthy player in the realm of student Chromebooks, boasting a range of features that cater to academic needs. While its Geekbench 5 performance test score of 2,171 may show a slight dip from its predecessor, it still outperforms competitors like the Pixelbook Go, making it a reliable choice for various tasks.
The Galaxy Chromebook 2 nearly matches the high-performing Acer Spin 713. This indicates a significant leap in the device's capacity to handle JavaScript and web-based applications efficiently.
One of the most notable enhancements addresses a previous concern: battery life. Samsung addresses this head-on, promising an extended battery life of up to 13 hours on a single charge. This improvement signifies a substantial stride forward from its predecessor, making the Galaxy Chromebook 2 a top contender for students in search of a reliable, long-lasting device.
In conclusion, the Samsung Galaxy Chromebook 2 not only showcases improved performance, particularly in web-based applications, but also addresses a key concern with its impressive battery life. This, combined with its sleek design and user-friendly interface, firmly establishes it as a leading candidate for the title of the best student Chromebook in the market.
4. Asus Chromebook Flip C436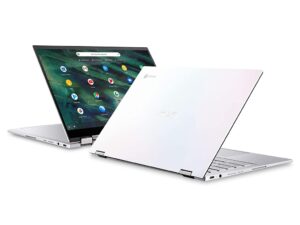 The Asus Chromebook Flip C436 stands out as a sophisticated Chromebook option, offering a blend of style and performance that rivals even the highly regarded Google Pixelbook Go. Its distinguished features include a sleek magnesium alloy shell and a vivid 14-inch 1920 x 1080 pixel LCD display, delivering a premium user experience. With an Intel Core i5-10210U CPU, 8GB RAM, and a 256GB SSD, it boasts processing power comparable to premium Windows laptops.
However, the Chromebook's premium status comes with a hefty price tag. This raises a crucial question about its overall value, especially when considering potential limitations in app support. While the Flip C436 excels in aesthetics and performance, there are slight drawbacks like keyboard flex and an overly sensitive touchpad. For those seeking a balance between style and substance, the more budget-friendly Chromebook C434 may present a more compelling option. Nevertheless, the Asus Chromebook Flip C436 remains an excellent choice for users in search of a refined Chromebook experience that doesn't compromise on performance.
5. Acer Chromebook 516 GE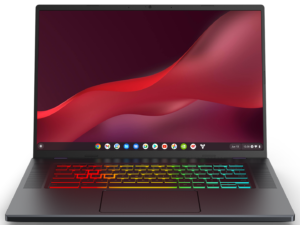 The Acer Chromebook 516 GE is a standout choice for students, combining power and portability in an elegant package. With its 16-inch 120Hz display, boasting a crisp 2560×1600 resolution, it offers vivid visuals and smooth motion. The laptop is driven by an impressive 12th Gen Intel Core i5 processor, ensuring snappy performance for tasks ranging from productivity to casual gaming.
Design-wise, it exudes a sleek, Macbook Pro-inspired aesthetic, with a durable chassis and excellent port selection. Weighing 1.7kg, it strikes a balance between portability and screen size. The keyboard, though compact, provides a comfortable typing experience, while the trackpad, although smooth, offers precise control.
For a Chromebook, the 516 GE's display is a standout feature, offering remarkable colours and a high refresh rate. While its gaming capabilities rely on cloud streaming, it excels in handling day-to-day tasks with ease. The inclusion of an Intel Core i5-1240P processor and 8GB of RAM delivers powerful performance.
With a battery life of over 10 hours, it easily lasts through a full day of work or study. Although on the pricier side for a Chromebook, the Acer Chromebook 516 GE's blend of power, display quality, and battery life makes it an excellent choice for students seeking a versatile and high-performing device.
Rounding Up…
Chromebooks help you do those light work and you don't have to spend so much to purchase a workstation. Whether you are a parent who wants to get a computer for her kid or you are a student looking to be more productive at school work, these Chromebook are a great choice. We hope you found this helpful? If you did, kindly leave a comment, and don't forget to share…