Chromebooks are not your regular laptops. They run on the browser based Chrome OS. This means they don't need high-end specs to run. Most Chromebooks will do just fine even with a Core-i3. They are great for kids, and except your kids are going to be using a app that can't be run on a browser, a Chromebook will do just fine for kids. They are usually lighter so that your kids can easily carry them about. In this guide, we dive into the best Chromebooks on the market…
Lenovo Chromebook Flex 5i – Best Overall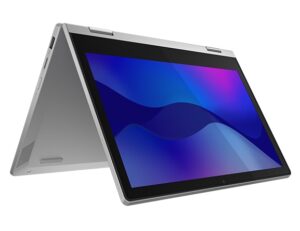 The Lenovo Chromebook Flex 5i is a strong contender for kids' computing needs. It offers a versatile 2-in-1 experience with an 11th Generation Intel Core i3 processor and 8GB of RAM, ensuring speedy performance for schoolwork and activities.
Its 13.3″ touchscreen display provides clear visuals, although it may struggle in bright environments. Weighing just 2.98 lbs, it's easily portable, making it suitable for on-the-go learning.
The backlit keyboard adds a nice touch, but note that it replaces the Caps Lock with a search button, which might take some getting used to. The trackpad, while functional, lacks the smoothness of higher-end models. In terms of ports, it offers a mix of Type-C and Type-A ports, a microSD slot, and a 3.5mm headphone jack.
Chrome OS v94 ensures smooth operation, and the laptop handles multitasking with ease. Its battery life of 8-9 hours supports extended learning sessions. While Chrome OS may have limitations in third-party app support, it excels in integration with Google services.
In summary, if your child is comfortable with Google services and needs a reliable, fast computer for school tasks and play, the Lenovo Chromebook Flex 5i is a solid choice. However, be aware of its slightly dim display and trackpad quirks. If you plan on connecting to a TV, note that it lacks an HDMI port. Overall, it offers a good balance of performance and price for young learners.
2. Dell Chromebook 3100 – Best Budget Option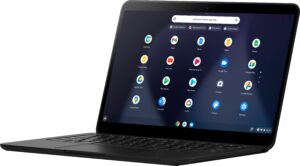 The Dell Chromebook 3100 2-in-1 stands out as an excellent option for young learners. Built to withstand the rigors of a school environment, its durable construction ensures it can handle the bumps and knocks of daily use. The 2-in-1 design adds a layer of versatility, allowing it to effortlessly switch between laptop and tablet modes. This adaptability caters to various learning styles, empowering students to interact with their coursework in the way that suits them best.
With a smooth workflow, the Chromebook efficiently handles web browsing, word processing, and educational apps, enhancing the learning experience. Its integration with Google services through the Chrome OS platform provides a secure and streamlined environment for educational activities.
However, it's worth noting that the display's resolution may not be as high as some competitors, potentially impacting detailed visuals. Additionally, there could be limitations in running specific software commonly used in academic settings. Aesthetic preferences may also play a role for some students.
Despite these considerations, the Dell Chromebook 3100 2-in-1 impresses with its blend of durability, versatility, and affordability, making it a practical and reliable choice for students in educational settings.
3. Lenovo Chromebook Duet 3 – Best Portable
The Lenovo Chromebook Duet 3 strikes a balance between sleek design and sturdiness, measuring just under 8mm thick. Despite its affordability, it exudes a premium feel, offering a substantial build that can withstand regular use. Weighing a little over a pound, it's comfortably portable for extended one-handed use.
The bundled keyboard case, conveniently split into a back portion with a kickstand and a detachable keyboard, adds practicality. While a stylus isn't included, there's a designated space for it on the back.
The 10.95-inch touchscreen impresses with a resolution of 2,000 x 1,200, offering crisp visuals, although colors could be more vibrant. Stereo speakers, while adequately placed, lack depth in sound. The detachable keyboard proves commendable for typing, although the small trackpad may be a drawback.
Running on ChromeOS, the Duet 3 is adept for basic tasks, but may struggle with extensive multitasking. Powered by a Qualcomm Snapdragon 7c Gen 2 chipset with 4GB of RAM, it handles everyday functions smoothly, with occasional stutters. Gaming capabilities are modest, suitable for casual titles but not for high-end gaming. Battery life, though not hitting the quoted 12 hours, provides sufficient usage time for typical tasks.
Competing in a unique space, the Lenovo Chromebook Duet 3 offers a compelling mix of portability, versatility, and affordability, making it a valuable option for parents seeking a secondary device for their child's educational needs, or even as a versatile tool for light work.
4. Google Pixelbook Go – Best Premium Chromebook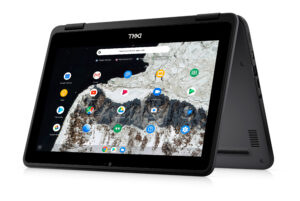 The Google Pixelbook Go presents an accessible option in Google's premium product line, catering to budget-conscious parents. While it lacks some high-end features like biometric login, it provides an impressive keyboard, 1080p webcam, and excellent battery life. The laptop's build is thin, light, and sturdy, making it easy to carry. However, its pricing can climb substantially with higher configurations, potentially impacting its overall value.
The keyboard stands out as one of the best, offering a perfect blend of key spacing and tactile feedback. The laptop's speakers, though on the small side, outperform many in its category. However, the absence of biometric login options might disappoint some users.
The Pixelbook Go's performance is solid for basic tasks and even light photo editing. With 8GB of RAM, it handles multitasking efficiently. The 1080p touchscreen display provides vibrant colors and accuracy, but the scaling could be improved. The impressive battery life of over 11 hours sets it apart.
While the Pixelbook Go excels in the Chromebook realm, it might not sway those who aren't fans of the platform. For parents seeking an optimal Chromebook experience for their children with a top-notch keyboard and impressive battery life, the Pixelbook Go is a compelling choice. However, those looking for a versatile, high-end laptop might find alternatives more appealing.
5. Lenovo IdeaPad Flex 3 – Best Compact & Versatile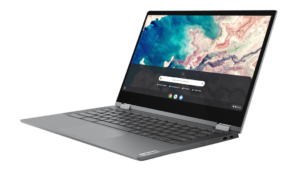 The Lenovo IdeaPad Flex 3 Chromebook offers an affordable option for kids, making it an attractive choice for budget-conscious parents. While its 11-inch screen may be smaller, the tablet convertible 2-in-1 design is versatile. However, the noticeable bezels and large chin might affect overall aesthetics. The 1,366 by 768 pixel resolution indicates a simpler display compared to more modern models.
Despite these limitations, the Flex 3 impresses with its sturdy build quality, thanks to a solid 360-degree hinge. Connectivity is a strength, with USB-C and USB-A ports on both sides, along with a microSD card reader and headphone jack. The keyboard provides a comfortable typing experience, enhancing usability.
In terms of performance, the Intel Celeron chip and 4GB of RAM may seem modest, but within the Chrome OS environment, it handles tasks smoothly. The touchscreen functionality is responsive, making it suitable for various activities. Notably, the battery life stands out, offering over 16 hours of video playback.
While the Flex 3 may not be a high-performance device, its affordability, build quality, and functionality make it an excellent option for kids. However, if sleek design, powerful processing, or a high-resolution display are top priorities, parents may want to consider other options.
Rounding Up…
Chromebooks are low-cost options that you can opt for when you don't want to spend much on a traditional laptop. Moreso, that are just perfect for kids who don't need as much processing power to do their basic school work. We hope you found this helpful? If you did, kindly leave a comment, and don't forget to share…