In an era where top-notch displays don't have to break the bank, the quest for an affordable yet high-performing monitor has never been more rewarding. Whether you're immersed in work tasks or a thrilling gaming session, the market is brimming with options tailored to your needs. With advancements in panel technology, both IPS and VA screens offer compelling choices. Perhaps you seek specific features like USB-C convenience for seamless laptop integration. Or maybe it's a lightning-fast refresh rate that fuels your gaming aspirations. We've sifted through the options to bring you the finest budget monitors that strike the perfect balance between quality and value.
Acer K242HYL – Best Cheap Monitor Overall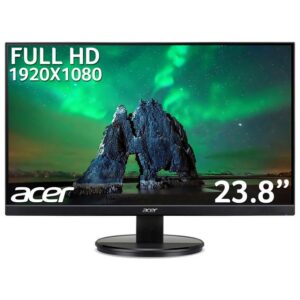 The Acer K242HYL stands out as a top contender in the budget monitor market. It offers a 24-inch, 1080p IPS display with a 75Hz refresh rate and AMD FreeSync support. While its design is basic, with slim bezels and limited tilt adjustment, it prioritizes function over form. The inclusion of a VGA port caters to users with older computers.
In terms of image quality, the K242HYL impresses with a brightness of 287 nits, surpassing many rivals. It also boasts a respectable 640:1 contrast ratio and wide color gamut coverage. Color accuracy, with an average error of 1.57, rivals monitors twice its price. While out-of-the-box settings may need slight adjustments, the overall image is vivid and lifelike.
Though not marketed as a gaming monitor, the K242HYL offers AMD FreeSync and a 75Hz refresh rate. Motion clarity, with a 4ms response time, is commendable for its price range. It outperforms competitors with minimal ghosting issues.
In summary, the Acer K242HYL emerges as the best cheap monitor overall, excelling in image quality and offering noteworthy features. Its minimalistic design and limited adjustments are expected at this price point. For budget-conscious shoppers seeking reliable performance, the K242HYL is a safe and compelling choice.
2. Gigabyte G34WQC – Best Cheap Ultrawide Monitor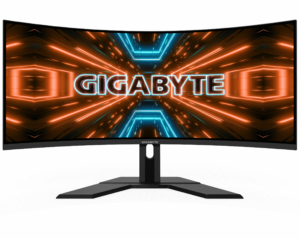 The Gigabyte G34WQC emerges as the best ultrawide monitor, striking a balance between price and performance. Its sleek, minimalist design lacks flashy accents but offers essential height and tilt adjustments. While lacking swivel or pivot options, this suits most users. VESA compatibility allows for third-party mounting, though at an added cost. With two DisplayPort 1.4 and two HDMI 2.0 ports, it provides ample connectivity, albeit without USB pass-through.
The VA panel delivers solid results, hitting 338 nits in brightness and covering 100% of the sRGB color space. Color accuracy out of the box may require minor adjustments, but the contrast ratio of 3252:1 excels for gaming in dimly lit environments. Response time is adequate, with some minor ghosting in dark scenes. The 1440p resolution and 144Hz refresh rate strike an optimal balance, providing sharp visuals and smooth motion. HDR performance, while available, offers a modest improvement.
Overall, the G34WQC excels in key areas for its price, making it a standout choice for gamers seeking an ultrawide display without breaking the bank.
3. BenQ PD2700U – Best Cheap Monitor for Creatives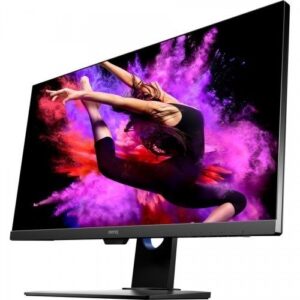 The BenQ PD2700U stands out as a top-notch budget monitor tailored for creatives. Opting for substance over flashy features, it boasts a high-quality 27-inch IPS LCD panel with a crisp 4K resolution and precisely engineered control electronics. While lacking the bells and whistles like high refresh rates or HDR, it excels in delivering accurate colors and plenty of pixels.
The monitor offers a substantial amount of quality pixels for its cost. Compared to pricier alternatives with HDR and higher refresh rates, the PD2700U provides excellent value. Its low-key design may not be flashy, but it exudes sturdiness and modernity with slim bezels.
The monitor offers a wide range of adjustments, including portrait mode, and features a variety of ports, though it lacks USB Type-C connectivity. The 27-inch IPS panel ensures wide viewing angles, while its static contrast ratio and maximum brightness support HDR10 compliance. Professionally calibrated from the factory, it delivers impeccable performance in color balance and image quality, making it an ideal choice for content creation and productivity. While not geared towards gaming, it excels in its intended applications.
4. AOC U32P2 – Best Cheap 4K Monitor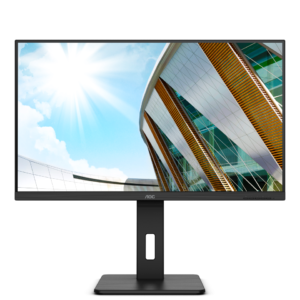 The AOC U32P2, a 32-inch 4K monitor, excels in offering impressive contrast and ample desktop space. While it doesn't support HDR and has slightly over-saturated colors, its VA panel provides rich and deep images. The 4K resolution ensures sharp detail and clear fonts, though users might need to adjust scaling settings for optimal comfort. With a brightness rating of 350 nits, it performs admirably in well-lit environments. While it may not match the color accuracy of IPS panels, the visuals are still engaging.
The monitor doesn't offer USB-C connectivity, which could be a drawback for those looking for a single-cable solution, especially when using laptops. Despite these limitations, the AOC U32P2 offers an excellent balance between price and performance, making it a compelling choice for productivity-oriented users. If you're in search of a budget-friendly yet efficient monitor to enhance your workflow, this monitor is worth considering.
5. Dell 24 S2421HGF – Best Cheap Gaming Monitor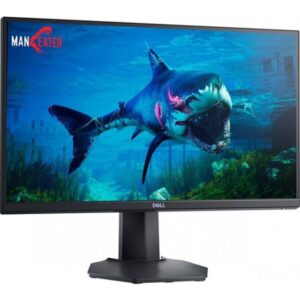 The Dell 24 S2421HGF stands out as an exceptional budget gaming monitor. The 23.8-inch non-curved display impressively combines a full HD resolution with a speedy 144Hz refresh rate, powered by TN technology. The monitor's stand, offering nearly 4 inches of height adjustment and tilting from -5 to 21 degrees, showcases solid design and sturdiness, a remarkable feature given its affordable price point. It's compatible with VESA mounts and surprisingly lightweight at 7.44 pounds without the stand.
While lacking RGB lighting, the Dell 24 S2421HGF excels in its primary function—delivering superb gaming performance. AMD FreeSync Premium and Nvidia G-Sync Compatible certifications ensure minimal ghosting and screen tearing. Its content creation capabilities are limited, but for gaming enthusiasts on a budget, it's a top-tier choice. With impressive contrast, quick response times, and low input lag, it outperforms many pricier competitors, solidifying its position as a top-notch budget gaming monitor.
In Conclusion…
In a world where we're constantly seeking value without compromising quality, finding the perfect budget-friendly monitor is a victory. Whether you're hustling through work tasks or immersing yourself in gaming adventures, these options cater to diverse needs. With sleek designs, vibrant visuals, and adjustable features, they elevate your experience without emptying your wallet. So, whether you're a multitasking pro or a dedicated gamer, rest assured, there's a budget monitor out there with your name on it. It's proof that you don't have to break the bank for top-notch performance. We hope you found this helpful? If you did, kindly leave a comment, and don't forget to share…