If you are a beginner in photography or you wish to get a camera without breaking the bank, you can opt for a cheap camera. These cameras may not have all of the features you'd expect in a pro camera, but they can help you with a start in the world of photography. in this guide, we explore five of them and highlight their top features..
Nikon D3500
The Nikon D3500, introduced in late 2018, emerges as a top budget camera choice, catering to beginners and photography enthusiasts alike. Its standout features include a lightweight build at just 415g (body only), making it an excellent travel companion. While it may lack 4K video, it excels in image quality with its 24.2MP APS-C CMOS sensor, delivering sharp and vibrant images.
Designed specifically for newcomers to photography, the D3500 offers simplified controls and a Guide Mode to aid beginners in learning the basics. Moreover, its compatibility with a wide range of F-mount Nikon lenses makes it a versatile option.
Key specifications highlight the D3500's prowess, including a 5fps continuous shooting speed, a solid 11-point autofocus system, and an impressive battery life of up to 1,550 shots on a single charge. Although it doesn't feature in-body image stabilization, many Nikon lenses, including the 18-55mm AF-P kit lens, come with Vibration Reduction technology.
In summary, the Nikon D3500 stands out as one of the best budget cameras due to its lightweight design, excellent image quality, and suitability for both beginners and enthusiasts, making it an enduring choice in the world of DSLRs.
2. Canon EOS M50 – Best Mirroless
Canon's EOS M50 represents a significant step into the mirrorless camera arena. Positioned as a "premium entry-level" model, it features a 24.1-megapixel APS-C sensor, a built-in electronic viewfinder, and a fully articulated touchscreen.
One standout feature is its 4K video recording capability, enabled by Canon's latest Digic 8 processor. However, 4K recording comes with a significant crop factor, which affects the field of view. Despite this, the camera shines in Full HD video, making it appealing for vloggers.
In terms of performance, the M50 is responsive and well-suited for both novice and enthusiast photographers. Its touchscreen interface, Dual Pixel CMOS AF, and a fully articulated screen make it user-friendly. The camera's image quality is impressive, even at higher ISO settings.
The Canon EOS M50 seems to strike a balance between simplicity and advanced features, making it a competitive choice for those entering the world of interchangeable lens cameras.
3. Panasonic Lumix DMC-G7 – Best Value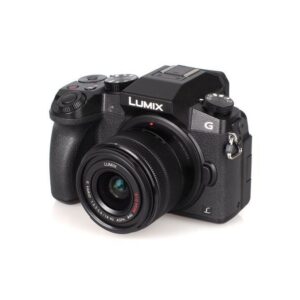 The Panasonic Lumix DMC-G7 stands out as one of the best budget laptops in its class, offering an array of impressive features. This mirrorless interchangeable-lens camera boasts a 4K/UHD video capability, making it an excellent choice for both photography and videography enthusiasts.
In terms of image quality, the G7 performs remarkably well, especially with an upgraded lens beyond the kit option. It delivers better-than-average dynamic range for its Four Thirds sensor size, accurate colors, and commendable low-light performance up to ISO 1600. Additionally, processing raw images can further enhance detail, making it versatile for various shooting conditions.
The camera's 4K video capabilities produce sharp and detailed footage, showcasing the advantages of ultra-high-definition resolution. Its performance remains consistent, focusing quickly in good lighting conditions and offering fast continuous shooting at around 6.5 frames per second.
Design-wise, the G7 resembles an entry-level DSLR, providing a comfortable grip and easy access to controls. Its articulating touchscreen LCD adds flexibility to shooting angles, and the electronic viewfinder impresses with its size and brightness. Furthermore, the camera's Wi-Fi features facilitate seamless photo transfers and remote operation.
In conclusion, the Panasonic Lumix DMC-G7 is a compelling option for those seeking a budget-friendly yet feature-rich camera. Its impressive image and video quality, along with its user-friendly design and 4K capabilities, make it a standout choice for both amateur and experienced photographers and videographers.
4. Sony a6000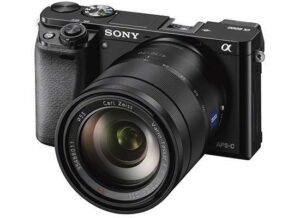 The Sony a6000 is an impressive budget camera that packs a punch with its 24.3-megapixel APS-C CMOS sensor and Hybrid AF system. Despite its entry-level price, it offers a solid metal build with firm dials and comfortable ergonomics.
The camera's LCD screen tilts for creative shooting angles, although it has a 16:9 ratio. Autofocus is a highlight, especially with face detection and tracking.
In terms of image quality, it delivers sharp results with good dynamic range up to ISO 400. While primarily a stills camera, it provides manual control for video recording, adding versatility.
The real standout here is the affordability, making it one of the best mirrorless cameras for those on a budget, offering remarkable value for the price. Whether you're a beginner or a more experienced photographer, the Sony a6000 impresses with its features and cost-effectiveness, earning its spot as a solid choice in the camera market.
Kodak Pixpro AZ421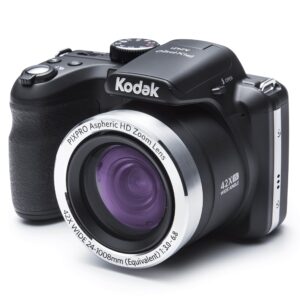 The Kodak Pixpro AZ421 stands out as one of the best budget-friendly bridge cameras, offering remarkable image quality for its price. With a standard 16MP sensor and a 42x optical zoom, it surpasses many competitors in the entry-level segment. This native optical zoom ensures better image quality compared to cameras relying on digital zooming.
For those interested in astrophotography, wildlife, or bird photography, the AZ421 excels at higher zoom ranges, providing sharp and clear images when properly focused. Its 720p video resolution may not match some competitors offering 1080p, but it delivers clearer footage without the graininess associated with budget 1080p cameras.
Facial detection software, suitable for both humans and animals, enhances image quality, especially for wildlife photographers. While the panoramic mode is average, the camera's optical image stabilization helps maintain image quality at high zoom levels.
The AZ421's weaknesses include limited support for memory cards larger than 32GB and inconsistent battery life. However, third-party batteries can address the latter issue effectively.
Despite these drawbacks, the Kodak Pixpro AZ421 offers impressive performance for its price, making it a solid choice for budget-conscious photographers and videographers. Its user-friendly interface, durable build, and excellent value contribute to its strong reputation in the entry-level bridge camera market.
Rounding Up…
Even with cheap cameras, you can still take great photos, and you wouldn't spend so much. As a professional photographer, you may realise that you need one extra camera and if you don't want to spend too much, you could go for an affordable option. we hope you found this guide helpful? if you did, kindly leave a comment and don't forget to share…