A lens is needed for your camera to function. Without a lens, you will not be able get the best out of your camera. There are many lenses on the market, and choosing the right one may be challenging for a beginner. An experienced photographer may know which lens is a right fit for him, but if you are just starting out, read through to find out the best lenses…
Canon RF 28mm F2.8 STM – Top Choice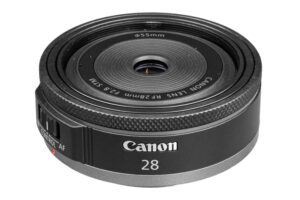 The Canon RF 28mm F2.8 STM lens is a photography gem that combines lightweight portability with outstanding optical quality. This pancake lens is a versatile choice for both full-frame and crop-sensor cameras, making it suitable for a wide range of photography styles. Measuring just 1.0 by 2.7 inches and weighing only 4.2 ounces, the lens adds minimal bulk to your camera setup. It pairs effortlessly with both full-frame cameras like the EOS R6 Mark II and crop-sensor cameras like the EOS R100 and EOS R7. Its 28mm focal length on full-frame is perfect for portraits, landscapes, group photos, and street photography. On crop-sensor cameras, the 45mm equivalent angle allows for subject isolation and background blur.
One standout feature is the multifunction control ring, offering precise control over settings like aperture and EV. The manual focus experience is smooth and responsive, though it exhibits noticeable focus breathing, making it less ideal for professional video work. The lens's optical performance is commendable, delivering sharp images and effectively suppressing distortion and vignetting through digital correction. However, it lacks optical stabilization, so camera stabilization is crucial for getting sharp shots at slower shutter speeds.
Affordable, compact, and delivering impressive image quality, the Canon RF 28mm F2.8 STM lens earns its place as an Editors' Choice and is an excellent option for both enthusiasts and beginners looking to explore the advantages of a prime lens. While it may not excel in macro photography or offer weather sealing, its compact design and affordability make it a valuable addition to any Canon photographer's kit.
2. Canon RF 15-30mm F4.5-6.3 IS STM – Best Ultra Zoom Lens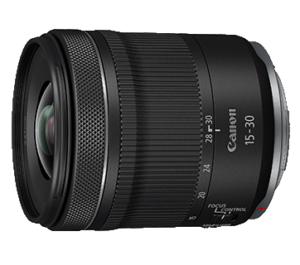 The Canon RF 15-30mm F4.5-6.3 IS STM lens offers a compelling blend of affordability and versatility for photography enthusiasts. With its ultra-wide viewing angle of 110.5 degrees on full-frame EOS R-system cameras, it excels in capturing sweeping landscapes, cityscapes, and even close-up subjects with a remarkable 0.52x macro magnification in manual focus mode. What sets it apart is the 5.5-stop optical image stabilizer, compensating for its relatively slow aperture, making it a valuable tool in low-light shooting conditions.
Crafted with 13 elements, including Precision Molded and Ultra-low Dispersion elements, this lens ensures not only impressive clarity but also minimal aberrations. While its compact and lightweight design, measuring 77x88mm and weighing 390g, makes it a travel-friendly choice, it lacks weather-sealing. Nonetheless, it represents excellent value for photographers seeking a budget-friendly ultra-wide-angle zoom lens that doesn't compromise on performance, offering a gateway to creative and expansive photography without breaking the bank.
3. Nikon Z DX 24mm f/1.7 – Best APS-C Lens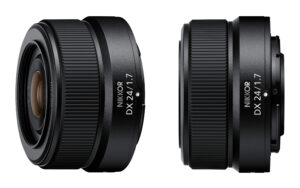 Nikon's Z DX 24mm f/1.7 lens caters to the needs of photographers using APS-C format Z series cameras like the Z 30, Z 50, and Z fc. With a 24mm focal length and a fast f/1.7 aperture, it delivers a field of view similar to 35mm lenses favored by full-frame photographers for street photography. Its compact build makes it ideal for candid street shooting, allowing you to blend seamlessly into the surroundings. This prime lens enables faster shutter speeds in low-light conditions compared to zoom lenses with smaller apertures, thanks to its f/1.7 aperture. Additionally, it provides the opportunity for a shallower depth of field, allowing you to blur backgrounds and focus on your subject. With a short minimum focus distance of just 18cm, it offers a generous maximum magnification ratio of 0.19x, perfect for close-up shots. Although the lens is lightweight and made of plastic, its performance, particularly in terms of autofocus accuracy and sharpness, remains impressive.
The Nikon Z DX 24mm f/1.7 lens may face competition from other third-party options with faster f/1.4 apertures, but its combination of affordability, compactness, and excellent optical quality makes it a strong contender for photographers seeking a versatile prime lens for their APS-C Z series cameras.
4. Sony FE 70-200mm F4 Macro G OSS II – Best Telephoto Zoom Lens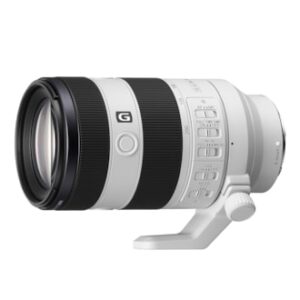 The Sony FE 70-200mm F4 Macro G OSS II is a standout lens, packed with impressive features that cater to a wide range of photographers. Its most remarkable feature is its exceptional macro capability, allowing for a 1:2 magnification ratio at every focal length. This means you can capture intricate, close-up shots with stunning detail, making it ideal for macro enthusiasts.
In terms of image quality, this lens consistently delivers sharp, high-quality photos across the frame. Whether you're shooting portraits or landscapes, you can expect vibrant colors, excellent contrast, and precise details. What sets this lens apart is its compact and lightweight design, making it perfect for on-the-go photographers. Autofocus is swift and precise, crucial for capturing fast-moving subjects, while built-in stabilization ensures sharp shots even in challenging conditions.
Additionally, it's compatible with Sony's teleconverters, expanding its versatility. Its premium build quality and weather-sealing make it suitable for outdoor shooting. With customizable function buttons, smooth manual focus, and minimal distortion, the Sony FE 70-200mm F4 Macro G OSS II is an excellent choice for photographers seeking exceptional performance and flexibility in a midrange lens.
5. Canon RF 24-50mm F4.5-6.3 IS STM – Best Zoom Lens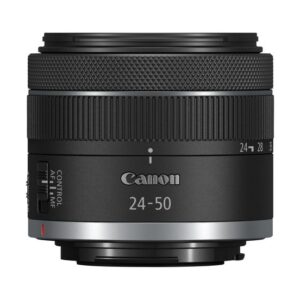 The Canon RF 24-50mm F4.5-6.3 IS STM lens is an ultra-compact and lightweight option for full-frame photography. Measuring just 2.3 by 2.7 inches and weighing 7.4 ounces, it's incredibly portable. While it lacks dust and splash protection, its polycarbonate construction is decent. This lens features a retractable design for space-saving convenience and an STM autofocus motor for smooth and accurate focusing. It offers optical stabilization for up to four-and-a-half stops, enhancing its handheld shooting capabilities. However, its macro capabilities are limited, with a 1:5.3 life-size reproduction ratio.
In terms of image quality, it resolves around 3,500 lines on high-resolution sensors. Yet, distortion correction is necessary for JPG shooting. For those seeking affordability and portability, the Canon RF 24-50mm is a good choice. However, photographers might find better versatility in slightly more expensive alternatives, like the RF 24-105mm F4-7.1 IS STM.
Rounding Up…
Nothing beats having ample knowledge about the gear you need for your camera. There is a right lens for your camera and your photography needs. This is what this article has helped you with. We hope you found this helpful? If you did, kindly leave a comment, and don't forget to share…