If you're diving into the world of photography, having the right camera can make all the difference. It should strike a balance between quality and value, ensuring you enjoy capturing moments without emptying your wallet. We've carefully selected beginner-friendly cameras based on factors like image quality, features, and affordability. Whether you're eyeing a DSLR, mirrorless, or compact camera, we've got you covered. These picks are tailored to help you master the basics and discover your photographic preferences. So, let's find the perfect camera to kickstart your photography journey!
Nikon Z fc – Best Overall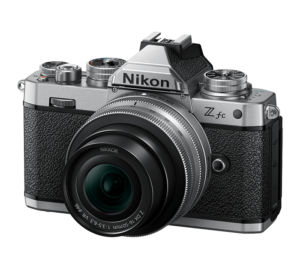 The Nikon Z fc beautifully merges vintage charm with contemporary technology, presenting a camera that exudes the nostalgic allure of '70s film models. This camera, housing a modern DX (APS-C) digital sensor compatible with Nikkor Z lenses, appeals to creators who lean towards compact primes and documentary-style photography. While it excels in these areas, it may face some challenges with larger lenses and capturing swiftly moving subjects. Notably, it offers an impressive 11 frames per second burst rate, 4K30 video capabilities, and an articulating LCD, enhancing its versatility for various shooting scenarios. The camera further impresses with its large, sharp Electronic Viewfinder (EVF) and the added bonus of dust and splash protection, ensuring a degree of ruggedness.
However, the Nikon Z fc does exhibit some limitations. The tracking focus interface may feel somewhat clumsy, and the absence of a crucial headphone jack is a notable drawback for videographers. Additionally, its video format is confined to 8-bit, potentially limiting the depth and flexibility of post-production editing. Lastly, the absence of an in-body flash might be a consideration for certain shooting environments.
Despite these minor limitations, the Nikon Z fc confidently claims its position as the leading beginner camera. Its distinctive blend of vintage aesthetics with modern capabilities makes it an excellent choice for budding photographers. The camera's ability to seamlessly marry style with functionality, all at an accessible price point, ensures it stands out in the realm of entry-level cameras, providing a compelling option for those embarking on their photographic journey.
2. Fujifilm X-T30 II – Best for Content Creators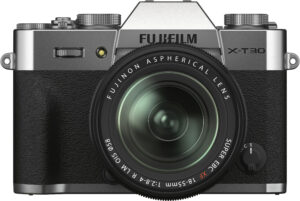 The Fujifilm X-T30 II, launched in 2019 as a lighter version of the X-T3, now stands as a refined choice for beginners and content creators alike. This camera boasts a 26.1MP APS-C sensor, 20fps shooting (extendable to 30fps with a crop), and uncropped 4K video. Its film simulation modes and advanced autofocus system provide creative flexibility.
While the X-T30 II's image quality impresses, especially in rich colors and vibrant tones, it lacks in-body stabilization and has a slight awkwardness in button placement. The screen tilts, but lacks full flexibility for vlogging. However, the camera's modest upgrades make it a well-rounded option.
With a versatile design, customizable controls, and excellent autofocus, it's a strong contender for various shooting scenarios. If you're looking for an adaptable, mid-range camera, the Fujifilm X-T30 II is a top choice. For serious videographers or those seeking extra features, other models may be more suitable.
3. Canon EOS M50 Mark II – Best for Travel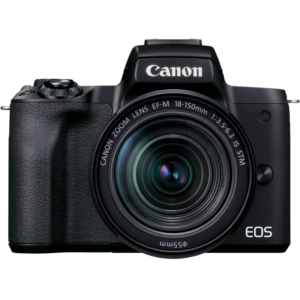 The Canon EOS M50 Mark II is an excellent choice for beginners seeking a versatile and compact mirrorless camera. Its 24MP APS-C sensor delivers solid image quality, and the Digic 8 image processor ensures smooth performance. The standout feature is the Dual Pixel autofocus with eye tracking, providing accurate and fast focusing, especially in challenging lighting conditions.
This camera also offers convenient features like a fully articulated touchscreen LCD and a responsive electronic viewfinder. While it can shoot 4K video, the 1.5x crop and limited autofocus in this mode may disappoint serious videographers. However, for 1080p video, the Dual Pixel autofocus shines.
For live streaming enthusiasts, the EOS M50 Mark II allows direct streaming to YouTube, provided you have over 1,000 subscribers. Alternatively, it can be used as a webcam through Canon's EOS Webcam Utility.
The camera offers great value for its capabilities. Overall, this camera is a strong contender, especially for those interested in travel photography due to its compact size and impressive autofocus capabilities.
4. Canon EOS M200 – Best Portable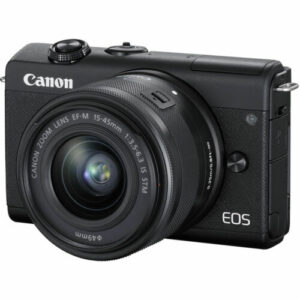 The Canon EOS M200 is an excellent choice for beginners seeking a portable and user-friendly camera. With a 24MP APS-C sensor, it captures sharp, detailed images. The Dual Pixel autofocus ensures quick and accurate focusing, especially with the added bonus of face and eye detection. The inclusion of 4K video at 24p is a nice touch, although it comes with a 1.7x crop factor.
The M200's compact size, akin to a deck of cards, makes it incredibly easy to carry around, making it perfect for travel and everyday photography. Paired with the EF-M 15-45mm F3.5-6.3 kit lens, it produces pleasing images straight out of the camera.
However, the camera's full-auto mode may struggle with fast prime lenses at their widest apertures, resulting in slightly grainier photos in low light. The burst shooting speeds are not particularly impressive for fast-moving subjects. Additionally, the 4K video mode comes with a crop, necessitating an additional lens for wider shots.
Overall, the Canon EOS M200 is an approachable, budget-friendly option for novice photographers. Its combination of small size and good image quality makes it an attractive choice, especially for those looking to step up from smartphone photography. For capturing fast-moving subjects or more advanced control, more experienced photographers might find other options more suitable.
5. Panasonic Lumix DMC-G7 – Best for Mirrorless Photography & Video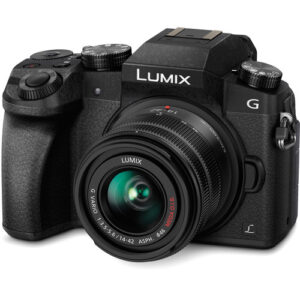 The Panasonic Lumix DMC-G7 proves to be an excellent choice for beginners venturing into mirrorless photography and videography. Packed with features like 4K/UHD video and cutting-edge autofocus systems, it competes favorably with midrange DSLRs. Offering great photo and video quality, it outshines many in its price range, especially when paired with a higher-grade lens. The Four Thirds size sensor provides better-than-average dynamic range, accurate colors, and commendable low-light performance up to ISO 1600.
4K video stands out with exceptional sharpness and detail, though some may notice slight washout in bright areas. The G7's autofocus system is speedy, ensuring swift and precise focusing in various conditions. Continuous shooting at 6.5 frames per second for over 30 JPEGs is impressive. Moreover, the camera's design, resembling an entry-level DSLR, offers a comfortable grip and intuitive controls.
However, the proprietary USB connector may be a drawback for some users, and the camera might seem a bit intricate to beginners. The battery life, while typical for mirrorless models, could be better. Overall, the Panasonic Lumix DMC-G7 emerges as a compelling option, delivering exceptional performance for both photography and videography enthusiasts stepping into the mirrorless world.
In Conclusion…
In conclusion, choosing the right camera for your photography journey is a pivotal step towards capturing moments that matter. Whether you opt for a DSLR, mirrorless, or compact camera, the key lies in striking a balance between functionality, image quality, and affordability. Remember, the best camera is the one that empowers you to explore, learn, and grow as a photographer. So, dive in, snap away, and most importantly, enjoy the process. As you hone your skills, you'll be better equipped to make informed decisions about upgrading to more advanced gear in the future. Happy shooting!