For a fantastic viewing experience, it is best to invest in a display that boasts of incredible quality, and that is what 4K Monitors offer. Unlike other monitors of low quality, the 4K Monitors deliver brilliant visuals with solid color accuracy, level of detail, brightness, and contrast. This means with a 4K monitor, you can enjoy your gaming sessions and creative work more. If you are looking to buy a 4K monitor, then you have come to the right place. In this guide, we explore the best 4K monitor you can buy in 2023…
Samsung Odyssey Neo G8 – Best 4K Monitor Overall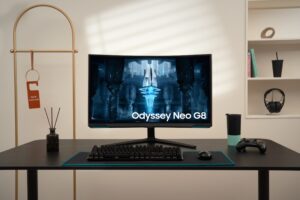 The Samsung Odyssey Neo G8 emerges as the pinnacle of 4K gaming monitors, setting a new standard with its unrivaled features. Boasting a 240 Hz refresh rate, it delivers an unprecedented level of speed, ideal for competitive gaming. This 32-inch VA panel sports a 1000R curve, ensuring immersive gameplay, while the inclusion of HDR, Adaptive-Sync, and a 1,196-zone dimming Mini LED backlight guarantees stunning SDR and HDR visuals.
Out of the box, the Odyssey Neo G8 impresses with its exceptional color accuracy, covering nearly 90% of the DCI-P3 gamut. Its 2,000 nits peak in HDR mode ensures vivid and dynamic imagery. The monitor's contrast ratios are nothing short of remarkable, reaching 25,000:1 in SDR and theoretically infinite in HDR, rivaling even OLED displays.
While the G8 excels in nearly every aspect, its color gamut volume falls slightly below top-tier monitors. Nevertheless, its overall performance remains unparalleled in the 4K gaming monitor category.
In summary, the Samsung Odyssey Neo G8 is the epitome of 4K gaming monitors, combining stunning visuals, next-level gaming performance, and an attractive price point. Its 240 Hz refresh rate, coupled with a curved display, elevates the gaming experience to new heights. With outstanding color accuracy and contrast ratios, it secures its position as the ultimate choice for gamers seeking the best in 4K monitor technology.
2. Dell S2722QC – Best Affordable 4K Monitor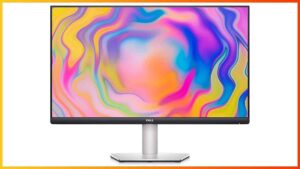 The Dell S2722QC impresses with its 27-inch 4K UHD resolution, providing excellent pixel density and ample desktop space for productivity. While not tailored for gaming, it incorporates Adaptive-Sync to minimize tearing and stuttering. The 60Hz refresh rate supports basic HDR for added visual variety.
Equipped with an IPS panel, it offers a 10-bit color depth for vibrant visuals. The monitor's design features a modern home-office aesthetic with a slim profile and ergonomic stand for versatile positioning. However, the height adjustment can be a bit stiff.
The panel border may create a subtle shadow effect when viewed from extreme angles, but this doesn't significantly impact normal use. The OSD, controlled by downward-facing buttons, offers convenient menu navigation.
On the connectivity front, the monitor includes HDMI and DP ports, along with a USB-C port supporting Power Delivery. It also features built-in speakers, although they provide basic sound quality.
The Dell S2722QC stands out as an excellent budget-friendly 4K monitor for productivity and general usage. Its combination of screen size, resolution, and color depth make it a strong contender for users seeking high-quality visuals without breaking the bank.
3. Dell UltraSharp U2723QE – Best 4K Monitor for Productivity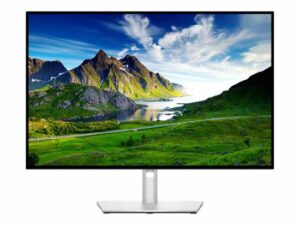 The Dell UltraSharp U2723QE emerges as a standout 4K monitor for productivity, boasting a generous 27-inch display with a crisp 3840 x 2160 UHD resolution. Its expansive screen real estate excels at handling data and high-resolution content editing. The monitor's Low Blue Light output ensures extended comfortable use.
Setting up the U2723QE is hassle-free, and its sleek design with minimal borders and a matte silver stand blends seamlessly into professional and home office environments. The ergonomic options, including tilt, pan, and rotation, offer versatile viewing angles.
Impressively, Dell includes a power cable, USB-C to USB-C, USB-C to USB-A, and DisplayPort cable, although an HDMI cable is notably absent.
The U2723QE's image quality stands out, offering true-to-life colors, deep blacks, and HDR support. Its anti-glare coating minimizes reflections, making it suitable for long working hours. The monitor's Smart HDR feature further enhances viewing experience.
With a range of connectivity options, including USB ports, LAN, and audio line-out, this monitor excels at managing peripherals. The built-in hub streamlines desk space, offering a convenient and powerful solution.
Overall, the Dell U2723QE is a versatile addition to any workspace, providing excellent value, flexibility, and optimal viewing experiences for professionals seeking enhanced productivity.
4. Asus ProArt Display OLED PA32DC – Best 4K Monitor for Creatives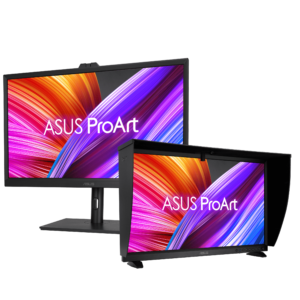 The Asus ProArt Display OLED PA32DC redefines excellence in professional monitors. Boasting a 32-inch 4K OLED panel with a 60Hz refresh rate, it's engineered for precision. HDR support, including HDR10, HLG, and VESA DisplayHDR 400 True Black, elevates visual experiences.
The PA32DC's design exudes sturdiness, with chunky bezels and a robust rear panel. It's a testament to superior build quality, showcasing rigidity and a functional aesthetic. The inclusion of a handle and flip-out base legs enhances portability.
Connectivity is comprehensive, featuring three HDMI 2.0 ports, one DisplayPort, and a USB-C port with DisplayPort Alternate Mode. A built-in USB hub with four USB-A 3.2 Gen 2 ports is a standout feature. However, the USB-C port's 65W Power Delivery might be limiting for certain high-end laptops.
In terms of image quality, the PA32DC excels. It achieves 100% sRGB, 99% DCI-P3, and 98% AdobeRGB, showcasing an extensive color gamut. Color accuracy, though not perfect out of the box, can be finely tuned. The monitor's contrast ratio of 37,010:1 outshines many competitors.
For HDR content, the PA32DC shines in displaying dark, moody scenes, emphasizing detail. While it's not the brightest in its class, it provides a compelling HDR experience.
Although not geared towards gaming, the PA32DC offers satisfactory motion clarity. Yet, for gamers, options with higher refresh rates and adaptive sync might be more suitable.
While the PA32DC's price tag may deter some, it's undeniably a top-tier choice for professionals seeking unparalleled image quality and functionality. For those within its target audience, this monitor is a game-changer.
5. MSI Optix MPG321UR-QD – Best 4K Gaming Monitor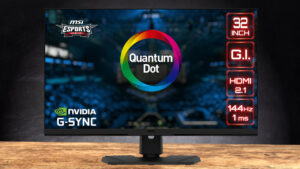 The MSI Optix MPG321UR-QD stands out as an exceptional 4K gaming monitor, blending high-end features with superb color accuracy. With a 32-inch Quantum Dot IPS panel, it offers stunning visuals and boasts impressive color gamut coverage – 99% Adobe RGB, 97% DCI-P3, and 143% sRGB. This makes it suitable for both work and play.
The screen is loaded with features like a 144Hz refresh rate, 1ms response time, and support for NVIDIA G-Sync. Its HDR capabilities shine with a brightness of 419cd/m² standard and a whopping 613cd/m² with HDR enabled. The contrast ratio exceeds specifications at 1,191:1.
Design-wise, the monitor sports a sleek black finish with minimal bezels, while the stand provides essential adjustments. The multitude of ports, including two HDMI, DisplayPort, USB Type C, and numerous USB options, make it highly versatile.
While not ideal for competitive gaming due to its native 144Hz limit, the MSI Optix MPG321UR-QD delivers an immersive and visually stunning gaming experience. Its exceptional color accuracy, contrast, and brightness levels make it a standout choice for gamers and content creators alike, though the higher price point may deter budget-conscious consumers.
In Conclusion…
Whether you are a gamer or a video editor, having a 4K monitor can be a game-changer. You'll experience the world of immersive visuals that will take your viewing to another level. We hope you found this guide helpful? If you did, kindly leave a comment, and don't forget to share…