The Best 2-in-1 laptops are designed to give you the experience of a traditional laptop as well as a tablet. A tablet would give the convenience that a laptop may not give so it's cool to have both experience on one device. One feature of most 2-in-1 laptop is portability, and the flexibility it gives. If you're looking to buy a 2-in-1 soon, then you're at the right place. Here, we'll be sharing with you the best 2-in-1 laptops…
Lenovo IdeaPad Flex 5i – Best Overall 2-in-1 Laptop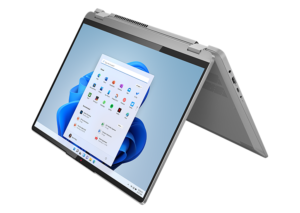 The Lenovo IdeaPad Flex 5i proves itself as a noteworthy budget-friendly 2-in-1 laptop, offering versatility without straining the wallet. Powered by 13th-generation Intel Core processors, it excels in delivering robust performance and commendable battery life.
The laptop's design is a standout feature, boasting an aluminum top shell that imparts a premium feel. However, the display might leave something to be desired, with colors appearing slightly washed out. Critically, the absence of Windows Hello facial recognition and the reliance on a barrel charger are notable drawbacks. Nevertheless, the IdeaPad Flex 5i presents a compelling option, particularly when found on sale, making it an attractive choice for consumers seeking reliable 2-in-1 functionality.
It boasts of a comfortable keyboard and touchpad enhancing the user experience. The inclusion of a Full HD 1080p webcam further adds value for clear video calls. For those prioritizing performance, the Lenovo IdeaPad Flex 5i is a strong contender, offering a well-rounded package for everyday computing needs.
2. HP Elite Dragonfly G2 – Best Premium 2-in-1 Laptop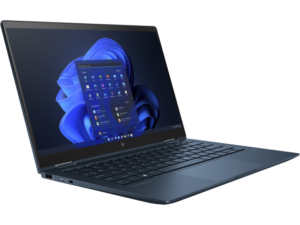 The HP Elite Dragonfly G2 emerges as an elite 2-in-1 laptop, blending style with robust functionality. Its sleek design, featuring a striking blue metallic finish and sturdy hinges allowing a 180-degree flip, exudes premium quality. Despite its thin and light build, it maintains durability, even incorporating ocean-bound plastics for environmental consciousness. The laptop offers an array of ports, including Thunderbolt 4/USB 4 Type-C, USB-A, HDMI, and an audio jack, catering to productivity needs.
The 4K touchscreen display is vibrant and sharp, offering versatility beyond traditional laptops. The spacious keyboard provides satisfying typing, and the large touchpad ensures smooth navigation. The laptop's performance, driven by Intel's 11th-gen processors and 16GB of RAM, proves seamless for everyday tasks. The 256GB SSD ensures swift operations, while the integrated Intel Iris Xe GPU supports photo and video editing.
Notably, the Dragonfly G2 impresses with outstanding battery life, exceeding nine hours during test. It maintains charge even when not in use, a rarity in Windows laptops. The webcam, though 720p, performs well for video calls, and the inclusion of a fingerprint scanner enhances security. While its premium pricing places it alongside top-tier competitors, the HP Elite Dragonfly G2 justifies its cost with a blend of style, performance, and enduring battery life.
3. HP Envy x360 13 (2022) – Best Affordable 2-in-1 Laptop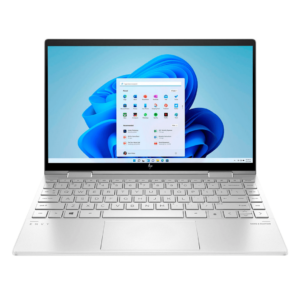 The HP Envy x360 13 (2022) emerges as a standout 2-in-1 laptop, prioritizing portability and performance. Clad in a sleek silver aluminum body, this sub-3-pound device is tailored for professionals on the move. Its 12th-generation Intel Core i7-1250U processor ensures snappy responsiveness, effortlessly handling typical office tasks.
The 13.3-inch IPS display, boasting a 16:10 aspect ratio and 1920 x 1200 resolution, provides a conducive workspace. With a versatile 360-degree hinge, it seamlessly transforms into tablet mode for adaptability in various scenarios. The inclusion of a 5MP webcam with HP's GlamCam software elevates video calls, offering features like auto framing and face tracking. Despite its compact form, the Envy x360 is well-equipped with ports, including Thunderbolt 4 and USB Type-A, reducing the need for additional adapters.
While its keyboard backlighting may be less effective in daylight, and enabling it impacts battery life, these minor drawbacks are outweighed by its exceptional portability and productivity capabilities.
4. Microsoft Laptop Studio – Best for Creatives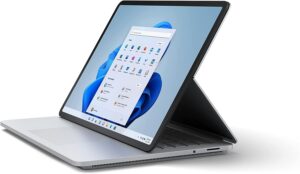 Microsoft's Surface Laptop Studio redefines versatility with its innovative convertible screen, seamlessly transforming from a laptop to a tablet. The 14.4-inch PixelSense Flow screen offers a dynamic visual experience, while the 11th-generation Core i5 or i7 CPU, coupled with integrated or discrete GPU options, ensures robust performance. With up to 32GB of RAM and 2TB of SSD storage, it caters to diverse computing needs.
The Surface Laptop Studio excels in content creation, facilitated by the 4GB Nvidia GeForce RTX 3050 Ti GPU, making it ideal for tasks like photo processing. Its backlit keyboard and spacious trackpad enhance usability, although some find the function keys a tad small. While the port selection is limited, featuring two Thunderbolt 4 USB-C ports, the absence of an SD card slot may inconvenience photographers.
In tablet mode, the Surface Slim Pen 2 offers a seamless inking experience, complemented by haptic feedback on the touchpad. Despite its MacBook-like aesthetics, the plinth design aids airflow for efficient cooling. While battery life is satisfactory, power users may benefit from carrying an additional power supply. The Surface Laptop Studio's performance prowess and adaptability make it a compelling choice for creative professionals and on-the-go multitaskers.
5. Asus Flow X16 – Best for Gaming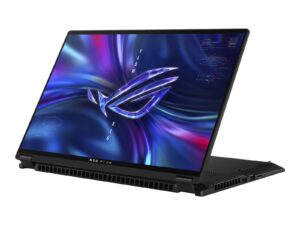 The Asus Flow X16 stands out as a powerful gaming laptop, featuring an Nvidia 3060 card and an AMD Ryzen 9 CPU, delivering robust performance in benchmark tests. Surprisingly, its battery life of 7.5 hours for video streaming surpasses expectations for a large-screen gaming laptop. When paired with the XG Mobile, gaming performance experiences a significant boost, particularly evident in titles like Call of Duty: Modern Warfare 2, where frame rates soar from 70 to 109fps with the XG Ultra's Nvidia 3080.
The X16's unique feature lies in its ability to transform into a kiosk mode, offering a distinctive gaming experience. It caters to enthusiasts seeking modular performance with the XG Mobile, providing an edge over conventional gaming laptops. However, for those seeking a standard gaming laptop with an Nvidia 3060 card, the X16 may not be the top choice.
In benchmark tests, the X16 demonstrated commendable performance, scoring 15,224 in 3D Mark Wild Life Extreme. While battery life and gaming capabilities make it a standout choice, its non-conventional design and specialized features may not align with every gamer's preferences.
Rounding Up…
There's a place for laptops and there's a place for tablets, but having the experience of both can be very wonderful. Whether you use it for work or you are a student, a 2-in-1 laptop is all shades of flexibility. We hope you found this helpful? If you did, kindly leave a comment, and don't forget to share…