There are some kind of activities that require a large screen estate. Maybe you're a creative, or a gamer, having a 17 inch laptop can be the difference between you experiencing productivity or not. With the best 17 inch laptop, you should get good value for money, as well as a solid performance. In this guide, we eplore the best 17 inch laptop…
Dell XPS 17 (2022) – Best Overall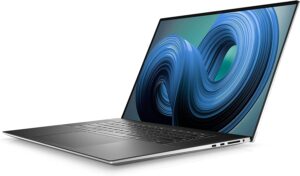 The Dell XPS 17 (2022) is a striking 17-inch laptop that retains its familiar design while undergoing significant internal upgrades. Externally, it continues the sleek aesthetic of its predecessors. However, its real advancements lie within, featuring Intel's latest 12th Gen CPUs. Equipped with an Intel Core i7-12700H, the laptop boasts exceptional performance with six performance cores, eight efficiency cores, and turbo speeds up to 4.7GHz. This power makes it an excellent choice for productivity and business tasks, even though an upgrade to the Core i9-12900K is available for those seeking more power.
Key specifications include an Nvidia GeForce RTX 3050 GPU, 32GB DDR5 RAM, a 17-inch 3,840 x 2,400 display with slim bezels, and a remarkable battery life of over 10 hours during light usage. While not designed primarily for gaming, it can handle casual gaming and offers additional GPU power for content creation apps. The laptop's high-resolution display supports 500 nits brightness and full Adobe RGB gamut coverage, making it suitable for content creation. Despite its premium pricing, the Dell XPS 17 (2022) maintains its reputation as an exceptional laptop, ideal for students, content creators, and anyone in need of a powerful and stylish device.
2. Razer Blade 17 – Best for Gaming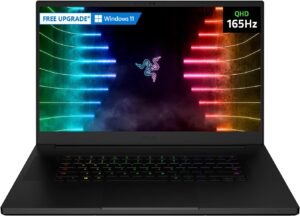 MSI Creator Z17Introducing the Razer Blade 17, a powerhouse gaming laptop that offers unmatched performance and an impressive feature set. With its sleek black aluminum chassis and compact design, the Blade 17 manages to house Intel's 12th Gen i7-12800H processor, an Nvidia GeForce RTX 3080 Ti GPU, and 32GB of DDR5 4800MHz memory. The 17.3″ 1440p display boasts a 240Hz refresh rate with G-Sync technology, delivering smooth visuals and reducing screen tearing during gameplay. While slightly heavier at over six pounds, the laptop's robust build ensures sturdiness and reliability.
Connectivity is a highlight, featuring two Thunderbolt 4 ports, three USB-A 3.2 Gen 2 ports, and a USB-C 3.2 Gen 2 port that supports 15W power delivery. Its keyboard is responsive and well-spaced, while the speakers, though improved, are outshined by the display's visual excellence. The Blade 17 impressively maintains cool temperatures during heavy usage, and its battery life, while not stellar, is serviceable with proper optimization.
While the Blade 17's cost might give pause, its impeccable performance, top-tier specifications, and exceptional gaming experience make it a strong contender for gamers seeking the best in laptop gaming.
3. HP Laptop 17 – Best Budget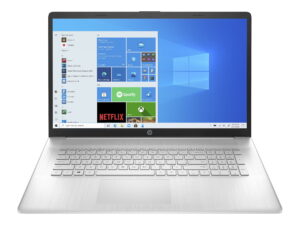 The HP Laptop 17 is a budget 17 inch laptop that showcases impressive attributes, including a sturdy build, immersive 17-inch display, and commendable audio quality from its speakers. The AMD Radeon Software enhances graphics and performance customization, catering to diverse needs.
Because it is a budget laptop, there are notable areas for improvement. The battery life, averaging 7 hours and 31 minutes, falls below the average, potentially requiring frequent charging. Heat management presents concerns as temperatures reached 99 degrees Fahrenheit during usage, which could affect user comfort.
Furthermore, the built-in 720p webcam's quality may not meet expectations for clear video communication.
In summary, the HP Laptop 17 offers strong features like its immersive display and audio prowess, along with customizable software. However, potential buyers should consider its limitations in battery life, heat control, and webcam quality when making a decision.
4. ASUS Zenbook 17 Fold – Best OLED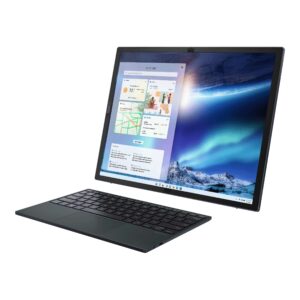 The ASUS Zenbook 17 Fold is equipped with an Intel Core i7-1250U CPU, 16GB of RAM, and a spacious 1TB storage capacity. The Intel Core i7 processor offers a blend of performance and energy efficiency, enabling smooth multitasking and responsive performance. The 16GB of RAM ensures seamless operation when running multiple applications and browser tabs simultaneously, enhancing overall productivity.
The substantial 1TB storage capacity provides ample room for documents, multimedia files, and software installations. This generous storage space caters to users who require extensive storage for their work or entertainment needs. Whether handling complex tasks, creative projects, or multimedia content, the Zenbook 17 Fold's hardware configuration facilitates efficient data management and responsiveness.
In conclusion, the ASUS Zenbook 17 Fold's hardware, including the Intel Core i7 processor, 16GB of RAM, and 1TB of storage, offers a well-rounded computing experience with smooth performance, effective multitasking, and sufficient storage capacity for diverse computing demands.
5. MSI Creator Z17 – Best for Creators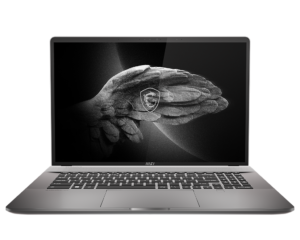 The MSI Creator Z17 is a notable advancement in the brand's lineup of high-performance laptops designed for creative work and gaming. With a 17-inch display boasting stylus pen support, it offers a unique blend of capabilities. Driven by a 12th-Gen Intel Core i9 processor and an NVIDIA GeForce RTX 3080 Ti GPU, backed by 64GB of DDR5 RAM and 2TB storage, it delivers powerful performance.
The laptop's aluminum chassis is built to military-grade standards for enhanced durability. The True Pixel-certified 165Hz display caters to content creators and gamers alike. User input is improved with an enlarged touchpad and customizable per-key RGB keyboard.
Despite a slight improvement in battery life and added HDMI 2.1 port, heavy usage drains the 90Wh battery quickly. The MSI Center Pro app and SteelSeries Engine support enhance functionality. While expensive, the Creator Z17 offers a strong package for professionals seeking power and creativity in a single device.
In Conclusion…
Whether you want a budget model, or a model for creatives, there are 17 inch laptops that would suit your needs. You can also experience a lovely gaming session on a large screen, so it makes sense to buy one if it helps your productivity. We hope you found this guide helpful? If you did, kindly leave a comment, and don't forget to share…