Show Milliseconds in Video or Audio Timing in MPC HC. How to show in Milliseconds in Video or Audio Timing with MPC HC

How to change VLC video timer to show in Hours: Minute: Seconds. Milliseconds
How to Use MPC HC to show time in Hour:Minute:Seconds.Milliseconds
Milliseconds might be required to get a specify or specified part of an audio or video file. It is also used while creating subtitles or editing a video or audio.
This tutorial will guide you on how to Show Milliseconds in Video or Audio Timing in MPC HC.
1) Open the video or audio you want to show your timing in the form of Hour:Minute:Seconds.Milliseconds (that is video you need to show milliseconds).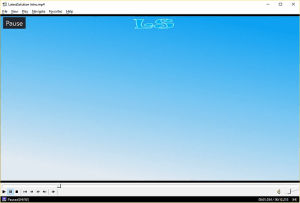 2) On the MPC HC player timer below, that on the lower right hand corner of the timer of the video. Righ Click on it, it see to Remaining time, select High Precision and thus you will be able to show milliseconds in MPC HC player. 


3) Below is a sample of MPC HC showing milliseconds in its timing.

Hope with this, you have been to learnt How to Show Milliseconds in Video or Audio Timing in MPC HC.
Please share and like below, also comment below for any problem encountered. Thanks