DMs are a part of every social media platform as messaging is a core part of our communication. On TikTok, more than just posting videos and entertaining your followers, you also want to send messages and relate with others in the DM.
The Direct Message feature is on TikTok and it works similarly to other other social media platforms with some few differences.
One of the things to know about TikTok DMs is that you have to be friends with the other person. Also, your phone number has to be registered in TikTok. The reason for this is to reduce spam messages from being sent.
Also, TikTok doesn't allow users under the age of 16 years to send messages. This is to protect themselves from issues regarding minors.
Another thing to note is that you can't send a lot of people messages in a short time duration, as you can't follow many people at once too. Follow the steps in the next sections to send DMs on TikTok.
Send DM Using via Inbox Icon
On the homescreen of the TikTok app is an inbox icon at the bottom.
1. Tap that icon and you will be taken to the Activity page.

2. Tap the direct messages icon at the top right which will open a list of people you can send message to.

3. Choose someone you'll like to send a message to
4. Now, create your message and tap the arrow icon at the bottom left to send.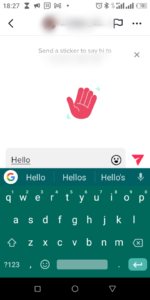 When you get a response from the recipient, you will see a notification in the Inbox page.
Send a DM via User's Profile
If you both follow each other on TikTok, you will see the message button which will allow you to send a message directly. However if your user follows you and you didn't follow them back, there are some extra things you'll need to do.
If you both follow each other, follow these steps:
1. Tap on the Discover icon which you'll see at the bottom.

2. Next, type in your friends name in the search field.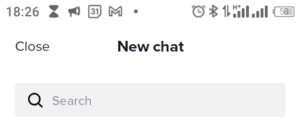 3. Next, tap your friend's profile, and then "Message".

4. Enter your message and hit the Send icon.
However, if you don't see a message button because you don't follow the user back, here's what you should do:
1. Go to the person's page.
2. Next, at the top right corner, tap on three dots icon.
3. You'll see a panel open up, select the option to "Send Message".
Rounding Up...
While your followers may be relating with you on your timeline, they would also want a personal conversation in your inbox. This is what the DM feature of TikTok afford users. It is a useful feature that helps you connect with your followers better. We hope you found this helpful? If you did, kindly leave a comment and don't forget to share…