How to Jump to a Specified time of a Video in VLC.

Did you stop watching a video at a particular or you want to rewatch an acton that took place at a specified time. VLC Media Player has a function that enables one to jump to a specifed time of a video.
Please follow the instruction listed below to learn how to jump to a specified time of a video in VLC Media player.
1) Launch the video on VLC Media Player.
2) Right Click on the VLC window, click on Playback, then click on Jump to a Specific Time OR press Ctrl + T on your keyboard to go to Specific time.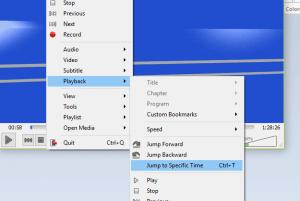 3) A new Window Go To Time will open.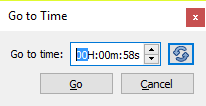 4) Enter the specific time in Hour:Minute:Seconds, then click on Go.
Hope with this, you have been to learnt How to Jump to a Specified time of a Video in VLC.
Please share and like below, also comment below for any problem encountered. Thanks