How to Disable Like Count on Instagram
Social Media could have an effect on a person mental health. Though useful and interesting for users, it could pose bigger problem when it starts to affect your mental health.
In a world where there's a constant need for validation and approval, "likes" on social media to some people is the digital way of saying, "I approve of you". While some don't care about the likes and just do their thing, some really do.
If seeing likes is affecting your mental health, it is important you take some steps back and use the Hide Like Count feature. A feature on Instagram, it disables like count on your feed's post and post you make. Let's explore how to use it…
How to Disable All Like Counts on  your Instagram Feed
The Like Count settings is available in your Instagram settings menu. When you don't want like counts to appear, you can go to the Settings menu which is easy to access. Follow the steps below to achieve this:
1. Open the Instagram app on your Android device or iPhone.
2. Tap the Profile icon which you'll see at the bottom-right of the toolbar.
3. When the Profile page, locate the three-line menu button at the top-right corner and tap it. On Android, a sidebar will appear. iPhone users will see a pop-up menu at the bottom of the screen. Tap the Settings option.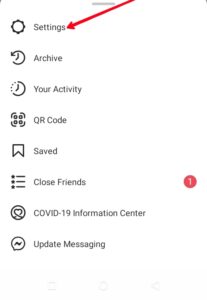 4. Next, navigate to the Privacy section. From the options there, select Posts.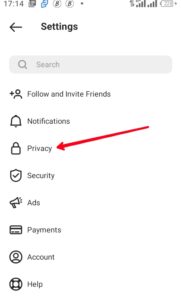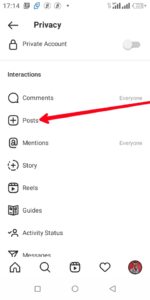 5. Now, tap the toggle that says Hide Like and View Counts.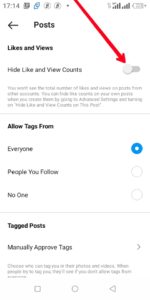 When you do that, you have turned off and now hidden Like and View Counts.
You can check by going back to your Instagram feed. You'll now notice that there's no longer Like and View Counts.
How to Disable Like Counts From Your Instagram Posts
If you wish to hide likes that appear on your post, you can do that on Instagram. Something worthy of note is that, Instagram will only allow you to hide likes per post. When you do this, only you will be able to see the like count on that post. Here's how to do it:
1. Get to the post that has the Like Count you wish to remove. Now tap the three-dots menu icon located at the top-right of the post.
2. You'll see a pop up menu. Simply hit Hide Like Count.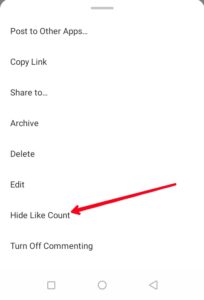 Once you do that, the Like Count on that particular post will be removed. To see the actual likes, tap the Others button.
If you wish to show the Like Count again, you can do it from the same three-dot menu. Simply tap the menu icon and select Unhide Like Count.
Instagram also allows you to hide Like Count when you're creating a post.
1. On the New Post screen, where you write the caption, the Advanced Settings option located down the screen.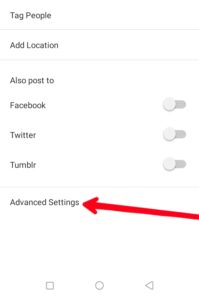 2. Next, tap the Hide Like and View Counts on This Post toggle to disable Like counts for the post.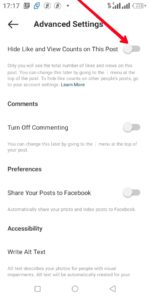 Even when the post is published, Instagram will still let you Unhide Like Count from the menu.
Rounding Up…
If you really don't want to keep tab of other people's post like count or you want to hide yours from your followers, the Instagram feature we just discussed here should do. We hope you found this guide helpful? If you did, kindly leave a comment and don't forget to share.