How to Convert Subtitles from one format to another (vtt to srt).
Subtitle are transcript of movies, video files that are usually displayed in the screen (usually bottom of the screen) which can be the exact language as the video or a translation to another language to enable users of the language to go along with the video.
Subtitles comes in different format. We will be looking at converting subtitles in the vtt format to the srt format.
VTT stands for Video Texts Tracks
SRT stands for Subtitle Resource Tracks
How to Convert Subtitle from VTT Format to SRT Format
Locate the subtitle file.
Open Subtitle file using a text editior like notepad or Wordpad or know location of subtitle file
Visit this website Toolslick Subtitle Conversion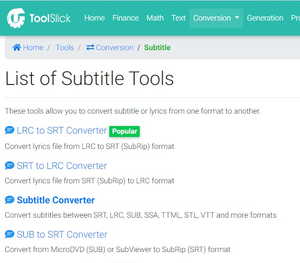 Select the version of subtitle you want to convert (VTT) and to which format do you want to convert (SRT). You will select VTT to SRT subtitle Converter.
Copy and paste Subtitle or upload the subtitle file.
Then convert, after conversion, Download the converted file.
Hope with this you were able to learn How to Convert Subtitles from VTT format to SRT Format.
Please share and like below, also comment below for any problem encountered or faced.