How to Change the Proxy and Socks Setting of IDM (Internet Download Manager)
How to Change the Proxy and Socks Setting of IDM (Internet Download Manager)
The Proxy and Socks Settings of IDM can be change, If you want use Proxy Settings with Internet Download  Manager (IDM), then follow the following processes below. The Processes for doing this are showed below:
1) Launch the Internet Download Manager (IDM).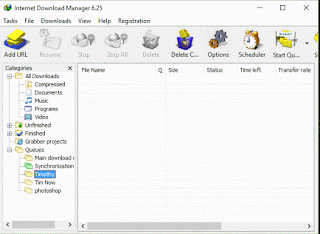 2) Click on Options or Click on Download on the Menu bar and select Options.
3) A window will pop up.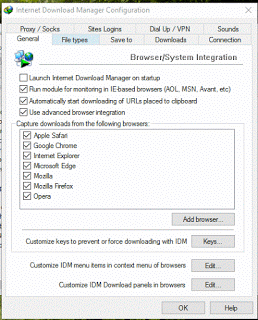 4) Click on Proxy/Socks.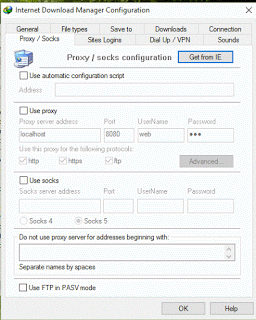 5) Then click on use proxy, enter the proxy server address and port and if username and
password are available enter.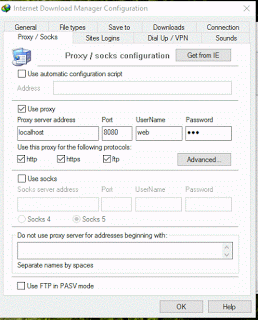 6) Select the proxy the protocol support or you could select all if it supports all. (http, https, ftp).
7) If the proxy protocol have different proxy server address and port, click on Advanced.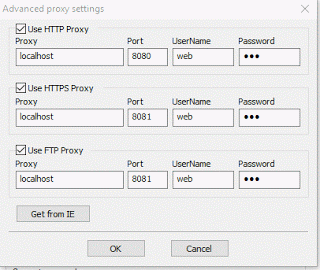 8) Enter the proxy server address and port OR get the proxy from Internet explorer by
clicking on Get from IE and Click on ok
9) Click on Ok.
OR
If you want to use the socks connection
1)   Check use socks
2)   Then enter the socks server address and port. Enter username and password if
available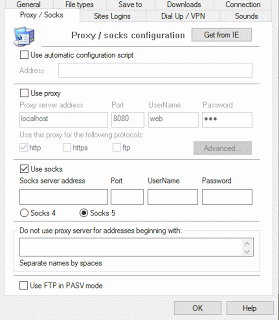 3)   Then select the socks version either socks 4 or Socks 5
4)   Then Click on Ok
Please Comment Below for any problem faced.  Please Share and like below.