Weather app have gotten better more recently. They can help you know the best decision to make regarding your outdoor movements as you go around your day. For instance, you may be planning a trip to a city and instead of being trapped in an horrible weather condition, you can get alerts from a weather app which can make you reschedule the trip. The best weather apps allow you to customise things so that you can see weather in at a glance in a widget on your homescreen. In this guide, we explore the best weather apps for Android…
1. Today Weather
Today Weather is one of the most popular weather apps for Android. This brilliant Andriod app does the work of forecasting weather for you and it does it well. It has a simple and well-designed interface that lets you navigate easily. The app packs a lot of weather information on a single screen without overwhelming you. You can find information such as current temperature, air quality index and more. Today Weather gives you liberty to choose from 12 different data sources including Dark Sky. It boasts of 23 widgets that can be customised and placed on your homescreen displaying data that is important to you.
2. AccuWeather
AccuWeather is another excellent weather app for Android. The app boasts of a simplistic design as well. You'll find the information you need to know about a day in AccuWeather. The app will give you a breakdown of the weather condition for the day and also an overview of the weather for the next day. AccuWeather boasts of different controls to enable you view the weather condition of a place. You have shortcuts at the bottom for Today view, Hourly view, and even Daily View. You can also choose different mapping view such as satellite view, or a five day outlook for the weather in your area. AccuWeather also features a persistent notification in your status bar that shows you the current temperature.
3. Windy
You want something that gives you more than the regular forecasts that other apps features? then try Windy. Windy will actually show you the wind variations in the ocean. It is very useful for alerts about cyclones. When there's a cyclone approaching, Windy will tell you its location. You can also choose between radar or satellite view. You will find Windy with different categories of people from pilots, kiters, surfers, fishermen, to hurricane chasers, and more. The app has a lot of reviews on Google Play Store and also a decent rating.
4. Emergency: Alerts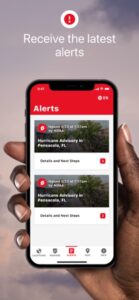 Emergency: Alerts is an excellent app from the American Red Cross. It's useful to have on your device because of emergency weather conditions. The app helps you with information about floods, hurricanes, winter storms and more. It is very important to have Alerts on your phone to help you with safety when these adverse weather conditions come up. In Alerts, you can enter cities that you want to look up and see the weather conditions there. The app boasts of alerts which you can customise and also disaster preparedness info so you can be ready for any emergency.
5. 1Weather
1Weather is another interesting weather app for Android. The app has the standard features that other weather app have. But one feature that makes it standout from other weather app is what happens when you first open the app. After jt connects to your location, it will ask you whether you want to get 'weather facts' anytime you open the app. This is not what you'll find anywhere else. It displays weather information at the top of the interface and you can use tabs to control how you want to view things. There's also 1Weather Shorts which consist of short videos that talk about weather happenings from around the world.
Rounding Up…
Weather is something everyone will have to deal with whether they like it or not. However, having a good weather app can make the difference between having a good day from having a bad day. We hope you found this guide helpful. If you did, kindly leave a comment and don't forget to share…