Videos are an excellent way to communicate a message. Because they are visual, and many people are visual learners, they act as a great way to pass a message across. Whether you're a business or an hobbyist, you can create videos to educate, or entertain your followers. You don't have to use a powerful desktop computer to do this. With your iPhone, you can create and edit great videos. In this guide, we explore the best video editing apps for iOS.
iMovie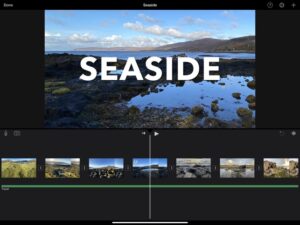 Apple's iMovie is an obvious choice when it comes to video editing on iPhone or iPad. It has a lot of powerful features that lets you do something close to professional work. iMovie has a powerful editor which has eight themes which you can choose from. These themes have transitions, titles and music to go with. Not only that, there are 10 various filters to choose from. iMovie allows you to create your custom soundtrack through the built-in music of music from your own library, alongside effects. It is a good solution to make movie trailers. It is possible to save videos in 4K or 1080p at 60FPS.
2. Final Cut Pro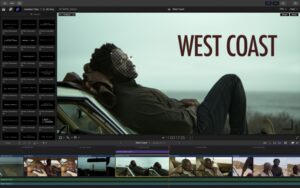 The second video editor on the list is an advanced one: Final Cut Pro. Even though it is a mobile app, it is powerful and filmmakers use it to create videos that are complex. It has an outstanding feature known as Magnetic Timeline. With this tool, it is easy to trim and move clips. The app also helps you stay organised by allowing you to color-code things. You can also use the anamorphic lens attachment feature to do ultra wide aspect ratio. Final Cut Pro has other software that will transform your ultra wide footage into a normalized letterboxd frame.
3. Lumafusion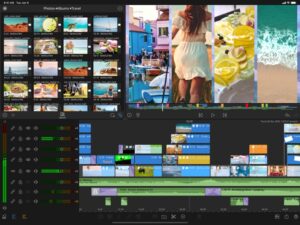 Lumafusion is a robust video editing app. It has advanced features that will deliver professional-looking videos. It has an advanced interface that has a media browser, multitrack timeline, and a preview monitor. The app allows you to do powerful things with effects such as keyframimg. It boasts of six video/audio tracks for photos, videos, and graphics. There are also extra audio tracks for music and sound effects. There's also support for colour correction, lossless export, vertical video, fast and slow motion and more. Beginners can find the app intimidating with the array of features present, but every professional will find that it caters for their needs.
4. PowerDirector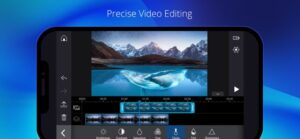 PowerDirector is another iOS app that works for editing videos. It boasts of many features that lets you create videos that you'd like. It has a great UI and beginners and advanced users can use it. It has the basic features, of course and it also packs advanced features such stabilization, speed control, keyframe controls, and more. There are nice features like overlays and filters that can give you a great video. There's also chroma keying that can let you change video backgrounds. There's also the voice changing feature that will let you use audio effects on voices. You can export in 4K and export directly to social media.
5. Splice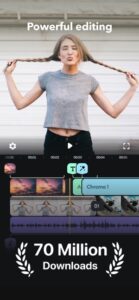 Splice is another impressive video editing app for iPhone and iPad. The app comes from GoPro, the company that makes some of the best action cameras. The app allows you to make videos and movies from your photos and videos. The app has 'Hilights', a feature that lets you mark important parts of your video after importing them. The app then gives you the opportunity to add music after which it clips the video based on the parts you marked. What's more? There are other functions like the basic crop function, effects, and text feature. The app has sharing options to allow you to share to popular social media platforms like YouTube, Facebook, and more.
Rounding Up…
You can create a good video from your iPhone without having so much technical know-how. With the apps listed here, you can create a great video and share with your friends or customer. We hope you found this guide helpful? If you did, kindly leave a comment and don't forget to share…