Technology has brought many changes over the last two decades. There were days when we could only use dedicated video cameras to shoot videos. But right now, most smartphones can take decent videos. Also, gone are the days when you could only edit videos with high-end computers, but right now with an Android phone, you can edit a brilliant video. In this guide, we explore the best video editing apps for Android.
1. FilmoraGo
FilmoraGo is an excellent choice when it comes to video editing. It has the basic functions a video editor should have like cutting, trimming, adding music. The app also has various video sizes, such as 1:1 square video for Instagram, 16:9 for YouTube and a lot more. There are tons of templates and effects to make your video look professional. With FilmoraGo, it is possible to do slow motion video, reverse video, and even add texts. The app allows you preview clips in real-time so you can see your video as you edit. If you use the free version, your video will have a watermark at the end. You can save the videos to your gallery, or if you like directly to major social media platforms.
2. PowerDirector
PowerDirector is a powerful video editor with tons of professional-grade tools. These tools are also easy-to-use and the job well. You can do things like adding animated texts, you have controls for transparency, positioning and more. There are varieties of filters, blending modes, overlays and effects to give your video a professional feel. It also has other professional features like ability to export videos in up to 4K resolution. There's also a stabilizer in it that can fix shaky footage. You also have access to lots of audio effects via the voice changer feature. What's more, you can create amazing double exposure effects with blending modes and video overlays
3. Adobe Premiere Rush
Another excellent video editing app for Android is Premiere Rush. This video editing app from Adobe lets you edit varieties of videos. It is simple and easy to use. If you're an online video creator, you'll find the app useful to use as it has features suited for social media platforms. The app allows you to share the video you create on all social media platforms. There are also varieties of video editing stuffs you can use like changing color, adding animated titles, using zoom effects, and more. Adobe Premiere Rush also boasts of tools to edit audio. These tools can help you with auto-ducking and sound balancing.
4. KineMaster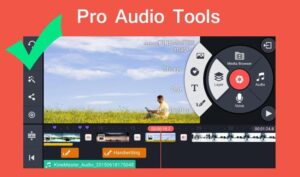 Yet another video editing app is KineMaster. KineMaster has been around for a while and is a robust video editor for Android. It boasts of impressive tools that give a professional and creative edge to your videos. KineMaster features over 2500 effects, transitions, images and videos that you can use in your video. You can also have access to graphics, stickers and fonts. It also features keyframe animation tool so you can add motion to layers. It even has EQ presets, and volume envelope tools to make better audio. You can add voice-overs inside videos, use the voice changer feature, and use background music also. With premium subscription, you can export in up to 4K.
5. InShot
Another impressive video editing app for Android is InShot. InShot has an easy-to-use interface. InShot is not intrusive with ads. Although it doesn't have so much advanced features, it can do the job really well. The basic features you should find in a video editing app are all there. These features include trim, crop, and split. InShot also has video effects that can make your videos a nice watch. There's provision for 4K exports. You can also choose from multiple frame rate available in the video. However to remove watermark from your video, you have to watch an ad. InShot is suitable if you have to make a video quickly and efficiently.
Rounding up…
You can do video editing straight from your Android phone. You don't have to have the luxury of powerful desktop computer before you make a great video. The apps listed here have the features needed to make a decent video. We hope you found this helpful. If you did, kindly leave a comment and don't forget to share…