Communication has evolved over the years. Social Media has changed the face of communication in recent years. From texting, to voice calls to video calls, social media has improved in features and capabilities. Video calling offers more flexibility in communication as you see your caller face-to-face. In this guide we explore 5 best video calling apps for Android…
1. WhatsApp Messenger
WhatsApp, owned by Meta is one of the best video chat apps for Android. It is an extremely popular app boasting of over 2 billion users. Still on the metrics, the messaging app has over 5 billion downloads on Google Play. Most people have WhatsApp on their phones, so your friend probably has the app. To make a call, simply tap the Calls tab, and tap New Call. Then move on to selecting the Video Call button. You can also initiate a call by going to the chat with a contact and hitting the Video Call button at the top.
2. Google Duo
Google Duo is another impressive video chat app for Android. The simple app has an easy-to-use interface. You can easily use the app to make calls that are reliable. Once you sign up with your number, you verify it and you're on your way to making faster video calls. There's a brilliant feature in Google Duo known as "Knock Knock" which lets you see a live preview of the caller before you decide to pick the call.
3. Discord
Discord is a blend of Slack and Reddit. Using the platform involves you creating a server which you can use as a community centered around a specific topic. You can then ask people to join that server. It's also a platform to have a space for yourself and your friends. The platform is majorly targeted towards gamers and tech enthusiast but you start a server that will suit your interests. The video chat feature is robust allowing you to chat one-on-one with your group members or do a group chat.
4. Signal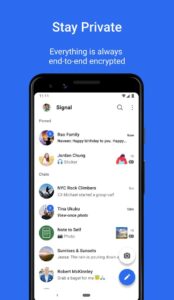 Privacy-concerned users will find Signal great to use. The app protects your privacy with industry-standard security. It boasts of a minimalistic design with an easy-to-use interface. The app is more than a messaging app, it boasts of voice and video calls. The app relies on phone number in your address book to initiate calls with people. You won't be disturbed by ads on Signal.
5. Zoom


Zoom became the must-have tool for us in the new normal. The app which is popular among professional teams is also one used by friends and families especially during the lockdown. You can use the app free and it has other great features such as screen sharing, annotations, and more. You are limited to a 40-minute call for free and to get more, you have to upgrade.
Rounding Up…
It's very important to communicate with family and friends or colleagues as this is how relationships and bonds are strengthened. Video call makes this even more possible. We hope you found this helpful? If you did, kindly leave a comment and don't forget to share…